Though the group is only a month old, the action committee comprised of landlords and tenants from the Long Beach area has already garnered support citywide with community participation that has exceeded expectations.
One of the group's immediate concerns regarding its ongoing battle with other community groups and the Proactive Rental Housing Inspection Program (PRHIP) is the ordinance's call for mandatory inspections, which some view as intrusive and even unconstitutional.
"I can't even relax at home because I'm constantly waiting for some stupid city people to come in," Shelly Porter, a Long Beach renter, said. "Instead of working on bettering the city by finding a  facility for the homeless or cleaning up the drug addicts that are running around ripping people off and breaking into cars, they're busting into good, hardworking people's places and violating our civil rights."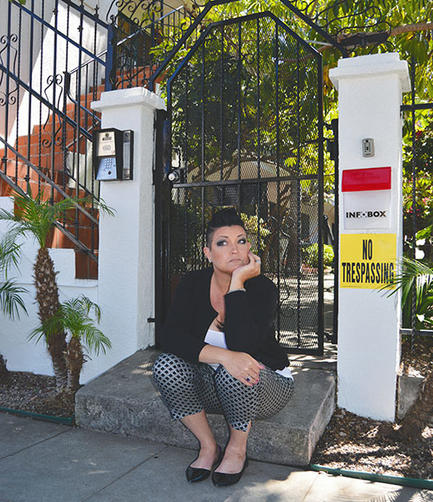 Shelly Porter is pictured in front of her building next to a "No Trespassing" sign in the Alamitos Beach neighborhood of Long Beach. Porter, along with other community renters and landlords, has major concerns regarding the city's mandate for inspections of all rental units in buildings with four or more units. (Photograph by the Business Journal's Larry Duncan)
Porter is the self-proclaimed security guard for her building near Orange Avenue and 2nd Street. She recalls her first encounter with a city inspector who Porter said gave her a "super-spirited spiel" about how the inspectors are there to help her and her fellow tenants. Porter told the inspector there was no need for her at their building and sent her on her way.
Since then, Porter claims that numerous city employees have been deceptively attempting to "infiltrate the complex" with inane reasons as to why they want in.
"I think it's underhanded," Porter said. "It has a dark side to it, like, 'Oh, they're the fair housing commission, they are going to help us,' when they're really not. What they're really trying to do is take away the building from the owner."
Porter said excessive inspections are focusing on unimportant cosmetic issues – like peeling paint or cracked grout or concrete – when they are supposed to focus on habitability issues such as leaky plumbing, functional smoke detectors, and rodent or bug infestation. By doing this and citing property owners for numerous minor infractions, Porter said eventually they would not be able to afford every cosmetic repair being asked for by the city.
Kathy Jurado, also a Long Beach renter, said she experienced this situation firsthand when she was ultimately forced out of her previous apartment because the owner of the property, who was based in Oregon, was bombarded with inspections and repairs.
"They wanted to inspect my garage, and I asked them why," Jurado said. "They said because we have a parking problem in Long Beach, and they wanted to make sure there were cars in the garage. They did that twice.
"Then there came an inspector to do underneath the [building], and they had to retrofit it," she continued. "Then an inspector came for this or that, and pretty soon they just sold the property. We ended up having to move because the new owners wanted to gut it and redo everything, and we were asked to move."
According to Jacqueline Medina, communications specialist for Long Beach Development Services, from January 1 to July 29 the city has conducted approximately 6,800 inspections, which resulted in 2,300 cases being opened.
The PRHIP program has a staff of 11 people, which includes supervisory, field, and clerical personnel, according to Medina. The city uses combination building inspectors or combination building inspector aides to perform inspections.
A property owner who is cited for a violation and does not take appropriate measures to correct it will be fined $100 for the first offense, $200 for the second and $500 for every additional offense within a year of the first fine.
But many landlords view the practice of mandatory inspections for all buildings as overkill and a waste of resources when the city can focus its time, money and manpower going after properties that are visibly unkempt, which is often a good indicator that units also have issues that may require attention.
"I'd say go after the ones where the weeds are three feet high, the windows are broken or boarded up, there's graffiti, there's paint peeling – you know how easy that is to spot? They can notice a violation," Rebecca Moffett, a supervisor at A Better Property Management Company Inc., said. "I managed in rent-control areas in North Hollywood, and I could tell you some stories that would knock your socks off regarding inspections and the fees and the cost and the inspectors."
Jurado echoed Moffett's thoughts on how the city could better utilize its resources by focusing on properties that are obviously in need, saying, "Some people won't complain, but if there is an obvious issue with the structure, when there is an obvious issue with health, I think that's when [the city] needs to step in. But when they want to do it randomly because they are getting paid $107 every time they do it, I don't think that's very fair."
Landlords and tenants alike are voicing concerns with the inspection process, which has already been experienced by some in Long Beach, as well as concerns that certain practices of Los Angeles and surrounding area inspectors may soon occur in the beach city.
These concerns include city inspectors entering units without landlord or tenant permission and strong-arming landlords into allowing inspections.
"I know for a fact that in the City of Los Angeles city inspectors have brought in locksmiths to open people's units when there were posted notices telling inspectors that they did not want them in their unit," Malcolm Bennett, owner of International Realty & Investments, said. "The inspectors will force their way in anyway because they say they have a right."
Bennett has been in the property management business for more than 40 years, and his L.A.-based company, which also has a branch in Long Beach, has dealt with inspections through L.A.'s Rent Escrow Account Program (REAP). He explained that in the case of a police agency wanting to enter private property, they must have proof of probable cause and a warrant issued by a judge. "So how can a building inspector say he has a right to come in and, if you say no, have a locksmith pick your door? It just doesn't seem like it's legal."
The warrants issued for inspections are called administrative warrants. They differ from search warrants in that they do not give permission to seize property, but they are supposed to follow similar procedures when filed for.
According to the California Code of Civil Procedure section 1822.51, an administrative warrant, also called an inspection warrant, is only issued upon cause. Section 1822.52 states that cause must be deemed to exist or there must be "reason to believe that a condition of nonconformity exists with respect to the particular place, dwelling, structure, premises or vehicle."
Section 1822.56 continues by specifying times when warranted inspections may or may not take place. The section states that inspections may not be conducted between 6 p.m. and 8 a.m., nor in the absence of the owner. It also states that inspections will not be made by means of forcible entry and that if consent by the tenant had previously been asked and then refused, the tenant must receive notice at least 24 hours prior to the warrant's execution.
If all these qualifications are met, any person who still refuses the inspection will be charged with a misdemeanor, according to section 1882.57. Thus far, Long Beach has not faced practices that go against any laws, but landlords and tenants are concerned that this trend may not continue.
A case filed in the U.S. District Court for the Central District by Pacific Legal Foundation on behalf of Karl Trautwein and his tenants, claims the City of Highland is using coercive tactics in order to make Trautwein's tenants comply with a warrantless inspection.
According to Meriem Hubbard, the principal attorney for the case, Trautwein and his tenants have requested the city apply for a warrant to inspect the building, as is procedure when tenants deny a warrantless inspection. Hubbard said if the city procured a warrant her clients would comply with the inspection.
However, according to Trautwein's case, the city has refused to get a warrant and instead has threatened him by saying his rental permit would not be renewed. This would make it illegal for him to rent his property and would force his tenants to move. Hubbard and her clients claim this is a clear violation of the tenants' Fourth Amendment rights.
Along with landlord fears of government harassment, Long Beach landlords and tenants think the city may be targeting low-income and minority communities. Vicki Abe, a property manager with Atlantis Pacific, a small property management company, recorded video of several inspections of her units where some tenants only speak Spanish.
"The tenant seemed confused," Abe said. "They went to one of the units and the mother was there. She didn't speak any English, and they went in and they were looking inside of cabinets, which only confused her more. I thought PRHIP was supposed to be a check for habitability conditions."
In the video, when he was done, the inspector asked the tenant for her information, including her name and telephone number. Abe questioned the inspector as to why he needed it and had a friend explain to the tenant in Spanish that she did not have to provide the information.
"The same thing happened in the next apartment – the gentleman did not speak English," Abe continued. "He let them in and he had a really puzzled look on his face. I had a friend there that spoke Spanish, and he explained to [the tenant] that you don't have to let them in, this is a voluntary inspection, and you don't have to give your information. When he understood that, he said he didn't want an inspection or to give his information, so they had to leave."
Jurado, who is also the chief executive officer of the Latino Human Rights Commission and the former Long Beach and San Pedro president and former L.A. district manager of the League of United Latin American Citizens (LULAC), agrees that the program seems to be targeting minority communities.
"It seems intentional to target these communities that don't know any better," Jurado said. "And as a coalition member and an advocate for almost my entire life, I found it offensive and just horrifying."
However, Hubbard thinks the mentality of cities may not be to prey on minority communities, but to help them. She explained that cities might think residents who do not speak English or may be here illegally would be hesitant to tell their landlord about issues with their units. However, she acknowledges the flaws with this mentality.
"The city feels it's their job to go in and find out if there are problems," Hubbard said. "That, of course, ignores the constitution unless they have a warrant. But you've got to make sure that the person understands. That is a problem."
Nancy Ahlswede, the former executive director of the Apartment Association, California Southern Cities Inc., said that there were several amendments that could be set in place that would allow her to support the PRHIP inspections. First, she thinks the city should acknowledge that 99% of property owners are good property owners and the program should not target them, but instead focus on the 1% of so-called slumlords. However, this does not mean inspections would cease for good property owners' units.
"Maybe if you passed with flying colors the first time out, you wouldn't be inspected for three or five years, and you'd have a sort of 'Gold Landlord' designation that you could use in getting new tenants. A designation like that would be really excellent and would help the affordable housing community, the housing community and the community as a whole."
Aside from less-frequent inspections, Ahlswede said she would like to see specific items that inspectors would look for, since they aren't keeping strictly to habitability standards, so landlords can be in compliance. Also, a clause or phrasing that would protect landlords from situations similar to Karl Trautwein in Highland.
Ahlswede added, "I think that if we're in a situation where we can all work together to make it better, it's much more productive than pitting landlords against tenants and city officials against landlords and creating divisiveness within the community."
The action committee's next meeting is Sunday, August 21, at noon at 2338 E. Anaheim St. It is open to the public.
Next Edition: The Business Journal is attempting to set up an interview with Amy Bodek, who heads up the city's development services department, which oversees the inspection program. In addition to discussing the program, we are also examining its cost. The next edition publishes August 30.