Back in the summer of 1996, when the Business Journal began researching the salaries of City of Long Beach employees, there were 20 city workers earning a six-figure base salary. The group was referred to as the inaugural "$100,000 Club." Club members were primarily department managers and legal staff.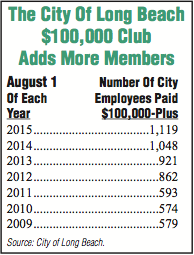 Now 20 annual budgets later, with the recent release of the proposed Fiscal Year 2016 budget that begins October 1, a new club is taking shape: The "$200,000 Club." It has 27 members as of August 1, 2015, with 7 of those from the harbor department, 4 from the law department and 2 from the water department. None of the salaries from those three departments are under the control of the city manager.
While the "$100,000 Club" is two decades old, its only been since 2009 that the Business Journal, through the cooperation of the city manager's office, has presented salary data using August 1 (or nearest to August 1) paychecks (overtime pay not included). This provides a good basis for year-to-year comparisons.
For example, we know that since August 1, 2014, city payroll has increased by $11 million and since August 1, 2013, payroll is up by nearly $20.3 million. Most of the increases are tied to memorandums of understanding (MOUs) through one of the city's nine unions.
During the past 12 months, the $100,000 Club added another 71 members. Membership reached 1,119 employees, or 26.7% of the city's full-time workers, as of August 1 paychecks. Nearly 60 percent of those employees are in either the police or fire department. Another 563 employees are earning between $90,000 and $99,999, as of August 1. That means more than 40 percent of the city's full-time employees are receiving a base salary of $90,000 or more.
A list of all the positions paid a base salary of $90,000 or above begins at the end of this article.
Negotiations With Unions Underway, And The Unfunded Liabilities Issue
The current year is expected to end with a small surplus, and the proposed 2016 budget before the city council is balanced. But the proposed budget does not account for any pay increases (other that mandated step increases and a few carry-over requirements from MOUs) that might occur through the ongoing negotiations with city unions. The current focus has been with the city's largest union, the International Association of Machinists & Aerospace Workers, which represents more than 3,600 city employees. Their contract expired last September 30. Six other union contracts expire this September 30. The police and fire union contracts are through September 30, 2016.
Additionally, the city is facing a projected $7.5 million deficit for FY 17 and $7.8 million for FY 18. But there's more. The city has unfunded liabilities – costs for services already delivered, but not paid for in full – estimated at more than $1.2 billion that it will carry into the FY 16 budget. That includes $834 million for pensions; $134 million for sick leave; $143 million for retiree health subsidies; and $111 million for workers' compensation. The city's financial management department estimates it will take the city approximately 30 years to pay off the unfunded liabilities.
The only two bright spots are: one, the $1.2 billion is down from the current year's nearly $1.4 billion; and, two, a change in the city's pension system implemented a few years ago for new hires will reduce costs when those workers retire 20 or more years down the road. As of this month, there are 543 employees under the new, lower-cost system.
The proposed budget includes this statement about unfunded liabilities that should serve as a red flag to councilmembers, union groups and taxpayers:
"The city will need to explore a variety of alternatives in addition to increased funding and reducing costs, including the possibility of exploring the reduction of employee benefits. This budget takes an additional step towards the reduction in unfunded liabilities by setting aside 5 percent of non-recurring revenue that well be calculated and reserved as part of FY 15 Year-End close, and then incorporated as a budget adjustment in FY 16."
West, Modica Answer MOU Questions
During an August 12 meeting at the Business Journal offices, City Manager Pat West and Assistant City Manager Tom Modica acknowledged that the proposed budget does not include raises. They were asked, "Are you concerned about the next several years?"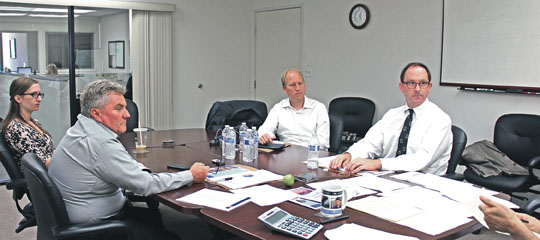 (Pictured from left, City Manager Pat West, Assistant City Manager Tom Modica and Geoffrey Hall, assistant to the city manager, discuss the $100,000 club and other issues with Business Journal staff. Photograph by the Business Journal's Evan Patrick Kelly)
"Absolutely," West said. But, he pointed out, "We hear other communities are giving raises right now, but during the recession, our nine employer organizations made out pretty well. Long Beach is a city that lived up to all of its obligations and continued MOU's – and continued raises throughout the Great Recession. And now we're here. The cities that did takeaways, like San Jose, they're giving big raises right now because they did takeaways during the recession; they dropped salaries. . . . We had long-term agreements that went through the recession, we lived up to those and now we're looking at new agreements that might be short-term."
Both men also noted that the employee groups worked with the city by taking some of the planned pay increases and putting them toward pension costs, saving the city considerable money. West noted that since the employee groups agreed to pay 100 percent of the employee portion of the pension, it saves the General Fund about $25 million a year. "The employees were very generous by working with us," West stressed. "We would love to find manna from heaven and reward our employees more, but right now we don't have that manna from heaven," West said.
Asked if he felt comfortable moving forward, West responded, "I can't say I feel comfortable . . . a $7 million deficit is huge for two years in a row. It's certainly not what we faced during the recession, but they're serious numbers."
Public Safety Personnel
The current budget included adding 24 firefighters during the fiscal year, but that did not occur. If those positions had been filled, the department's overtime cost would end this fiscal year at around $10.4 million. The result is going to be a roughly 30 percent increase in overtime/callback staffing time costs by September 30. In the proposed budget, the vacant positions have been eliminated and overtime/callback staffing has been budgeted at $13.7 million.
Another staffing change in the proposed budget, according to Modica, is moving police and fire dispatchers out of their respective departments and budgeting them under the Long Beach Department of Disaster Preparedness Emergency Communications. It's 85 positions – 65 from police at a cost of more than $7 million and 20 from fire at a cost of nearly $3 million. The two groups will be consolidated in an effort to improve services to residents. "We're going to have an agreement between police, fire and emergency communications about who's responsible for what and how it all works." Modica said, adding that there's no effect on budget dollars. "It's a wash," he said.
Oil Revenue, And Tidelands Fund
The manna from heaven the city manager may be hoping for is not, it appears, going to come from oil revenue. As of Friday, August 14, the price of a barrel of oil fell to $42.50. For the proposed budget, oil revenue to the General Fund has been budgeted $55 a barrel, which equates to $11,436 million, according to Chris Garner, director of the Long Beach Gas & Oil Department.
Asked what happens if oil settles around $50 a barrel, Garner said: "We estimate that would result in about $750,000 less in revenue to the General Fund. The reason that there isn't a larger difference is that the oil revenue to the General Fund is not wholly related to the whims of the price of oil . . . to a lesser extent than Tidelands oil revenue is tied to the actual price," adding that the "Uplands includes lease revenue and administrative fees that are not directly impacted by the price of oil."
Oil revenue for the Tidelands Fund is also pegged at $55 a barrel, with $10.8 million expected during the FY 16 year.
The city has many projects along the tidelands that require funding, including replacing the Belmont pool, restrooms, improvements to Rainbow Harbor, etc. The list totals several hundred million dollars, with $95 million in cash available. Earlier this year, the city council prioritized spending of that money.
The Tidelands Fund for "capital projects is in very good shape," Modica said. "That's all cash, none of it is speculative, none of it is expecting oil money to come in at a certain amount. Everything that we funded for those projects was cash on hand. We had $95 million roughly, which has all been programmed, those are all funded. Tidelands is in a bit of a deficit. . . . We don't believe there are big service impacts in Tidelands this year. We are seeing a dip this year, we're expecting it to go up next year, but that's predicated on what oil is going to do. So for this year we are going to make some reductions, and next year we will reassess and see what oil is going to be."
Other Revenue Projections
The General Fund budget calls for an estimated $103.7 million in property tax revenue for FY 16, or about the same as the current year. Sales tax revenue is expected to increase, going from an estimated FY 15 year-end $57 million to $58.5 million in the new fiscal year.
Another major revenue source is the utility users tax. The 5 percent tax on electricity, gas, telephone and water bills accounts for about 9.5 percent of city revenue, coming in at an estimated $39.4 million for FY 16 – the same as this year.
These three taxes – property, sales and UUT – account for nearly half of the General Fund revenue. Additional revenues come from the transient occupancy tax, business license tax, permit fees, vehicle code and parking citations, etc.
Streets And Sidewalks
The Business Journal often hears from residents who are confused about how the city goes about fixing streets and sidewalks. Some areas of the city have been waiting years for repairs.
Understanding the frustration of residents, Modica responded: "One of the things that we try to explain is there are certain points in a street's life where if you invest early on – even though it may look like a newer street [that doesn't need resurfacing] – you are going to save about $6 to $8 for every $1 you invest – if you catch the maintenance early on. Once you let that street fail, sometimes you just have to let it completely fail because, once you kind of reach that point of no return, the cost to invest, to bring it back up, is tremendous. In some of our streets, we are able to reach them before they get to that point."
According to Modica, the city is going to invest $11.4 million in "our major and secondary streets and $10 million on local streets and sidewalks. The city is spending $3 million during the current year to repair/replace 15 miles of sidewalks. A similar effort is proposed for the new fiscal year. Half of the money is spent based on need and half is divvied up for each of the nine city council districts, with input from the councilmember.
But the city is aiming to do better. Modica said that in the new fiscal year, a $1 million study of all the city's sidewalks will be conducted – "a full assessment of every single sidewalk and every path of travel for ADA [Americans with Disabilities Act] purposes – and that is going to help us with a transition plan, and that will show us very clearly where the greatest needs are," Modica said.
He stressed that Long Beach is far ahead of where most cities are in fixing its infrastructure. "I don't want to ignore the need . . . but we are way ahead of the curve in a lot of areas."
The Lists
Following are the lists, presented in two sections ($100,000+ and $90,000-$99,999) and in three categories each:
• City Manager Departments – Non-Public Safety, which are primarily salaries under which the city manager has control, with the rest set by memorandums of understanding;
• City Manager Departments – Public Safety, which includes police and fire department positions, with nearly all salaries set by MOUs; and
• Non-City Manager Departments, which are those salaries that are not under the control of the city manager. These include the city attorney, city auditor, city clerk, city prosecutor, civil service, harbor, water and legislative (mayor and city council).
To better understand the listings and abbreviations, please read the "notes" that precede the first listing.
Click the image below to download city salary listings and associated charts.