During National Community Health Center Week, The Children's Clinic, "Serving Children & Their Families" celebrated the grand opening of two new health clinics to serve Long Beach. The nonprofit organization, which provides health care services to low income and at-risk children, teens and adults, held an event at Theodore Roosevelt Elementary School to debut the school's on-site clinic, as well as a new mobile clinic.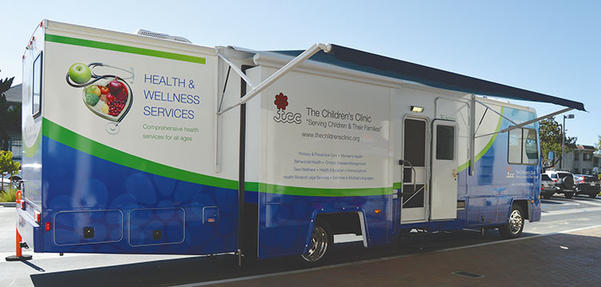 The Children's Clinic's new mobile health center was created to bring care to homeless individuals in Long Beach who may also be facing mental health issues.
The new clinic at Roosevelt Elementary in Central Long Beach has been in the works for years, according to The Children's Clinic CEO Dr. Elisa Nicholas, M.S.P.H. The area has a high poverty level, and many of the children at the school are participating in Long Beach Unified School District's free and reduced-price lunch programs, she said.
In addition to serving these students, the center is also open to teens and adults in the area. Services include preventive care, care for chronic conditions (such as asthma and diabetes), walk-in immunizations, family management and behavioral health, according to Nicholas.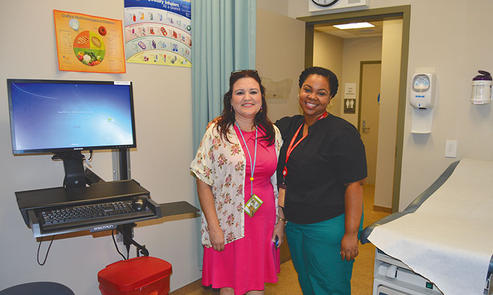 Imelda Meza, clinic manager, and Crystal Crain, medical assistant, work at the new health clinic at Roosevelt Elementary School in Central Long Beach. The center, operated by The Children's Clinic, is bringing health care services to a low-income community.
The organization's new mobile clinic was born out of a standing partnership with Mental Health America to provide the homeless mentally ill in Long Beach with health care services, Nicholas said. It can be challenging to provide care in places where the homeless sleep and spend their time, such as under freeways, she explained. So The Children's Clinic sought out grant funding to build the mobile clinic.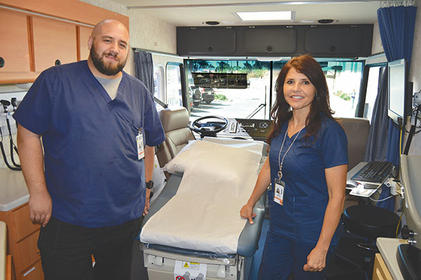 Justin Deson is the driver of the new mobile clinic operated by The Children's Clinic. He is pictured inside the mobile health facility with Isela Vasquez, manager of the organization's Westside clinic and of the mobile unit.
"Many of them have wounds that need to be taken care of, and it's better if you can see them in a space that is mobile and can go where they go," Nicholas said of the mobile clinic. "Initially, we've chosen Lincoln Park by the Civic Center, and also the 710 Freeway and PCH [Pacific Coast Highway], to see them." In the future, the clinic may be used in other ways throughout the community, she noted.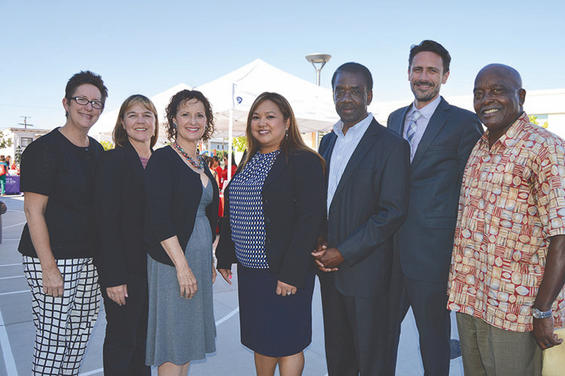 Local school district and city officials came out August 11 for the grand opening of two new health clinics operated by The Children's Clinic. Pictured from left are: Dr. Tiffany Brown, assistant superintendent, Long Beach Unified School District (LBUSD); Dr. Jill Baker, deputy superintendent of schools, LBUSD; Elisa Nicolas, CEO of The Children's Clinic; Clarissa Tolentino, principal of Roosevelt Elementary School; Felton Williams, LBUSD boardmember for District 2; Dr. Christopher Lund, assistant superintendent, LBUSD; and 6th District Councilmember Dee Andrews.
The new facilities are supporting 15 new jobs in the community, according to Nicholas. For clinic hours and more information, call The Children's Clinic's patient services line at 844/822-4646.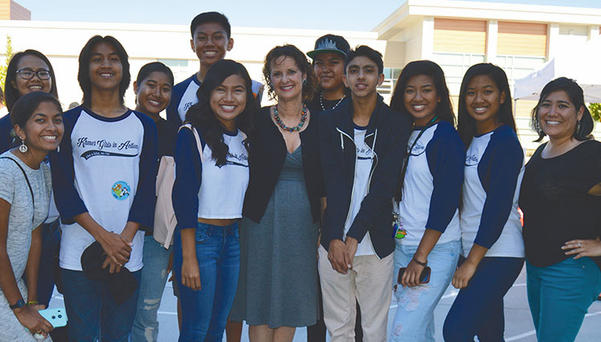 Elisa Nicholas, CEO of The Children's Clinic, was joined by Long Beach Polytechnic High School students who are members of the community organization Khmer Girls in Action to celebrate the grand opening of two new health clinics for underserved communities. The students are partnering with The Children's Clinic for teen wellness events at Roosevelt Elementary School's new clinic on Friday afternoons, according to Nicholas.
(Photographs by the Business Journal's Larry Duncan)