From a $65 million remodel of The Pike Outlets to ongoing, contemporary renovations at City Place shopping center to dozens of independent eateries and businesses opening throughout the area, the business environment in Downtown Long Beach continues to gain momentum.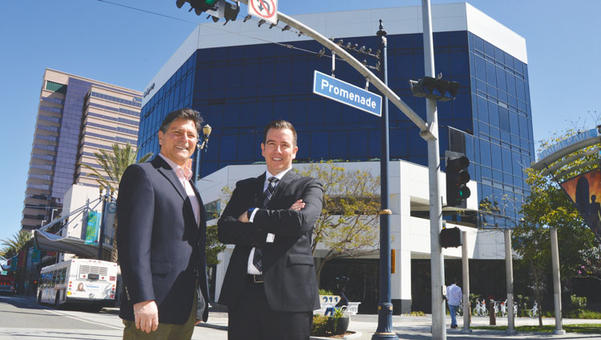 The Downtown Long Beach Alliance is a nonprofit organization dedicated to fostering a "healthy, safe and prosperous downtown." Pictured at 1st Street and The Promenade are President and CEO Kraig Kojian, left, and Economic Development Manager Adam Carrillo. (Photograph by the Business Journal's Larry Duncan)
A shepherd of that growth is the Downtown Long Beach Alliance (DLBA), a nonprofit organization that oversees the property and business improvement districts within downtown. The organization, formed in 1937, is "dedicated to the management, marketing, security, maintenance, advocacy, and economic and community development" of those districts, according to its 2020 Vision Plan.
"The role that we have designed for ourselves is really serving as a liaison and ombudsman between the public and private sector from an economic development standpoint," Kraig Kojian, president and CEO of the DLBA, said.
For example, the DLBA often introduces private investors to city staff "to help them walk through the process so they have a clear understanding of what that process looks like in advance," he explained. "It is [also] introducing them to elected officials so there is a briefing on the potential project or the investment that could come into their district."
Over the past year and a half, the DLBA has ramped up its efforts to provide the brokerage community, entrepreneurs and investors with data about different areas of downtown. Austin Metoyer, research and policy manager, and Adam Carrillo, economic development manager, take a synergistic approach to this effort.
"I think Austin has done a great job over the past year of consolidating information that's relevant to what we're sharing to the investment community and that Adam is using it to identify some specific needs of that particular investor, and then showing them specific areas and/or spaces with the brokerage community," Kojian said.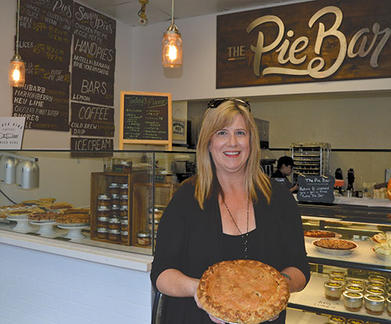 When Laurie Gray opened The Pie Bar on North Pine Avenue, she spurred interest in the area among other Long Beach locals who, like her, have been operating businesses without storefronts, according to the Downtown Long Beach Alliance. One such business, Romeo Chocolates, is soon slated to become her neighbor. (Photograph by the Business Journal's Larry Duncan)
Carrillo referred to the DLBA as "the leading clearing house for data and information in supporting the site selection process" for potential new businesses.
"Take, for example, the automated pedestrian sensors that we have located throughout the downtown," Carrillo said. "This gives you, any entrepreneur, potential investor, restaurateur or groundfloor retail owner an opportunity to [understand] what type of foot traffic you will be seeing." With this data, a restaurateur could determine whether it would be best to open a breakfast establishment or one suited to evening dining.
Metoyer said the DLBA is also working to gather data to determine where the greatest opportunities are for new businesses. Such metrics would take available vacant space into consideration coupled with data on how existing businesses in that area have been doing in terms of sales. "So City Place, The Pike, East Village, [we are] looking at those corridors and seeing how successful those businesses have been and whether or not that's a good opportunity for another business to come in," he said.
One area the DLBA sees as primed for growth is North Pine Avenue. "You're seeing, I think, the champions of Long Beach choosing North Pine as kind of the marquis area for them to open," Carrillo said. The Pie Bar, which opened last year at 450 Pine Ave., is "a great example," as is Romeo Chocolates, which is slated to open next door, he noted. A brewery will also soon announce it is opening on North Pine, he added.
Hazel Quimpo, communications manager for the DLBA, pointed out that the organization recently began sending out quarterly reports with data about office and retail space and residential real estate. "Instead of just publishing annually, like many organizations do, we are actually publishing quarterly with our snapshots," she said.
Quimpo also spearheads content marketing for businesses and investors in the area via the DLBA's website and e-blasts. "Whether it's announcing a new business coming in or ongoing promotion of businesses, that's again part of our role," Kojian said. "The nature of us serving as a voice for business in the downtown, I think, has been well articulated and certainly elevated over the past two or three years."
In addition to these efforts, the DLBA's events programming, which attracts people to the area for food festivals, music and more, as well as its Clean and Safe program, which keeps the streets clean and provides safety services like escorts back to cars, are aimed at creating an environment for businesses to thrive.