In addition to serving as a new entertaining attraction for Long Beach and surrounding communities, the Aquarium of the Pacific's new wing, Pacific Visions, is designed as an educational experience. This goal is in keeping with the Aquarium's longtime dedication to education, which has been embodied not only through its exhibits but also through its lecture series, onsite classroom, traveling Aquarium on Wheels and other programming.
David Bader, the Aquarium's director of education, has worked for the institution for 20 years. In that time, he has seen the educational staff grow from six people to 60. "As long as I have been here, we have always been working to engage as many people as possible and to think beyond the four walls of our institution," Bader said.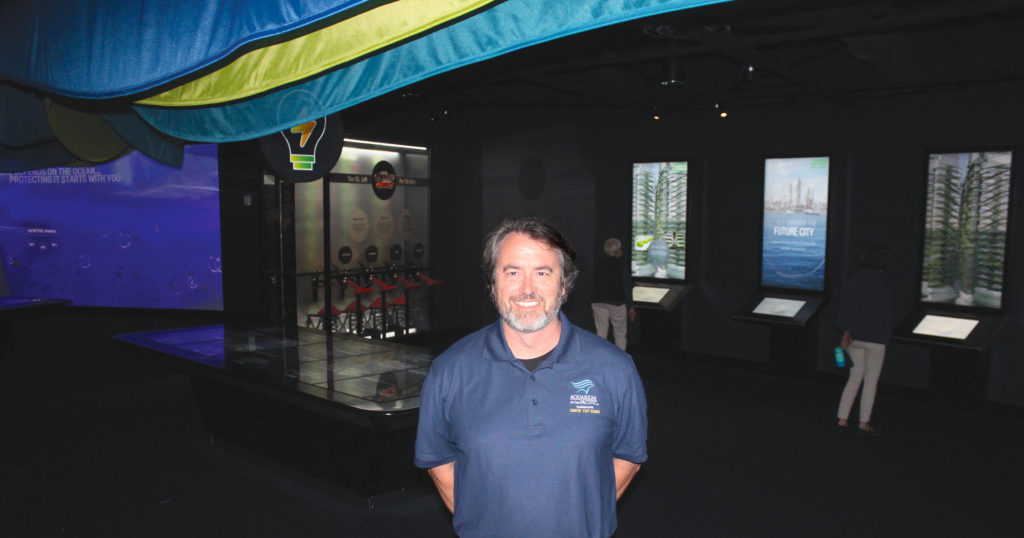 "For Pacific Visions, the main components of [educational] programming started with our executive team meeting with world leaders and experts [about] the science content of the exhibits," Bader said. According to Dr. Jerry Schubel, the president and CEO of the Aquarium, he and his staff met with scientists from Stanford University, University of California (UC) Los Angeles, UC Santa Barbara and the University of Notre Dame. Over the course of two days, they discussed the overarching storyline for Pacific Visions and how to weave it together, Schubel recalled. In the time since the Aquarium's board first approved the concept for the new wing at a 2005 retreat, numerous guest lecturers invited to the Aquarium have also provided input on the project, he noted.
"The overarching educational goal is to let people explore pathways to alternative futures and discover that the actions we take over the next couple of decades – particularly relevant to the choices we make of energy, food and water – will determine the future that we will all live in and our children and grandchildren will live in," Schubel explained.
Pacific Visions' storyline – told through technology, art displays, films and live animal exhibits – ties together the concepts of food, energy, water, climate change and population growth to explain how humanity is impacting the oceanic environment, and steps to take for a more sustainable future.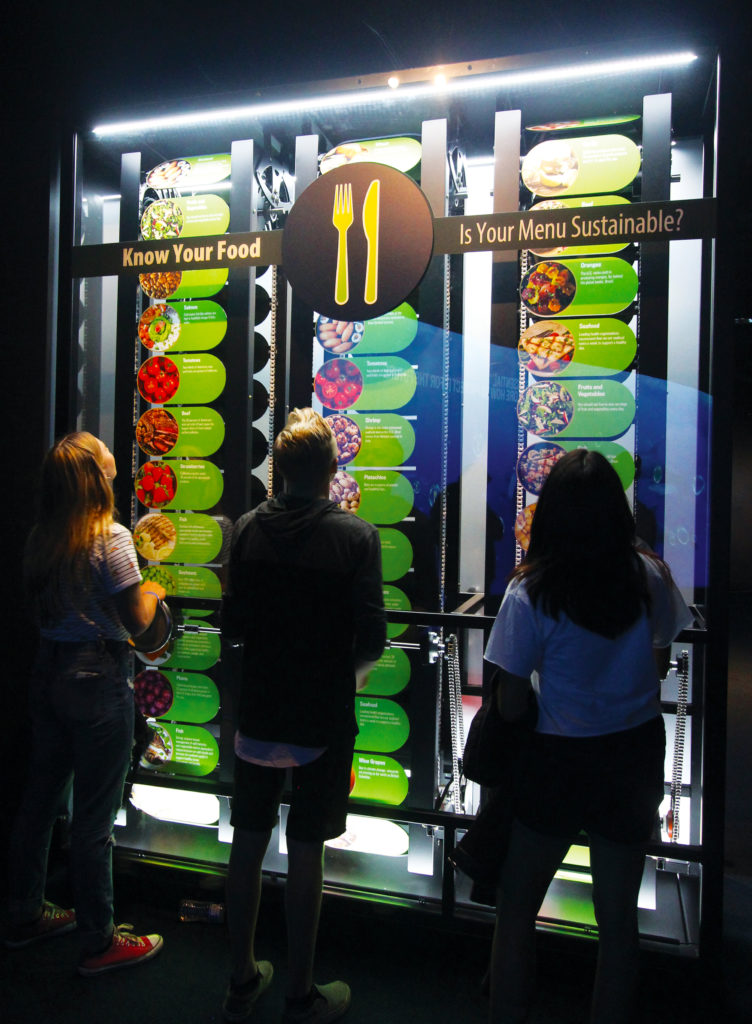 "We want people to be able to wrestle with some pretty big ideas," Bader said. "We know that in the next 50 years or so we are going to see population increasing on the planet by maybe as many as an additional two or three billion people. And we know that the resources we have on our planet are limited. We have to find a way to utilize our resources as best as we possibly can, making sure there is enough food, energy [and] water for that growing population." Ultimately, Pacific Visions leads to this realization, as summarized by Bader: "We have to make some critical decisions in the near future to plan . . . so that it is a resilient future for everybody."
Pacific Visions imparts this lesson through a variety of media – from interactive technology like touchscreen tables that function both educationally and as conversation starters, to tactile experiences such as a mock coral reef. After guests watch a film in the Honda Pacific Visions Theater, they are able to interact with a variety of touchscreens in the culmination gallery, each focused on ways they can effect sustainable change in their own lives, Bader explained.
"We know that learning is a social endeavor, and some of the best ways we can make a lasting and meaningful impact on people is to create those social experiences," Bader said.
Schubel noted that most guests do not come to the Aquarium for education, but to be entertained. "Even with Pacific Visions, most people come to have fun," he said. "Once they're in the door though, then it's up to us to snooker them into learning." Rather than taking a didactic approach to learning, Pacific Visions is focused on learning through entertainment, he explained.
Bader reflected, "As an Aquarium, as a traditionally live animal focused space, we are also asking our guests to engage in some really deep and meaningful ideas in terms of kind of the future of our whole planet."