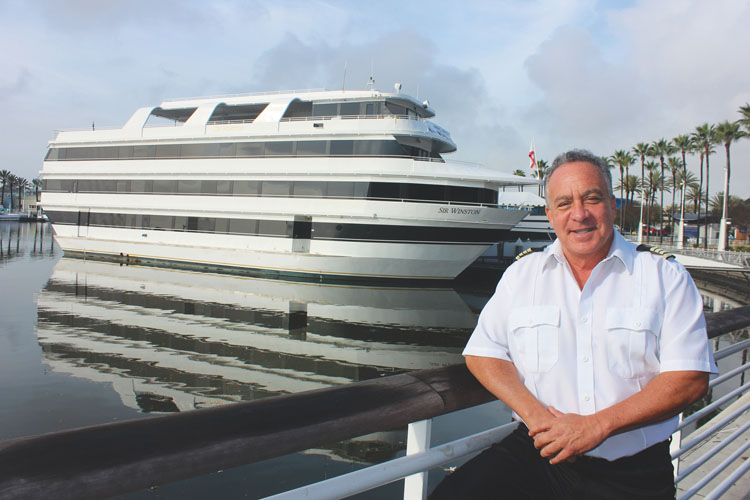 (Editor's note: Capt. Dan Salas founded Harbor Breeze Cruises in 2001 after spending years working on tugboats and towboats along the West Coast. The company started out with one vessel based in Rainbow Harbor, and now operates eight boats offering sea life tours, dinner and lunch cruises, harbor tours and special event bookings. Harbor Breeze has 45 employees.)
LBBJ: What was the idea behind Harbor Breeze Cruises?
Salas: Being on the ocean my whole life, I developed a strong respect for the sea. I was coming home from Catalina Island one day on my charter fishing boat, and I had a newborn baby and I was looking toward the future. I thought about what I wanted for my life and my brand-new family. . . . I saw an opportunity to take customers out to view the magnificent sea life we take for granted when we're fishing: the sea lions, the whales, the dolphins. Also, to see the large ships coming from all over the world, the barges, all the activity in the busiest port complex in the western hemisphere. I decided to take a chance and open a business in Long Beach. At the time, Rainbow Harbor had been open for about a year and a half, and there was nothing here. People told me . . . Long Beach was at the end of the Los Angeles River, it was always full of trash and there was no way I was going to make it with the tour business; that I was wasting my time. But I knew better. So, I went for it.
Our first day was January 1, 2001, and our first scheduled trip was at 12 o' clock. The weather was absolutely beautiful. We put our sign up and opened for business. . . . Not one person showed up. I went and stood at the parking lot and welcomed every person who walked out and told them, "Welcome to Long Beach. Our next sea life cruise today will be at 3 o' clock at Dock 2, if you're interested. We're going to take you out and look for dolphins and whales." At 3 o' clock, the boat was sold out. We were in business.
LBBJ: How have you grown the company over the years?
Salas: When I figured out that all you had to do is be personable, deliver what you say you're going to deliver and be reasonably priced, it was magic. The first six months in business were phenomenal; we were selling out. I decided I needed a bigger boat. . . . I upgraded to [a boat purchased from a San Francisco company] which took the first tourist ever to Alcatraz. . . . I named it after my daughter, Christina. It carried 200 passengers. I started daily harbor cruises, 364 days a year, rain or shine. . . . We acquired another vessel, a dinner cruise boat called The Caroline, named after my first daughter. Then, in 2003, I bought a company in San Pedro called Los Angeles Sightseeing Cruises, and their website, 2seewhales.com. . . . Our business exploded. We took one of their vessels, and that became our dedicated full-time whale watching and dolphin cruise boat. It carried 150 passengers. Business continued to grow.
In 2004, during one of our whale-watching trips, I saw my first blue whale. It was the most amazing creature I had ever seen. I said, "If I had a faster boat, I could start blue whale-watching trips." I discovered a company in Seattle, Washington . . . that builds catamarans for humpback whale cruises. After the 2004 season, which was very successful for us, I flew to Seattle and gave the owner of the boat-building company a check for $100,000. I didn't have a clue how I was going to pay for it. . . . Lo and behold, after mortgaging my house, borrowing money from friends and doing whatever it took, on July 4, 2005, we had a brand-new boat and we were in the blue whale business. It was a 20-knot, modern boat with stadium seating. I called it The Christopher after my newly born son.
LBBJ: What would you say makes Harbor Breeze Cruises unique to other charter vessel and sea life tour operators?
Salas: Since the day we started Harbor Breeze Cruises we have always looked toward the future to modernize and provide a better service for our customers. We were the first company to build ramps so we could get people who had mobility issues on our boats. We developed key partnerships, such as with the Aquarium of the Pacific. Each of our whale-watching tours is guided by an educator from the Aquarium. We have worked with NOAA [the National Oceanic and Atmospheric Administration] gathering vital information on the habits of whales. The data we with the Aquarium collected actually moved the shipping lanes out a few miles further to not interfere with the blue whales' feeding grounds.
LBBJ:  The tourism industry is one of the first hit in a recession because it's largely fueled by discretionary income. How have you navigated tough economic times, and could you do it again?
Salas: During the last recession we didn't know what to expect. . . . We actually grew by 15%. We figured out later that the people who were struggling, who didn't have the funds to go to Disneyland or go see a movie or go out to a nice restaurant, would gravitate towards the water for peace and tranquility. . . . We had reasonably priced tickets. It was $10 for an adult, $5 for children. People took advantage of that. They didn't have money to spend, so they enjoyed something that didn't cost them much.
LBBJ: You've been a long-time local. How have you seen Long Beach change over the years, and have those changes been to the benefit of your business?
Salas: When we started in 2001, I believed in Long Beach. The Navy base was just closing. Ocean Boulevard was still a little rough. You couldn't go very far inland from downtown; you'd be taking your chances. Today, Long Beach is amazing thanks to what Mayor Beverly O'Neill started and Mayor Bob Foster kept going. Now Mayor [Robert] Garcia has carried the torch to make Long Beach a world class destination. The folks at the Long Beach Convention & Visitors Bureau led by Mr. [Steve] Goodling have championed Long Beach, which is now getting recognition worldwide. . . . We're very proud, fortunate and appreciative to represent the City of Long Beach to tourists. We take that seriously because of all the hard work everyone has done to build what I would call a world class city. . . . The future looks bright in Long Beach. You can drive around anywhere in this town and see growth and opportunity.
LBBJ: If a startup CEO were to ask you for your most important piece of business advice, what would you say?
Salas: It's not about money. It's about doing something that you believe in. . . . For us, it's about providing a service to our customers, keeping our customers safe, and believing in our product. Any profit that comes will be a byproduct of your hard work and your dedication. You have to absolutely in your gut believe what you're doing is the right thing. From that, the benefits will come.
LBBJ: What are some traits or skills every executive should strive to cultivate?
Salas: Honesty, integrity, reliability, dependability, compassion, giving back, sharing your mistakes, sharing your accomplishments and passing it on.
LBBJ: Are you pleased with the development of the waterfront, or is there more the city could be doing?
Salas: The city has been on track with the waterfront. They've done a fantastic job. . . . The water quality since we have been here in the waterfront has improved tremendously from when we first came to Long Beach. But we always need to work harder and improve. We have a lot of work to do. For too many years, we have taken the ocean for granted, and now we need to work to give back and protect the ocean for generations to come.