When construction on Douglas Park began 10 years ago, the City of Long Beach was in the depths of the Great Recession. Irvine-based Sares-Regis Group went all-in on the majority of the development in 2011, building massive corporate headquarters facilities on speculation, without a single tenant secured in advance. To some, in such a tenuous economic time, the buildings going up in the midst of a field of dirt that had once been the center of manufacturing and employment for the city might have seemed ill-timed. But, as evidenced by the line of tenants that came with each segment of development, as it turned out, it was just in time.
Douglas Park was one of the largest undeveloped pieces of land left in the county, and, as such, presented a unique opportunity for businesses to nab larger pieces of property than were available in surrounding areas. In the years since the build-out began, companies bursting at the seams in surrounding areas like the South Bay and Gardena have filled up the office and industrial space at the park.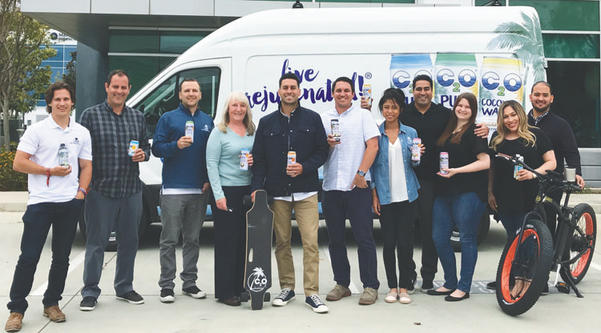 C2O Water staffers gather outside the company's Douglas Park office, which was purchased in late 2016. The company, which manufactures coconut water, urges its staff and customers to "Live Rejuvenated!" Pictured, from left, are: Paul Heidecker, marketing coordinator; Mike Fransz vice president of marketing; AJ Rowe, sales manager; Sharon Vanzant, CFO; Albert Kozlowski, vice president of sales; Hudson Rogers, social responsibility director; Lauren Boncato, customer relations; Tony Ortiz, creative director; Morgan Foldesi, procurement manager; Brittanie Martin, logistics coordinator; and Ronald Greene, founder, president and CEO. (Photograph by the Business Journal's Samantha Mehlinger)
The companies located in Douglas Park represent a wide array of industries. Several hearken back to the aviation roots of the site – Rubbercraft manufactures elastomeric parts for aircraft, Shimadzu Precision Instruments supplies aircraft parts for Boeing and other major firms, and Virgin Orbit is hard at work developing satellite launchers for a new era in aerospace. Other major industries represented in the area include the automotive, health care, education, hospitality, engineering and technology, as well as smaller firms dedicated to design, finance, real estate and more. The Business Journal interviewed several companies from these industries about their operations and economic impact to the area.
LD Products, an online retailer of off-brand printer cartridges and office supplies, was one of the first tenants at Douglas Park, moving there in 2012. Aaron Leon, owner and founder of the company, started the business in his college dorm room in 1999, earning revenues of $30,000 in his first year. Now, the e-commerce business takes in roughly $100 million annually. In addition to the headquarters and West Coast distribution facility housed at the firm's Douglas Park location, LD Products operates an East Coast distribution center in Pennsylvania and a small office in the Philippines.
After moving into Douglas Park from a smaller facility in Long Beach, the company grew from 45 employees to 100. Companywide there are now 165 employees, with 150 working at Douglas Park. With the variety of services housed in the building, there is a wide range of employment opportunities, according to Leon. "We have management, we have software development team, we have accountants, and then we have our warehouse team. Our call center is upstairs," he said. Many employees make between $80,000 to $100,000 – "Good jobs for Long Beach," Leon said. "And that's what Douglas Park, when they designed it, they originally wanted."
Leon said the company is "in growth mode," and is expanding into wholesaling by marketing to printer services dealers, which manage printing operations for large corporations like Boeing, as well as major entities such as health care systems or school districts.
As it turns out, "growth mode," as Leon put it, is an apt description to describe the status of many businesses located within Douglas Park.
Virgin Orbit, for example, a spinoff of Sir Richard Branson's Virgin Galactic, is in the process of expanding into a second building within the business park on McGowen Street. The company originally opened as a division of Virgin Galactic at Douglas Park in March 2015, and later incorporated as Virgin Orbit. The company is a space launch service offering affordable satellite transit to space. As Vice President of Special Projects Will Pomerantz explained it, there is high demand for this innovative service, as satellites have historically been extremely cost prohibitive, both to manufacture and to launch.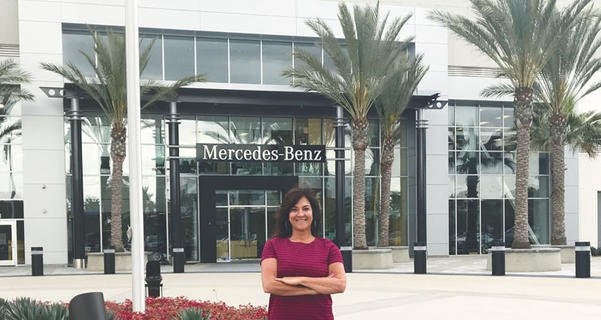 Tracey Matura, general manager of Mercedes-Benz USA's western region sales and services operation, is pictured outside the company's massive Douglas Park facility, which spans more than one million square feet. The property is home to three divisions for the company's western region. Thousands of cars go through the facility each month on their way to 87 dealerships in 12 states. (Photograph by the Business Journal's Samantha Mehlinger)
The company originally started in an art gallery in Old Town Pasadena, according Pomerantz. After the company production and employee headcount began ramping up, Pomerantz began searching for a location that would have the space the firm needed to grow. "We did a big search here in Southern California, all across L.A. County and some of the neighboring counties looking for a space where we had the right amount of space to do the kind of work we need to do where the price was right. But also, somewhere we could go and recruit the kind of talent we need to make this rocket work," he said.
"In Long Beach, not only did we find the right size building at the right kind of price that had all the right zoning for us to do the technical work that we needed to do, but [we] just sort of recognized that, because Long Beach has this great history of aerospace work, there were already a lot of talented individuals here," Pomerantz said. "There was a supply chain here of companies we could work with."
In 2015, about 45 people worked at the site. Now, Virgin Orbit has 400 employees. "We employ literal rocket scientists, propulsion engineers and people who are developing rocket engines," Pomerantz said. "We build almost every single part of this system ourselves. We're not just assembling bits that we have bought from other people." He continued, "So, yes, we have a lot of men and women who go and physically build the rocket parts or inspect them to make sure they are reliable and safe as we need them to be. But then we also have got a very small but powerful sales team and we have got our accountants and talent specialists and a graphic designer, and all the other kinds of things."
Pomerantz noted that Virgin Orbit employees are excited by their work, and often give their time to educate young students studying science, technology, engineering and mathematics. "We open up the factory to student groups on the third Saturday of every month, typically," he said.
Nearby, a Long Beach-born and bred company, C2O Water, is also growing. Founder and President Ronald Greene started the coconut water firm 10 years ago by driving a van up and down the streets of Long Beach selling his product. "Coconut water 10 years ago was really hard to find. . . . I found a really good tasting coconut, I found where it was made and basically turned it into a business here in Long Beach," he recalled. "We had our first office on Pine Street in the old historical building next to the [Auld] Dubliner."
Greene continued, "We slowly grew from selling direct into small liquor stores, into cafes, into health food stores. And then in 2009 Sprouts Farmers Market took a big bet on me and bought a full truck load from me, and ever since then it kind of took root and started to grow organically, slowly and surely." The firm briefly moved to Seal Beach for a few years, but ultimately purchased a building in Douglas Park for its corporate headquarters in 2016.
There are now 25 employees working at the Douglas Park office, and Greene hopes to double that number by 2022. C2O Water is manufactured and packaged in Thailand, and the Douglas Park headquarters serves as the sales and marketing hub for the company.
Most C2O Water employees live in Long Beach and enjoy being active in the community, according to Greene and his director of marketing, Mike Fransz, who pointed out that the firm annually sponsors the Long Beach Marathon.
The largest physical corporate presence at Douglas Park is Mercedes-Benz USA, which in 2014 took up 1.1 million square feet formerly used by Boeing to manufacture aircraft. The facility serves as the company's western region hub and includes three operational components: the vehicle preparation center, where thousands of cars shipped in through the Port of Long Beach are processed and sent out to dealers each month; the Mercedes-Benz Academy, where dealer technicians and employees who work throughout the 12 states of the firm's western region must undergo training; and the western region sales and services operations. The latter handles all the sales support, marketing and other service support for all 87 dealers throughout the western region.
Tracey Matura, general manager of the sales and services operation, said that about 130 people are employed at the Mercedes-Benz Douglas Park campus, plus an additional 55 temporary employees. "We run the gamut because of the three disciplines that we have there, from technical workers, so blue collar [jobs] . . . all the way up to our highest level of management," Matura said. "There is an opportunity for folks of all different disciplines and talents to work within our organization."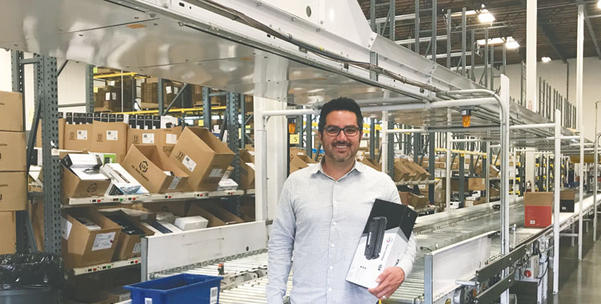 Aaron Leon, founder and CEO of LD Products, is pictured at the company's warehouse in its Douglas Park headquarters. The company, an online retailer of off-brand printer products and office supplies, was one of the first to move into the business park. (Photograph by the Business Journal's Samantha Mehlinger)
The vehicle preparation center processes about 300 vehicles a day. About 5,000 are sent to dealers throughout the 12 states of the company's western region on a monthly basis, Matura said.
Since opening shop in Long Beach, Mercedes-Benz has become involved in various community efforts, including donating Christmas toys to the Salvation Army and clothes to the Long Beach Rescue Mission, Matura noted.
Although smaller in footprint, United Pacific, a company that operates 320 gas stations and conveniences stores, has about as many employees as Mercedes-Benz located at its Douglas Park office. Joe Juliano, CEO of United Pacific, says 130 employees are located there, with positions ranging from human resources, finance, marketing, wholesale and more. "It runs the spectrum. We've got some entry-level folks there, and then all of our C-level suite is located there," he said.
The company moved it headquarters to Douglas Park from Gardena about a year ago. "We had certain criteria to help us make a site selection. Number one, we wanted to be by a major airport, and Long Beach Airport checked that box," Juliano said. "Two, we wanted to be nearby a major interstate, the 405. Checked that box. And number three, we did sort of a scattergram of where all our support center employees live, and Long Beach just happened to fall right in the middle of that."
Juliano continued, "What made the whole thing really sweet was all the amenities that Douglas Park has to offer and all the amenities that were being added going forward: Long Beach Exchange for example. We're just really excited to be there and it has worked out beautifully."
Juliano isn't the only one excited for the development of Long Beach Exchange, a new retail center at Douglas Park with a grocery store, multiple restaurants and fitness businesses. Every firm interviewed by the Business Journal cited the development as a major benefit of being located at Douglas Park.
The medical field has also developed a sizable presence at Douglas Park, with various medical offices congregated in two buildings off of Cover Street, including Long Beach Gastroenterology Associates, Columbia Pediatrics and Laser Skin Care Center. MemorialCare Health System also operates an outpatient ambulatory center at Douglas Park, giving nearby residents access to a variety of care services.
According to Dr. Mark Schafer (CEO of the MemorialCare Medical Group and Greater Newport Physicians, as well as of the MemorialCare Medical Foundation) there are 37 primary care and specialty physicians, nurses and other support staff located at Douglas Park. Care services include occupational medicine, obstetrics and gynecology, neurosurgery, cardiothoracic surgery, imaging and more.
"The demand in Long Beach for our medical and health care services continues to grow and we want to be the provider of choice for the communities of Long Beach," Schafer stated via e-mail. "With the expansion in the Douglas Park community, this was an exciting opportunity for MemorialCare to build a health center to meet the needs of surrounding residents and employers and their workforce."
Schafer called the medical services available at Douglas Park a "one-stop shop for health care." He noted that the majority of health care needs are for outpatient services. "We were able to access the demographic detail from the Douglas Park developers and tailor services to the community's needs," he said of MemorialCare's Douglas Park services. "One example that demonstrates this is the decision to add occupational medicine to serve local employers and their employees." He added that MemorialCare is "looking to add even more primary care providers in the coming months to better meet the needs of the community."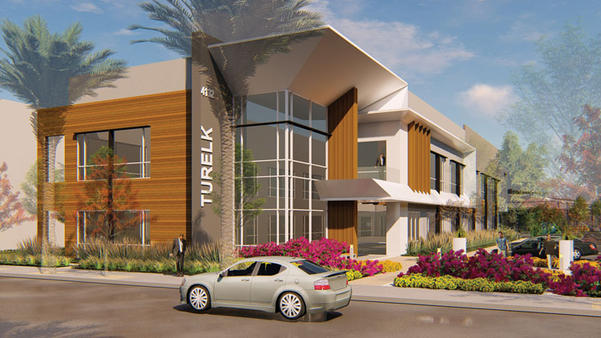 2H Construction announced that one of the final Douglas Park developments will be a 22,000-square-foot headquarters for Turelk, a tenant improvement contractor currently located at 3700 Santa Fe Ave. in Long Beach. (Rendering courtesy of Lee & Associates)
With so many businesses at Douglas Park, many of which serve as national or regional headquarters, the hotels within the business park have a built-in flow of clientele. The first hotel located at Douglas Park, the Courtyard by Marriott Long Beach Airport, relies heavily upon business travelers. "The majority of our guests are affiliated with local businesses in the Douglas Park area," General Manager Kenya Bannister said via e-mail. "The weekends are a different story as we tend to host leisure travelers in town for a quick getaway or a wedding or visiting friends and family close by."
The hotel is doing well, Bannister noted. "We average 80%-90% occupancy most days, and [room] rates range from $169 to $289 depending on [the] day of week," she said. "We opened our doors in March 2013 and we had a handful of customers. Now that we have stabilized and secured our place in the market, we have built solid relationships with key accounts in the area and continue to build on that. We are excited about all the growth we have seen since we arrived and love the options it brings for our travelers."
The Courtyard employs 50 people of varying occupations, including housekeepers, managers, sales coordinators, engineers and more, according to Bannister.
The latest hotel concept to open at Douglas Park is a combination of hotel brands: The Hampton Inn & Homewood Suites by Hilton Long Beach Airport. The mix of suites and traditional hotel rooms opened in November. "We find that Monday through Thursday the clientele is primarily corporate travelers – your road warriors who are coming in for a lot of our partners here in the area," Campus General Manager Jef Lawrence said. "Then, on the weekends, we do a lot of leisure and group business."
Virgin Orbit and Universal Technical Institute are major generators of business from within Douglas Park, as are nearby aerospace and aviation firms Flight Safety International and Gulfstream, according to Lawrence.
The Hampton Inn & Homewood Suites employs about 70 people. "I think one of the most interesting things about the Long Beach market for hotels overall is that there is a very high percentage of employees within our hotel industry actually living and working in Long Beach," Lawrence observed. He estimated that about 85% of employees at the Hampton Inn & Homewood Suites live in Long Beach.
Each of the firms interviewed for this piece have created job opportunities for the local community at all levels of employment, from entry-level jobs to high-paying management positions. And, as the park continues to grow, with one more major build-out planned and a major new retail center opening, Douglas Park continues to represent perhaps the largest concentration of economic growth opportunity within the City of Long Beach.