The hefty price tags pharmaceutical manufacturers are placing on specialty drugs – prescription medications used to treat chronic illnesses and diseases – are making up an increasingly greater percentage of overall costs for insurers and providers of health care, including state and federal governments. As advancements in medicine continue and more cures and treatments are discovered, such as the recently approved curative drug for Hepatitis C, these parties are puzzling over how to tackle high costs in order to ensure fair coverage and access for patients.
A lack of competition is central to the high cost of specialty drugs, according to locally based health plan executives. California-based Gilead Sciences, Inc., for example, has two drugs on the market, Sovaldi and Harvoni, which eradicated Hepatitis C in 90 to 99 percent of cases in clinical trials. The drugs retail for about $1,000 per pill, for a total treatment cost ranging from $84,000 to more than $175,000, depending on the regimen. Gilead has one main competitor, Chicago-based AbbVie, which reportedly retails its Hepatitis C drug with a similar success rate, Viekira Pak, at about $83,300.
Gilead will hold the patent for sofosbuvir, the main ingredient in Sovaldi and Harvoni, until 2029. A company flyer argues its high cost "reflects the significant clinical, economic and public health value . . . [that Sovaldi and Harvoni offer] to patients."
"The price of a pharmaceutical obviously is set by the maker of that product," Angelo Giambrone, PharmD, vice president of pharmacy services for Molina Healthcare, told the Business Journal. "We are very interested when there are competitive forces in play, and that would provide opportunities for managing cost . . . So uniqueness of a product, the inability to have a competitive product, is a challenge."
The cost of the drugs directly impacts the federal and state governments. "An estimated 750,000 HCV [Hepatitis C virus]-infected individuals receive health care through Medicaid or the prison system," a recent report by The National Governors Association stated. "The prevalence of HCV is estimated to be about 20 percent to 40 percent among the currently incarcerated population, 2 percent among the uninsured, and nearly 3 percent among the dually eligible Medicare and Medicaid population."
The National Governors Association's document stated that the cost to states to provide these Hepatitis C drugs "may be as much as $55 billion over an indefinite period." The current California state budget allocates $300 million for the cost of specialty drugs – which governor's office staffers have publicly stated are in large part due to the cost of Hepatitis C drugs.
According to the American Pharmacists Association, specialty drugs accounted for 3.1 percent of national health spending at a cost of $87 billion in 2012. The association expects those figures to increase to 9.1 percent of national spending at a cost of $400 billion in 2020.
"These specialty drugs are less than 1 percent of SCAN's prescriptions right now, but the cost is 20 to 25 percent of our total cost," Chris Wing, president and CEO of Long Beach-based SCAN Health Plan, told the Business Journal. "And 'Health Affairs,' which is a scholarly periodical, estimates in the next couple of years that could escalate to 50 percent [of total cost]."
Last year, Gilead was called to testify before the United States Congress to explain its pricing policies. "Our concern is that a treatment will not cure patients if they cannot afford it," U.S. Congressmembers Henry Waxman, Frank Pallone, Jr. and Diana DeGette wrote to Gilead in March of 2014. "These costs are likely to be too high for many patients, both those with public insurance and those with private insurance." The legislators also pointed out that Hepatitis C is more prevalent among low-income and minority patients.
"No, I don't believe it is warranted," John Molina, CFO of Molina Healthcare, said of the price of Sovaldi and Harvoni. "From an economic theory, one of the arguments that has always been made for the high cost of drugs relates back to research and development, or R&D," he said. "The issue with Gilead is they didn't develop the drug. They bought the company that developed the drug. So you could make the argument that the high cost that they are charging doesn't relate to their R&D."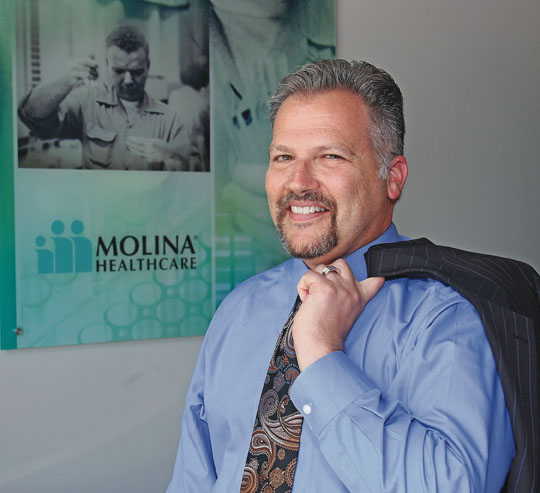 (John Molina, CFO of Long Beach-based Molina Healthcare, is concerned that the high cost of specialty and curative drugs may create inequality in access to those medications. Molina's father, pictured in an image behind him, was a pharmacist. (Photograph by the Business Journal's Evan Patrick Kelly)
Other specialty drugs coming to market may indeed have high prices to cover research and development costs. But there are other issues tied to the cost of specialty drugs in the U.S., including those of Gilead's medications. "Another factor is they are selling it for a lot less in other countries . . . It is a fraction of the cost in India and Egypt," Molina said.
Gilead has reached agreements with Indian drug manufacturers to provide and distribute a generic version of their Hepatitis C drugs to 91 developing countries, "likely at no more than 1 percent of the price charged in the United States," according to the National Governors Association.
"In essence, they are asking the American health care system to subsidize both the purchase of whoever developed it and subsidize the rest of the world," Molina said. "So is it [the price] justified on those lines? No. Is it justified if I've got Hepatitis C and I've got no other alternative? You can make that argument. But on a macro level, having everyone in America subsidize folks outside [the country] and subsidize a business decision is not justified."
"They are just making exorbitant margins," Wing said. "I am not advocating for price controls or let's go to socialism or anything like that. It's just, wow."
In its 2015 second quarter financial report, Gilead, which also manufactures other drugs including the AIDs medicine Truvada, reported $8.2 billion in total revenues with a net income of $4.5 billion.
In an e-mailed response to an inquiry by the Business Journal, Gilead emphasized the correlation between the curative quality of its drugs and their price. "Unlike long-term or indefinite treatments for other chronic diseases, Harvoni and Sovaldi offer a cure at a price that will significantly reduce Hepatitis C treatment costs now and deliver significant health care savings to the health care system over the long-term," Gilead representative Cara Miller wrote. She did not respond to questions regarding the manufacturing costs of these drugs. "Gilead is working to make Harvoni and Sovaldi available to Hepatitis C patients as quickly as possible."
Miller also wrote that Gilead is working with both public and private payers "to facilitate broad patient access" to its Hepatitis C drugs, including "additional discretionary discounts." The company also has a program for uninsured patients and those with high co-pays called Support Path.
Dr. Barry Smith, chief medical officer of MemorialCare Health System's Seaside Health Plan, also pointed to the correlation between sofosbuvir's efficacy and its cost. "If a drug really offers a very high cure rate and has an excellent safety profile, then it's important to evaluate the benefits to individuals, public health and society in general as well as its long-term effectiveness," he said in an e-mailed statement to the Business Journal. "The new Hepatitis C drugs – while costs are high – could result in long-term cost savings, such as helping to prevent advanced cirrhosis, liver cancer and the possible need for a liver transplant as well as reducing the risk of further infection."
Smith continued, "These new drugs shorten treatment time, are showing much higher cure rate and less side effects prevalent in previous regimens."
The argument that the drug will save money over the long term becomes problematic when applied to senior patients, according to Wing. "Gilead has said this is a great drug [and] this is going to save money over the long term," Wing said. "And that may be true, but if I were a senior and I am paying this kind of money, and I expect to live for 20 years, am I really going to get my value out of this drug?"
Signal Hill Mayor Larry Forester was diagnosed with Hepatitis C in 1999. He has taken multiple drugs for it since, some of which ultimately did nothing to help his condition. He has been taking Harvoni since April, and is on a longer treatment plan than most patients because he also has AIDs. With six more weeks of treatment left, the Hepatitis C virus is currently undetectable in his blood stream. "Then I am told I will wait eight months and they will test me, and my marker for Hep C should be gone," he said. In other words, in eight months, he should be totally rid of the virus.
"It's a great drug," Forester said of Harvoni. But he quickly tempered his statement. "Do I think Gilead is doing a disservice to the American community? Absolutely."
This partially has to do with the cost of the drug, but Forester's argument also extends to access. As insurers and governments struggle to determine how to cover costs for high-priced specialty drugs, one of the go-to solutions is restricting coverage, Wing acknowledged. This is already occurring with sofosbuvir.
Clinical guidelines for sofosbuvir drug coverage under state medical plans vary, but a scientific study released on August 4 in the "Annals of Internal Medicine" found that many states require patients to be in advanced stages of disease before being eligible for coverage.
"Restrictions based on liver disease severity are common, with three quarters of states restricting sofosbuvir to persons with advanced fibrosis or cirrhosis . . . which is inconsistent with recent American Association for the Study of Liver Diseases/Infectious Diseases Society of America recommendations," the study stated.
The report continued, "These recommendations state that HCV treatment is indicated for all patients with chronic HCV (regardless of disease stage) because HCV therapy is curative, improves quality of life, slows liver disease progression, and reduces the risk for cirrhosis, end-stage liver disease, HCC (hepatocellular carcinoma), and all-cause mortality."
Forester wasn't able to get coverage for Harvoni until he could prove he had stage three cirrhosis of the liver. "You have to be dying before you can take it," Forester said. "In my opinion, if you are tested positive for Hep C and you have a high viral load – the amount of Hep C in your system – you should be automatically allowed to take Harvoni."
While Wing called Gilead "the poster boy for bad behavior in 2014 and 2015," he noted the company isn't alone in marketing specialty drugs beyond what many people can afford. "There's a whole slew of biologics of even more expensive specialty drugs that are coming down the pike," he said.
So what's the solution? As more specialty and even curative drugs are manufactured with patents that edge out competition and enable high price points, how can insurers cover increasing costs to provide access to those who otherwise wouldn't be able to afford these drugs?
"You know what, if I would opine on that, I should either be in the state legislature or congress. That's why we elect those folks," Molina said in response to that query. "I just know it's not right."
"I think that there is the potential that we will continue to create disparate classes of people based on who can afford to pay for it and who can't," Molina said of the trend of high-cost specialty drugs. "That's just not what this society is about."
Because this is a free market society, and Wing said he is "a conservative guy," he wouldn't advocate for price control. Restricting access, as is occurring with sofosbuvir drugs, is another option to reduce the burden on insurers, but it creates problems of access, he noted.
In the end, what Wing believes needs to occur is "an adult dialogue" between insurers, the pharmaceutical manufacturing industry, the government, the medical community and patients.
"We all want to cure these diseases, whether it is cancer or Hepatitis C or rheumatoid arthritis. Those are all very good things to do," Wing said. "But we have to answer: 'At what cost, and what are we willing to give up for it?'"