As the world truly begins to grasp the consequences of climate change – having passed the 400 parts per million "tipping point" for atmospheric carbon dioxide at the end of September – more research is being done to introduce cleaner alternative fuels to the general public.
In recent years, through laws and regulations, as well as research and development of feasible alternative fuels, countries have made great efforts. Electric and hybrid cars have already made a tremendous impact on this front by providing viable options for consumers to purchase low- to no-emission vehicles, far more affordable than when they were introduced more than 15 years ago.
By the end of 2015, the United States had roughly 400,000 electric vehicles on the road – a bit shy of President Obama's 1 million vehicle goal, but still impressive – with California leading the charge with about 100,000 on the road as of September 2014, according to PC Magazine. Hybrid cars have seen even greater success in the states with 4 million sold through April 2016, according to hybridcars.com.
Hydrogen
Electric and hybrid technology might be dominating the passenger vehicle market as far as alternative fuels are concerned, but the dawn of hydrogen fuel cell technology is upon us, according to FirstElement Fuel Inc. co-founder and Chief Development Officer Dr. Shane Stephens.
"Over the last 20 years, there's been an earnest effort to pursue hydrogen cars. And I don't think everybody shares this opinion, but I would say many automakers see hydrogen and fuel cell cars as the holy grail for the next evolution for the automobile," Stephens said. "This is the first year really that cars are being commercialized, and retail stations are opening. This is the starting point if you will."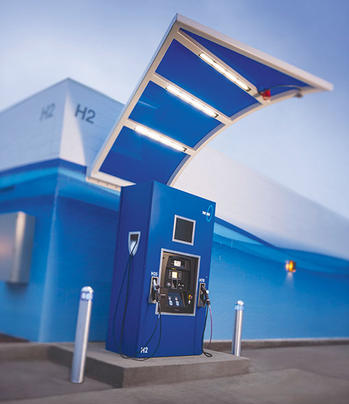 In the United States there are currently 29 hydrogen-fueling stations, 22 of which are in the state of California. FirstElement Fuel Inc., through state grants and other investors, has taken it upon themselves to create the infrastructure to help automakers get hydrogen fuel cell cars on the road. (Photograph courtesy of FirstElement Fuel Inc.)
According to Stephens, the road to hydrogen fuel cells began 50 years ago when General Motors (GM) engineers developed the first prototype in the form of a Chevrolet van. He explained that the van could only seat two as the entire back area was filled with the equipment to operate the vehicle. Since GM's science experiment in 1966, hydrogen fuel cell technology has evolved to the point that it can fit easily under the hood of a standard passenger vehicle.
Hydrogen fuel cell cars are reportedly 2.5 times more efficient than a gasoline car and 1.8 times more efficient than hybrid cars, Stephens said. He explained that the Environmental Protection Agency has rated some fuel cell vehicles at 66 miles per kilogram, which is equivalent to 66 miles per gallon of gas.
Essentially, a fuel cell vehicle is an electric vehicle, Stephens explained. The difference is that instead of plugging into the power grid and utilizing electricity produced at a central plant, fuel cells perform an electrochemical conversion of hydrogen and oxygen into electricity right under the hood, producing water as the only emission.
"One of the reasons I would put hydrogen and battery vehicles on kind of a different stage for alternative fuels is because those are the only two vehicle options that are zero-emission vehicles," Stephens said. "That's really, for the State of California, the ultimate goal – to get zero-emission light-duty vehicles on the road."
However, Stephens pointed out one aspect of the hydrogen-fueled car that might soon put it a step above even electric vehicles: It can be refueled in about four minutes, as opposed to the hours needed to charge an electric car. He said this will be a key factor when it comes time for consumers to choose which gasoline alternative to purchase – a decision some are already making.
Five key automakers have been developing fuel cell vehicles: General Motors, Hyundai, Mercedes, Toyota and Honda. The latter two will have hydrogen cars on the road this year.
The Toyota Mirai is already on sale at dealerships in California for $57,000. While the price may seem steep, the state is offering a $5,000 rebate, qualified buyers can receive an $8,000 federal tax credit, the car is eligible for the HOV carpool sticker and Toyota is offering three years of complimentary fuel.
Honda's Clarity will be released late winter, according to its website. The fuel cell car will be released in California and will be available to residents who live or work within a 10-mile radius of a hydrogen fueling station.
Fueling up hydrogen cars will be very calculated for buyers in the beginning. In the entire country, there are 29 hydrogen fueling stations. Twenty-two of them are located in California, mostly in the San Francisco Bay Area and Los Angeles County, including one in Long Beach at an ARCO gas station on the corner of Wardlow Road and Long Beach Boulevard. These stations are thanks to True Zero, a division of FirstElement Fuel.
"The hydrogen station at work is the remaining challenge, and that's where we come in," Stephens said. "We saw a little bit of a void where, even though automakers are ready to bring cars to the market, no company was building a network of retail, consumer-friendly stations. We're very customer oriented, and that's why we created our company."
To help finance the stations, FirstElement received more than $25.5 million through the California Energy Commission's Alternative and Renewable Fuel and Vehicle Technology Program. In addition, the company received $13.8 million from Honda and an undisclosed but similar amount from Toyota, according the Stephens.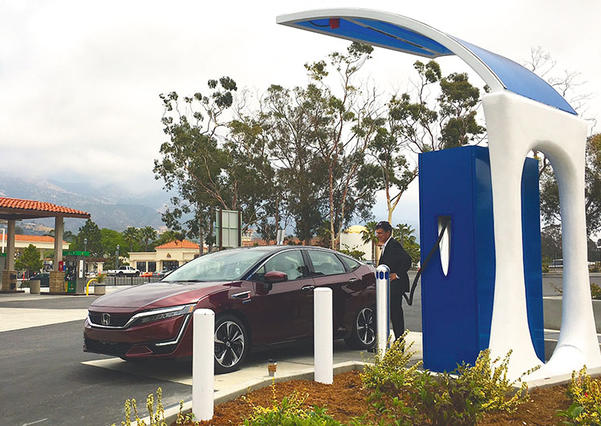 The California Energy Commission has spent $25.5 million to aid FirstElement Fuel Inc. in creating the hydrogen fuel infrastructure, as both Toyota and Honda will have hydrogen-fueled cars for sale before the end of 2016. (Photograph courtesy of FirstElement Fuel Inc.)
The reason for the slow progress of fueling stations is a matter of investment and risk, Stephens said. He explained that companies don't want to invest millions of dollars in stations until there are tens of thousands of hydrogen cars on the road, but there can't be tens of thousands of hydrogen cars on the road until there are stations to fuel them.
However, Stephens pointed out that hydrogen stations do not need to be as abundant as gas stations. He said that having 15% of the number of gas stations would be adequate to achieve the same accessibility.
Currently, hydrogen fuel sells for about $16 per kilogram at the pump, equivalent to $5 or $6 per gallon of gas. However, Stephens said this is due to the price of building the infrastructure. He expects hydrogen fuel prices to be on par with gas prices in the next several years and potentially down to half the price of gas within 10 years.
"Nobody expects that next year we're going to have half a million fuel cell cars on the road. That's not how it works," Stephens said. "But it's this very cool, unsung story here in California of really creating this market. And finally the puzzle pieces are coming together to get this thing launched."
Natural Gas
While hybrid, electric and hydrogen technologies dominate the light-duty market, major cities across the country have already adopted compressed natural gas (CNG) as an alternative to diesel fuel for medium- and heavy-duty vehicles such as buses and freight trucks.
According to George Minter, the regional vice president of external affairs and environmental strategy for Southern California Gas Company, heavy-duty transportation accounts for 80% of the NOx (nitric oxide and nitrogen dioxide) emissions problem in the South Coast Air Basin, which includes all of Orange County and parts of L.A., San Bernardino and Riverside counties.
"There has been a technology breakthrough, a real game-changer in the heavy-duty engine sector," Minter said. "There's now an ultra-low NOx engine – an engine that meets a level 90% lower than the required level of NOx emissions from heavy-duty trucks in California set by CARB [California Air Resources Board]."
The new engine is produced by Cummins Westport Inc., which already has transit agencies lining up to purchase the engine as a replacement for older CNG buses, according to Minter. He said cities are also utilizing the technology for waste hauling and street sweeping trucks. While these engines are already on the market, Minter said Cummins will certify a larger model to be used for heavy-duty, long-haul trucks next year.
Minter explained that to meet Gov. Jerry Brown's progressive emission reduction plan by the proposed timeline (which includes reducing greenhouse gas emissions to 40% below 1990 levels by 2030), the trucking industry does not have time to wait for electric and hydrogen technologies to become viable options for the large long-haul trucks.
To decrease the carbon emissions further, the rise in CNG engines on the road has prompted a push for renewable natural gas (RNG), Minter said. Methane from dairy farms, agricultural waste, landfills and water waste treatment facilities can be captured and converted into RNG.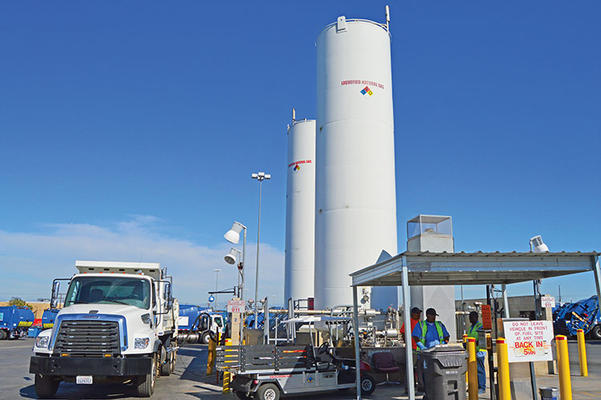 George Minter, the regional vice president of external affairs and environmental strategy for Southern California Gas Company, believes natural gas is the best alternative for heavy-duty vehicles such as freight trucks. He said liquefied natural gas is also being field tested as an alternative fuel for locomotives and cargo ships. Pictured here is the liquid natural gas refilling station at Long Beach Fleet Services. (Photograph by the Business Journal's Larry Duncan)
Santa Monica's Big Blue Bus line is powered 100% by RNG, according to Minter. Other cities (including L.A. and San Diego, which currently operate about 50% on RNG) have plans to increase to 100%. Minter explained that if these fleets also transition to the ultra-low NOx engine, these transit agencies would be near zero on smog-forming pollutants and zero equivalent on greenhouse gas emissions.
Some cities, like Long Beach, have begun purchasing electric buses as another alternative to diesel and older CNG models. However, Minter pointed out the staggering cost of these new buses – upwards of $1 million each – and said it is not feasible for agencies to quickly transition a fleet to such an expensive technology, especially one that has not been field tested as extensively as CNG options.
Minter said the other major role of natural gas in lowering emissions is in the rail and marine sectors. He explained that the Union Pacific Railroad and the BNSF Railway already have liquid natural gas (LNG) powered locomotives running as demonstration projects for research and development. Some shipping routes in the Caribbean, Alaska and Canada also utilize LNG power in place of the exceptionally dirty bunker fuel large ships are known for.
"We don't see CNG really penetrating that light-duty marketplace. We think that electric and hydrogen fuel cells are likely the way to go," Minter said. "But heavy-duty marketplace is where we have a real challenge with respect to technology. And this new engine technology will meet the challenge and help us reduce air pollution."
Other Alternative Fuels And The Future For California
From the mid-1980s through the early-1990s, California saw the emergence of an extensive methanol vehicle program that ultimately put 17,000 methanol-fueled passenger cars on its streets and a network of 100 fueling stations, according to Greg Dolan, chief executive officer of the Methanol Institute. Dolan, who admitted to still driving a 1998 methanol-powered Ford Taurus around Washington, D.C., said the program peaked when oil prices dropped and it became impossible to competitively price methanol, or any alternative fuel, at the pump.
"We basically saw the push for methanol, including methanol flexible-fuel vehicles, transition over to ethanol. And a lot of that was driven by the political support of the ethanol producers and the corn lobby," Dolan said. "There were also incentives that were provided by the federal government that allowed automakers to introduce ethanol flexible-fuel vehicles and get a credit toward their fuel economy requirements under the federal government."
However, Dolan explained that in recent years methanol has seen a resurgence. Last year China sold 3 billion gallons of methanol blended with gasoline, a mixture called M15 (15% methanol and 85% gasoline). The price of methanol is one-third that of wholesale gasoline in China, according to Dolan, and is much cleaner, reducing particulate matter emissions and NOx. He noted that China produces methanol domestically using natural gas or coal as feedstock, reducing the need for importing oil. China is also producing taxis, buses and trucks that run on 100% methanol, Dolan said.
Dolan described an Iceland-based company called Carbon Recycling International that is producing truly renewable methanol. The company uses geothermal power to produce hydrogen through the electrolysis of water. They then take waste CO2 from the power plant and use the two elements to make synthesis gas, which is used to make liquid methanol.
"We are working on a use of methanol as a marine fuel. There are several ships on the world's oceans right now that are using methanol instead of heavy fuel oil," Dolan said. "Heavy fuel oil is sort of the bottom of the barrel oil. It's just this real thick, viscous, black guck that's used as shipping fuel and produces a lot of particulate matter and a lot of local pollution. Methanol is considered one of the most promising alternatives for marine fuels."
Methanol, ethanol, biodiesel and biofuels are derived from biomass or biogas. Biomass and biogas come in many forms including manure, solid municipal waste, plants and oils. While the ultimate goal in California is to reach zero or near-zero emissions by 2050, Stephen Kaffka, director of the UC Davis California Biomass Collaborative, believes that fuels produced from biomass are a useful first step.
"Everything alternative will cost more money than petroleum," Kaffka said. "But on the pathway to the future, these first steps, I think, have been reasonably prudent. You don't get to the future by snapping your fingers. You have to go through stages. You start with what's at hand and feasible."
Kaffka also said biomass fuels have other positive effects other than lower emissions from vehicles: Capturing methane from dairy farms and landfills keeps it from entering the atmosphere as a greenhouse gas. Clearing California of dead and rotting trees for feedstock could help reduce wildfires as climate change increases their frequency. And groundwater would be protected.
"I think that it's important to have a larger context in which these processes are viewed," Kaffka said. "Not to mention that if you are generating energy and byproducts from energy from these biomass resources here, you're also doing it by building biorefineries and processing facilities and creating jobs in rural areas."
As of September 1, the California Energy Commission (CEC) has spent $621.9 million funding alternative fuel production and refueling infrastructure. This funding included $150.2 million in biofuel projects, $210.9 million in electric vehicle projects, $112.3 million in hydrogen projects and $97.5 million in natural gas projects, according to Jacob Orenberg, an energy commission specialist.
John Kato, the deputy director for the CEC Fuels and Transportation Division, said, "Our main charge is to reduce petroleum dependency by 50%. That's kind of our larger driver. Our primary driver in the fuel sector is we're wanting to promote the least carbon-intensive fuel types out there."
The program is funded by a surcharge on California vehicle registrations, which yields an annual budget of $100 million. To determine where money will be allocated, there is an annual investment plan update that includes public and private input on which fuels have the highest demand.
Kato explained that the push for zero-emission in the light-duty sector is important because it will eventually spill over into the heavy-duty platforms and reduce costs as the technologies progress.
California's goal is to have 1.5 million zero-emission vehicles on the road by 2025 and ultimately have 100% zero-emission vehicles on the road by 2050, according to Kato. "We are supporting the infrastructure and the alternative fuel accessibility to help support the governor's targets. Fuel cell vehicles and renewable hydrogen are one of the pathways and the strategies to attain a zero-emission vehicle landscape."