Though the Aquarium of the Pacific announced its ambitious expansion plans to create Pacific Visions in 2016, the concept was originally approved at a board retreat in 2005. The new wing is centered around a high-tech, state of the art theater designed to engage and educate the public about humanity's impact on the Earth's oceans.
As President and CEO Jerry Schubel tells it, since the Aquarium opened in 1998, many other ideas for future expansions had been floated. "I remember the first week I arrived, they were talking about expansion – and it was a terrible expansion. It was going to be dinosaurs or something," Schubel said with a chuckle, adding that the idea never really got off the ground.
"We knew we had to expand because the attendance was growing, and on busy weekends it was not a great experience. So the question became, what do we do?" Schubel said. "It was the 2005 retreat of the board where we looked at several options. One was a traditional aquarium expansion – more tanks for more fish," he recalled. "Secondly, there was a proposal to create something similar to what the old Marineland used to have, where you could pay an upcharge and you could actually swim with fish and other marine animals. Then the third was at that point a poorly defined Pacific Visions. But it had to do with humans and how we were changing both the Earth and the ocean. And that one won out."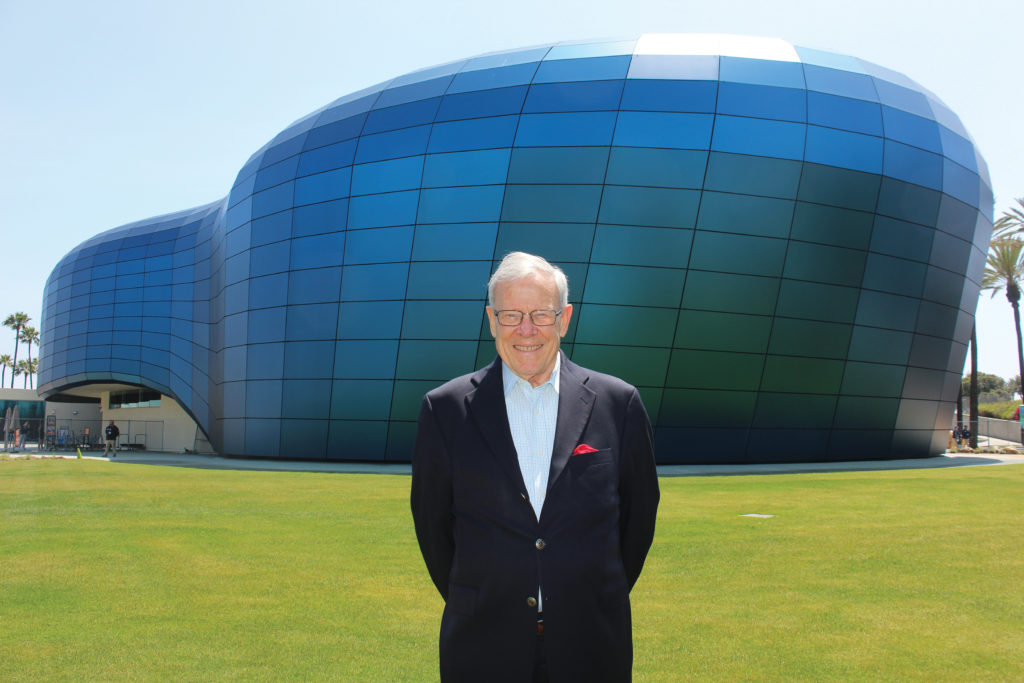 The idea was Schubel's. "I was the one who proposed it. It was based on spending a lot of my life studying the ocean, the coastal ocean, the interactions of people with the ocean. . . . And then over the course of a dozen years, we started bringing in scientists from all over the country and all over the world to refine the storyline," he explained. Schubel took charge of the Aquarium in 2002. Prior to that, he was president and CEO emeritus of the New England Aquarium from 1974 to 1994, and also served as dean of Stony Brook University's Marine Sciences Research Center. Additionally, he is a former professor, research scientist and associate director of Johns Hopkins University's Chesapeake Bay Institute.
The story told by Pacific Visions "is that humans have accelerated the rate of change on Earth to the point where nature can't keep up, and the extinction rate is higher than it has been in millions of years – and somehow we have to slow things down," Schubel explained.
The centerpiece of the expansion, a high-tech theater, was nontraditional for an aquarium. "Since we've already got a great traditional aquarium, why add more fish? . . . . Why not explore how we can increase the likelihood that those animals will survive and thrive in the wild? And that's what Pacific Visions is all about," Schubel said of the concept. He noted that he received a great deal of pushback on the idea, but ultimately it won out.
Dr. J. Mario Molina, who was a recent addition to the Aquarium board in 2005, said he was supportive of Pacific Visions from the get-go. "The idea around this expansion was two-fold. First, to provide more physical space so that we could have more visitors, because there is a huge demand. And the second was to be able to tell stories that we couldn't simply tell with animals and tanks," Molina said.
He continued, "People come to the Aquarium to see the animals, and along the way they learn about science, and especially environmental science. Visitors want us to extend that educational experience. I think it's really important, because most of us stop going to school by our early 20s . . . . Who is going to teach us about the environment? Who is going to teach us about the consequences of pollution, of plastics, of global warming? This is a way for people of all ages to get that experience."
His brother, John Molina, joined the board a few years later. For both of them, Pacific Visions was a project that resonated personally. Their family ultimately donated $2 million to the project. "Our dad passed away in 1996. It was during that time that the Aquarium was being built," John Molina recalled. The Molinas' father, C. David Molina, founded Long Beach-based Molina Healthcare. "He used to go sit and watch the building going on. It gave him a great sense of peace, and so when the Aquarium opened, my mother bought us all charter memberships. It's a nice reminder of our dad and his love to see things built, whether that was a building like the Aquarium, a company such as Molina Healthcare, or even building families and communities."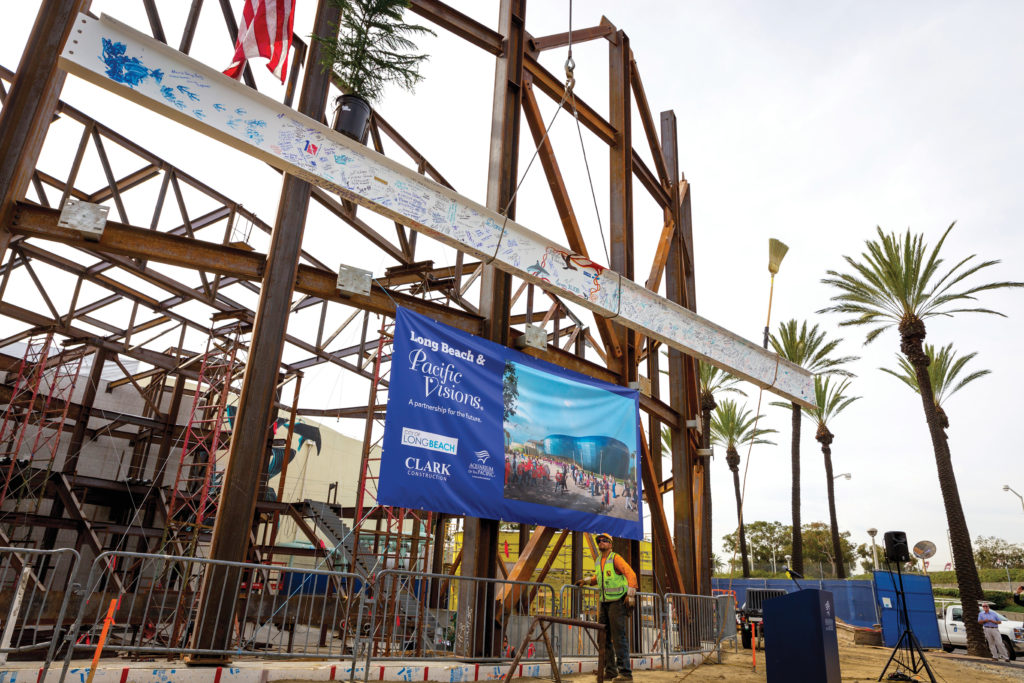 John Molina, who is a founding partner of local investment firm Pacific 6, believes that Pacific Visions will attract more visitors than a traditional aquarium expansion centered around live animal exhibits. "It also is a very unique way to tell some very important stories of how people interact with their environment," he said. "We know that the temperature of the oceans is rising. We know that the level of the ocean is rising. And for a coastal city like Long Beach, these are important things that, if we don't begin to address them soon and in a big way, will fundamentally and irreversibly shape our city, our state and our world. The best way to get people to action is to engage them on an intellectual and emotional level. And that's what Pacific Visions is intended to do."
Pacific Visions is a $53 million project. According to Schubel, the Aquarium ultimately raised more than that amount. "The board knew that we had to raise significant money to make this happen. And every member of the board made a contribution to it," he said. "There were some rumbles within Long Beach that nobody has ever had a campaign this large in Long Beach except the hospital, and it won't succeed. But I think that made the board and all of us even more determined to make it succeed," he reflected. "The City [of Long Beach] was very important. They came forward with a $15 million challenge grant. That's the largest grant that we had."
With its $1.9 million gift, another major donor was the San Gabriel & Lower Los Angeles Rivers And Mountains Conservancy, a Southern California agency that works with cities to create watershed improvements, promote water conservation and restore wildlife habitats. Frank Colonna, a Long Beach businessman who currently sits on the Long Beach Board of Harbor Commissioners and is a past city councilmember, is the chair of the conservancy. Colonna noted that the Aquarium has been the recipient of several grants from the agency over the years.
"The Aquarium, in my opinion, has really been a gold badge for our City of Long Beach," Colonna said. "It provides an exciting opportunity for people to learn about what's going on along the California coastline . . . [and] everything else that's going on with our oceans from contamination of plastics to the vanishing species of aquatic life in certain parts of the state."
Honda, a founding sponsor of the Aquarium, became the title sponsor of the Honda Pacific Visions Theater with its $5 million donation. "One really interesting thing about the Aquarium that we have always appreciated is that it's not just a place to go and see marine life. It's really a great place to go and to learn about the oceans and the ecosystem and man's role in how we impact them," Erik Wedin, manager of corporate relations for Honda North America, said. "From Honda's perspective, that really coincides well with our own attitudes about innovations and the power of dreams, and how we can work together to make things better for the future."
Wedin said that when the Aquarium approached Honda about becoming a sponsor of Pacific Visions, company representatives felt that the expansion's innovative technological approach to educate future generations made it a good fit, and the next logical step in the relationship between the two entities.
"One of the great things about the Aquarium is they educate without making you feel like you're being educated. That's not an easy thing to do," Wedin noted. "The Aquarium excels in the educational aspect in a way that really inspires future generations."
Wedin noted that Honda's slogan is "the power of dreams," and that Pacific Visions fits right in with that mentality. "It's really about fulfilling the dreams of making the world a better place, making our oceans a better place, and how we can all work together to make the world a better place," he said. "We are looking forward to our doors opening and the public getting to see it."