(Editor's Note: An experiment in journalism teamwork, the Long Beach Media Collaborative is made up of participants from the Press-Telegram, Long Beach Post, Grunion Gazette and Long Beach Business Journal. The goal: To combine forces for in-depth, multi-platform reporting on poignant issues gripping the community. Our first project, Strengthening the Signal, explores the dearth of Internet access in some corners of the city – and mines potential solutions for bridging the gap.)
On a humid August afternoon, Gustavo Trujillo and his pregnant fiancée, Samahara Chavez, waited outside the Los Angeles Council District 8 office on Vermont Avenue for something they badly needed – a computer and Internet access. 
They moved through the line of families, meeting people in bright green "human-I-T" shirts – a partner in the OurCycle LA computer giveaway event – who secured a refurbished computer and free Internet for the two.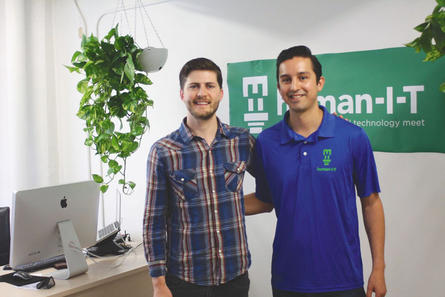 James Jack (left) and Gabe Middleton founded human-I-T to combat the growth of e-waste while helping to bridge the digital divide. (Photograph by Stephanie Stutzman, Gazette Newspapers)
The couple had not been able to afford a new laptop to replace their broken one. This laptop will help Trujillo, who has a part-time job, find full-time work. For Chavez, it means not having to stay at Los Angeles City College's library until it closes before catching a night bus to the West Adams neighborhood where the couple lives. 
"This is just a great opportunity for us and we can really use it to our advantage," Trujillo said. 
Connecting technology to people who need it is what Gabe Middleton envisioned when he and friend James Jack co-founded human-I-T five years ago. "It's completely rewarding for our entire team to be able to see that," Middleton said. "This is why we do what we do. It's definitely one of the best things about my job." 
Five years ago, Jack and Middleton turned an idea into a nonprofit venture that has now grown to 30 employees and 10 interns, an administrative office in Downtown Long Beach and a new 20,000-square-foot warehouse in Commerce. 
Since then, human-I-T has partnered with the City of Los Angeles, Frontier Communications and nonprofits to bridge the digital divide, while combating the growth of e-Waste. 
"We knew that there was a ton of people who don't have access to good working technology nor the Internet, nor [do they have] the skills, and they're being left behind," Middleton said. "We could see that happening every day."
FROM IDEA TO EBAY
The idea for human-I-T came in August 2012 when the co-founders were discussing a conversation overheard in a Best Buy between the store's technical assistance team and a customer who wanted to get rid of his fairly new laptop. Rather than spending more money to purge another virus from his computer, the customer wanted to recycle the laptop and buy a new one.
"James and I didn't like that story," Middleton said. "I said, 'Well, we could fix that laptop. We know a lot of people who could use that. Having technology and utilizing technology is a very powerful thing in today's digital age. That's when it hit us. Why don't we take this e-waste problem and the digital divide problem and let's just take on those two problems together to create one solution? That's how we came up with human-I-T." 
Jack and Middleton were both 25 years old at the time and had never started a business. They were self-taught hobbyists who bonded over a passion for technology.
"We knew right away that no one was going to line up to give us capital or a check to start this whole thing," said Middleton, who was studying to get into law school at the time they started the business. "We didn't have connections like that. But we thought this business plan is powerful and I think that once people hear about it we'll start getting some support. But we just have to survive until then."
They moved to California and created an eBay store selling refurbished technology and office equipment to raise revenue. They convinced a cell phone repair store owner in Glendale to let them set up shop in his space rent-free. 
"He was losing a lot of business because of his other competitors around the Glendale area were one-stop shops to fix desktops, laptops and cell phones," Middleton said. "He didn't have the expertise to do anything besides fix a cell phone. So we said, 'We'll fix all the other technology as a tech support service for you if you let us work out of your lobby for free.'"
As customers learned more about human-I-T, people started donating their technology. Six months later, a foundation donated $10,000 to human-I-T, allowing the co-founders to open their first 600-square-foot warehouse in July 2013. In a year and a half, the nonprofit moved into a 7,000-square-foot warehouse.
BRIDGING THE DIGITAL DIVIDE
In 2014, human-I-T secured one of its biggest clients: the City of Los Angeles. The city brought human-I-T on as a partner for OurCycle LA, a pilot program created by City Council President Herb Wesson that took old city computers and laptops, refurbished them with human-I-T's help and gave them to residents of L.A.'s low-income districts. (human-I-T works with the city's agencies to ensure that the computers go to those who truly need them.) The equipment includes free Internet until 2020 and ongoing technical support provided by human-I-T. 
"The program was created to help shrink the digital divide in Los Angeles because the city was actually shipping their technology up north to a recycling company, which isn't the best way to handle e-waste and it's sending jobs away from the city," Middleton said.
Since the partnership launched in 2015, the City of Los Angeles has donated 1,874 computers and connected 1,042 people to free Internet until 2020. Digital literacy training has been provided to 809 recipients in English, Spanish, and Korean.
That partnership expanded in July, when human-I-T joined the Housing Authority of the City of Los Angeles (HACLA), Wesson and Frontier Communications at Moonlight Villas in Pacoima to kick off a new initiative to link more than 3,000 Section 8 households to low-cost Internet programs. 
Nearly half of the families in the 27-unit Moonlight Villas have no Internet at home because it's too expensive, while those that have the Internet pay an average of $40 a month, according to the city.
"We must continue doing all we can to bridge the digital divide in our region," Wesson said at the launch.
This effort followed a 2016 effort by HACLA, human-I-T, OurCycle LA and Sprint to connect more than 500 households living in public housing communities across Los Angeles, HACLA President and CEO Douglas Guthrie said. 
Meanwhile, human-I-T's work is gaining traction. This year, it was among 15 finalists in the 2017 eBay Shine Awards in the Charitable Business category. 
This past summer, human-I-T also moved into its 20,000-square-foot space in Commerce, not far from where Middleton grew up, and is nurturing its programs department, which focuses on providing low-cost Internet options to recipients, Middleton said.
"We have a hotline where people can call us to learn about the low-cost Internet options in their area, and because we [have] partnerships with other Internet service providers we're able to facilitate that connection," Middleton said.
One of its partners is Frontier Communications, which over the summer announced its team-up with human-I-T for an affordable broadband program funded by Frontier. Through this program, Frontier offers free Chromebook laptops to those who subscribe to the California LifeLine program, which provide home and cell phone services at a discount to those who qualify. Qualifications may be based on income – for example, a four-person household income of $37,300 is eligible – or based on whether recipients are enrolled in a program such as Medicaid/Medi-Cal, Federal Public Housing Assistance or Section 8, or the Federal Veterans and Survivors Pension Benefit Program.
Recipients can order Frontier affordable broadband as well as a free Wi-Fi modem, installation, and activation and tech support through human-I-T.
Middleton said that, while human-I-T has been focused on its contract with the City of Los Angeles, he added that he would be open to discussing how this model could work in other major metropolitan areas, including Long Beach.
"The Internet is a utility like water and electric; it's a human right, in my opinion," Middleton said. "When we don't give people access to the Internet, that's like saying only certain people could walk into the library. This is where we all gain information. It's where we share information. If you want to apply for a job, if you want to apply for school, if you just want to be a better citizen and be more involved in the democratic process, how do you do that? You have to be informed. How do you stay informed? You have to have the Internet."