Long Beach is home to some of the most awarded and recognized public schools in California, with a diverse school district, a two-campus community college and a highly sought-after state university. These institutions, together with the City of Long Beach, are part of an innovative partnership called the Long Beach College Promise, which provides dedicated local students who meet certain academic standards with a free year at Long Beach City College (LBCC) and guaranteed admittance to California State University, Long Beach (CSULB).
The city's participation, which began in 2014, expanded preschool options and included a commitment to double the number of internships offered by the city.
"With the support we give to our students, and with our high performing schools, Long Beach is a model for educational systems across the country," Mayor Robert Garcia told the Business Journal via e-mail. The expansion of LBCC's scholarship for local students, which until the fall of 2015 covered only one semester of tuition, "will help ensure that everyone has the opportunity to access quality college education right here in Long Beach," he added.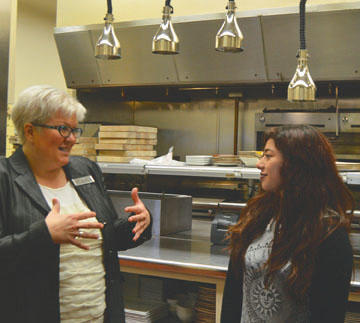 Students from Jordan High School's Academy of Hospitality and Tourism recently visited the Courtyard Long Beach Downtown to meet with Assistant General Manager Tammy Teague (pictured left with a student) and employees, and to learn about career opportunities related to their field of study. The academy is one of many career-centered pathways offered at Long Beach Unified School District high schools. (Photograph by the Business Journal's Larry Duncan)
The program not only increases access to college for Long Beach students, it also incentivizes them to pursue higher education and improve academically. The latest outcomes report on the College Promise, released September 2015, stated that the number of Long Beach Unified School District (LBUSD) students who meet University of California or California State University entry requirements has increased by 7 percent in the past four years.
"When we embarked on the College Promise, we had a hunch that more of our students could successfully complete college courses if we gave them the right support," LBUSD Superintendent Christopher Steinhauser said. "That hunch is now confirmed, and the College Promise is giving more students the chance to prepare for and succeed in college."
Since the Long Beach College Promise was established in 2008, the achievement gap between minorities and Caucasians has been closing at CSULB. According to the report, the graduation rate of Latinos has increased 20 percent, the graduation rate of African Americans has increased 22 percent, and the graduation rate of Asian students has increased 23 percent.
"The Long Beach College Promise creates a long term pathway to success for our youth," Jane Close Conoley, president of California State University, Long Beach, said in an e-mail. "It makes a college education accessible and helps students understand at a young age what college life will be like. Most importantly it helps our young people, their families and the entire community understand the value of an education."
The College Promise has been recognized on more than one occasion by the White House, as well as by many national organizations. Ted Mitchell, United States Under Secretary of Education, has cited the program as one of the models for President Obama's America's College Promise, which aims to make community college accessible to all Americans.
"Since 2008, the Long Beach College Promise has helped thousands of Long Beach-area students pursue higher education and successfully complete a college degree or certificate," LBCC Superintendent-President Eloy Oakley said. "The strong partnership between our four institutions has resulted in much greater success than any individual institution could have achieved on its own," he reflected.
Oakley continued, "The Long Beach College Promise is realizing its goals of providing greater access and opportunity for our community, particularly in underserved neighborhoods and for first-generation college students. We are proud that the Long Beach College Promise has had a positive impact in the greater Long Beach community and has been recognized as a model for America's College Promise and many other local 'promise' initiatives throughout the state and nation."