Placemaking is an approach to transforming public space that engages the community in making changes that promote the health, happiness, and well being of a city. The Downtown Long Beach Alliance (DLBA) believes certain placemaking projects also drive the economic growth and prosperity of DTLB. Over the past several years we have led efforts to create pop-up public spaces, crosswalk art, and a new pedestrian wayfinding program. We also support community led public space activation projects through sponsorships and our Placemaking Grant Program. In DTLB, we are lucky to have engaged residents and business owners that dedicate their time and energy to make a positive impact. So this year DLBA would like to share the insights of the DTLB stakeholders who are helping to change the face of Downtown through placemaking.
Katie Rispoli Keaotamai, executive director of We Are The Next, introduced Step Back viewing devices to DTLB in 2017. The devices, which were partially funded by a DLBA Placemaking Grant, are outfitted with a historic image taken from the exact location where they are installed to help tell the story of Downtown's evolution. Step Back viewing devices can be found at the Deukmejian Courthouse, The Promenade and Broadway, and in the East Village at Atlantic Avenue and 1st Street.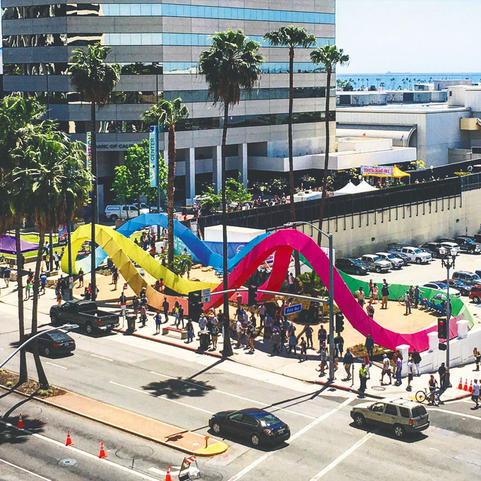 The Loop at Pine Avenue and Ocean Boulevard. (DLBA photograph)
Shelby Batalla, owner of Renew Garden Care, and Helen Cheuk, senior designer at Studio One Eleven, developed Urban Furniture. The six custom-made art installations were partially funded by a DLBA Placemaking Grant and function as seating, public art and wayfinding. Urban Furniture will debut in early 2018 on Pine Avenue between Shoreline Drive and Ocean Boulevard.
Julia Y. Huang, CEO of Intertrend Communications, was the force that brought the international outdoor mural festival Pow! Wow! to Long Beach in 2015. Pow! Wow! Long Beach, of which DLBA is a sponsor, completed its third edition this past July.
Daphne Draayer, resident of the East Village Arts District, was the idea creator behind the East Village Outdoor Mural Gallery project. Partially funded by a DLBA Placemaking Grant, the project introduced 15 new murals to alleys in the East Village Arts District in 2016 and 2017.
Debra Kahookele, Kristen Dunn, Joen Garnica and Lisa Callamaro of the Promenade Area Residents Association spearheaded the effort to build a children's playground at Promenade Square Park. The playground was partially funded by a DLBA Placemaking Grant, and since its opening a year ago has been a popular place for Downtown families to gather and socialize.
What motivated you to get involved in the community?
Huang: Our relationship with the city, in particular Downtown Long Beach, changed immediately after our firm relocated from a high-rise to the building we now lovingly call Psychic Temple on Broadway. What we considered just a "nice view" before is now an extension of where we live and work. More importantly, "people on the street" now became "neighbors." It's hard not to get involved with the community when this kind of transformation happens.
Draayer: We could always use more art, and we need to brighten up our alleys. I love the city, and I love the feeling of having a positive impact on my surroundings.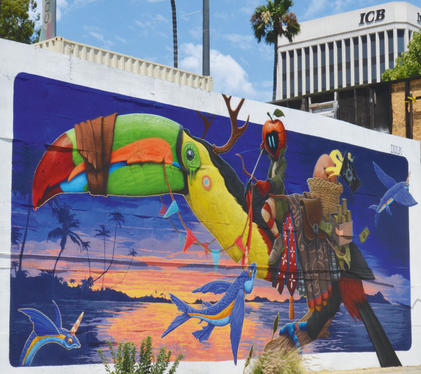 A POW! WOW! Long Beach mural. (DLBA photograph)
Callamaro: Downtown is like a small town in a larger city, and I was inspired by my friends who have been involved for years and have made a difference.
Garnica: When I moved to DTLB 15 years ago, there was not much downtown in terms of residents. When the Promenade buildings came along, it was exciting to have and meet new neighbors, many like-minded neighbors that wanted to see downtown thrive all while having fun. I didn't miss an opportunity to join them in making a better downtown.
What are the benefits of improved public spaces?
Keaotamai: Welcoming and interactive public spaces offer opportunities for enjoyment, and encourage visitors and residents to feel a connection with the places they spend their time in our city. Today I think our biggest challenge is ensuring that the improvements we make in public spaces meet the needs of all residents, and that they are inviting to people of all backgrounds.
Batalla:  Our installation aims to guide pedestrians toward places of interest and activate the streetscape. The custom furniture pieces and wayfinding signage we designed are inspired by iconic Long Beach destinations like the Queen Mary, Pine Avenue, and the Shoreline Village Lighthouse. These connections strengthen pedestrian networks and encourage urban exploration.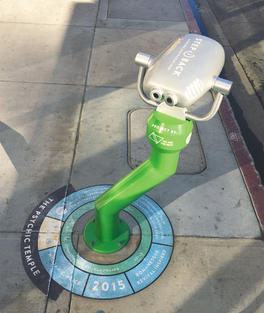 Step Back project. (DLBA photograph)
Draayer: When we make each street safe and unique, it draws new life into the city.
Kahookele: Activating and improving public spaces helps bring the neighborhood together and keeps our community safe.
Garnica: Public spaces are gathering places for neighbors, and folks who work and play in the downtown. A community that knows each other is a better and safer community.
What benefits did your project bring to DTLB?
Keaotamai: The Step Back project was designed to help residents, workers and visitors in downtown reflect upon the way our cities change over time. The viewers are an experience – they don't imply that change is positive or negative. Instead, they highlight the fact that change happens. My hope is that users will walk away a bit more aware of the evolution constantly happening around them, and will grow to be more appreciative of the experiences they have in our public spaces.
Batalla: We hope that the wayfinding component of our project will lead people to explore the many unique destinations around the city and support local retailers.
Huang: I'd like to think Pow! Wow! Long Beach changed the perception people had of public art in the city. I'd also like to believe the one-week-plus event opened up Long Beach, and of course DTLB, to people around the world.
Draayer: Downtown Long Beach inspired me to jump in and be a part of the community. The murals we added to the alleys help make everyone feel a part of their community. It feels connected and made for us all.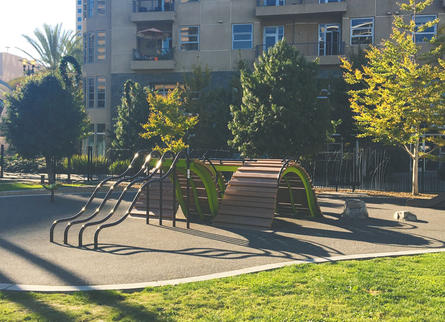 Promenade Square Park Playground. (DLBA photograph)
Kahookele:  The Promenade Square Park Playground brought the family community together and created an incentive for them to stay in downtown with their kids.
Dunn: As a mother of a now five-year-old, I am happy to have a place for my child and her friends to play. Prior to the playground being built, we had to jump in the car to get to a playground as did other Promenade families so we didn't socialize as much then. Now we can just walk out the door and run into friends and parents gathering in our own neighborhood.
Callamaro: The playground put a spotlight on something we knew about our community already: there are families here – some that live here, some that work here, some that visit here. These people feel like they are welcomed, and that it's not just a place to eat, drink and dance. It's a place for people to live.
Garnica: It's activated a park that didn't see much daily activity prior to its completion. The playground is a new public space where people gather and build community. We now host movie nights at Promenade Square Park.
Did your completed project alter your perception of public spaces?
Keaotamai: The curiosity of people in our public spaces impresses me, and after doing this project I recognize what an asset that curiosity is. More projects like Step Back, and other placemaking projects, need to happen to capitalize upon it and encourage pedestrians in our cities to not only witness, but interact with or even improve upon, our built environment.
Batalla: Our goal was to activate Pine Avenue from Shoreline Village into the downtown area. Interestingly enough, we were not the only ones trying to establish this connection. The opening of The Loop on the corner of Pine + Ocean only strengthened our concept and was very exciting for us. This project expanded our understanding of public space and introduced us to the many people who bring these special places to life.
Huang: I found myself paying more attention to our surroundings. In particular, I have been obsessed with thinking about how we can improve public spaces that seem to be ignored and abused, like back alleys and parking lots.
Callamaro: It was fascinating how quickly and immediately the playground was used and embraced. It seemed like it had been there forever.
Dunn:  I often see public spaces created and not used in the way that they were intended to be used. The playground is an example of a successful activation of an underutilized public space. Its success has by far surpassed my expectations.
Garnica: It is a great source of pride and joy to know the four of us came together with a vision for our neighborhood, and saw it through to successful completion and activation. It wasn't easy, but it was well worth it.
How would you recommend someone become engaged in making their community a better place?
Keaotamai: In my experience, if you're fueled enough by the consequences of your inaction, it's easy to find the motivation to take action.
Batalla: There are so many opportunities to get involved. Find organizations you believe in and reach out to them. This project would not be possible without the support from the local Long Beach organizations that worked with us.
Huang: Making a contribution to improve our community is not hard work. To simply begin caring is a good start.
Draayer: If you don't have the experience, don't let it hold you back. Never be afraid to ask for help. The city needs us all to participate in order for the public spaces to accurately reflect its residents.
Callamaro: Volunteer to be on a committee or show up at the meetings to learn and contribute thoughts, ideas, muscle, and hours.
Dunn: I think many people hold back from getting involved because they feel that they can't make a difference in a city of this size. This is far from being true, and I would encourage everyone to get involved by starting at the neighborhood level.
Garnica: Long Beach is a wonderful big city with a small town-welcoming feel. It is fairly easy to find a welcoming neighborhood association or community group where you can get involved. You make a difference.
(Sean Warner is the placemaking manager for the Downtown Long Beach Alliance. The DLBA works with the community to improve DTLB's public realm. If you have an idea or would like to get involved, you can contact Sean at seanw@dlba.org.)