Downtown Long Beach continues to embrace music through festivals, events and even the lone guitar player or singer at restaurants. New live music venues are on the verge of opening, to join those already operating in the area, and the music industry is beginning to take notice of Long Beach's music scene.
"The biggest news is Goldenvoice making a deal with the Queen Mary. It's not Goldenvoice's first time over at the Queen Mary. They did All Tomorrow's Parties over a decade ago and it was awesome," Jon Halperin, talent buyer for Music Tastes Good, said. "It's just one of those things that, if you live in Long Beach, there are going to be a lot of bands that you'd normally have to travel quite a distance to go see, and they are going to be in our backyard. They are going to be an Uber or a bike ride away."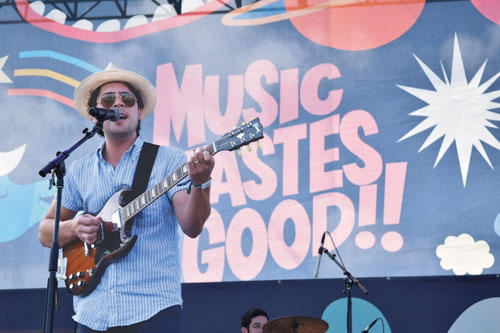 Luke Andrew Edwards of L.A. Edwards performs during the Music Tastes Good festival on September 30. (Photograph courtesy of Lauren Galvan)
Goldenvoice produces large-scale festivals such as FYF, Coachella and Stagecoach. Such large-scale productions would join Long Beach's moderately sized jazz and folk festivals, as well as the Music Tastes Good festival.
That music and food festival began in 2016 with a three-day event and followed up this year with a two-day event, a new location and a focus on New Orleans cuisine. Halperin said there has been growth in attendance year over year, but that it is hard to really compare considering the change in the number of days and location.
The location change – from the streets in downtown to Marina Green Park along Shoreline Drive – solved several festival issues, Halperin said, particularly being able to set up a week in advance, rather than the night before. The park space, already more inviting than asphalt, included more art installations than the previous year, with even more additions planned next year.
Though Music Tastes Good has already grown to the point where national and international booking agents are aware of the festival without explanation from Halperin, he said the main focus is showcasing Long Beach talent, whether it be musicians, chefs or artists. This sets it apart from other festivals.
"You look at all these festivals around Southern California, and how many are including local talent like we are? You're just not going to find that at other mid-level festivals," Halperin said. "It's just all touring bands from start to finish but we want to include local bands in there and showcase them and it's the same with the food."
Halperin said Music Tastes Good 2018 is going to be bigger and is already in the planning stages, with a larger talent budget and several bands already booked. Though a focus for food has not been decided, Halperin did say there would be a focus either from around the world or another city, as well as showcasing Long Beach chefs. The event is scheduled for September 29 and 30, once again at Marina Green Park.
In contrast to the young fest that is Music Tastes Good, Long Beach's Summer And Music (SAM) series is already gearing up for its 10-year anniversary next year, according to event organizer Rand Foster. He explained that 2017 posed a new challenge for the event series: competing with other events. "On one hand that is a problem, but on the other it's a wonderful problem to have," Foster said. "But it was almost the case of there was too many great things going on. We did end up having a couple of our events up against other events."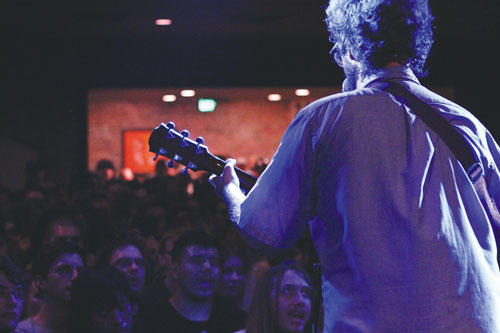 AJJ (formerly Andrew Jackson Jihad) performs to a sold-out all-ages crowd of around 380 people at Toxic Toast Records. (Photograph courtesy of Toxic Toast Records)
The 2017 SAM season also faced budget and marketing issues due to changes of venues, slightly lower attendance and other unforeseen challenges. However, Foster said the year was a good learning experience and the events were still solid.
For the 10-year anniversary, Foster said SAM staple Buskerfest would return, as would a variation of Punk Rock Prom – a new event from this year – and another music and skateboard event. If the budget allows, Foster said there are talks of adding a fourth event in honor of the milestone, but that remains to be seen.
"My continuing message is, if you like these events and you like seeing them, you have to support them. For Summer and Music, the events are free, so supporting them is coming out and bringing your friends," Foster said. "There are very few barriers to being a part of it other than getting off the couch. If people want to have a robust cultural environment then they have to get out and support it."
To complement Long Beach's downtown music festival scene, the area has a number of live music venues for local and touring acts. Foster's Fingerprints record store hosts numerous shows throughout the year with artists such as Foo Fighters, Thrice and John Rzeznik gracing the removable stage. The Federal Underground hosts touring acts under The Federal Bar. Though the venue's focus is now burlesque shows, Harvelle's still hosts musical performances from time to time.
Earlier this year, Ron Hodges, owner of Shannon's On Pine, opened a multi-purpose event space that has the capacity and equipment to hold shows; however, the space may also be used for weddings and other parties. The former Vault 350, which has been vacant for over a decade, was purchased by Michelle Molina of Millworks several years ago, but has not progressed much. However, Molina said that, as of recently "things are looking good for a lease to a major player in the music business."
The newest (almost full-fledged) music venue to the downtown is Andy George's Toxic Toast Records. In 2014, George opened Toxic Toast as a specialty record store specializing in hand-curated Japanese import pressings of vinyl records. Fast forward to December 10, 2017, and he held his first sold-out all-ages show in the adjoining space with AJJ (formerly known as Andrew Jackson Jihad) taking the stage.
"We're still battling with the city on our permits – it's an issue of parking. That's been a two-year battle, so we can only get temporary event permits. But we have a ton of people advocating for us," George said. "It's completely open. It's 2,000 square feet of standing room space. We have a 380[-person] capacity and a stage and a sound system and everything."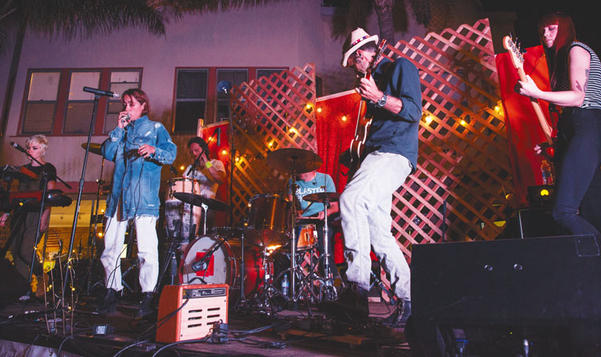 Wargirl, featuring Matt Wignal, producer of several Cold War Kids albums, preforms during Summer And Music 2017's Buskerfest. (Photograph courtesy of Summer And Music)
In addition to getting a music venue off the ground, George said he is planning on starting his own record label. As he describes it, Toxic Toast will assist independent music from beginning to end – the label would produce records, the store would sell them and the venue allows the groups to perform them. George added that he already does his own merchandising, such as shirts, enamel pins and patches.
Steve Mintz, owner of Bagatelle Records, has been at his current location at 260 Atlantic Ave. for 30 years; however, he said he has operated the store in the downtown for 40 years, since 1977.
"There was a big music scene in Long Beach long before me – when the Navy was here, and all the clubs that were downtown and people like Anita O'Day would sing in certain clubs on American Avenue at the time," Mintz said. "But that's going back to ancient history when we had the Pike and everything else."
In the early 1990s, the emerging punk rock and rap scenes took their toll on the city with a number of incidents where rowdy crowds spilled into the streets, which turned Long Beach officials off to music shows and events for a number of years, according to Mintz. However, slowly events came back, such as the shutting down of Pine Avenue for New Year's Eve, and slowly but surely, music made its way back into the heart of Long Beach.
"I think there are more places that have recognized the value of music," Foster said. "Long Beach has grown up and people are realizing the value of having cultural events in our neighborhoods and around us so we don't have to get in the car and drive to Orange County or L.A. for entertainment."