When Carmen Santillan and her husband Mike Simms faced the unique challenge of feeding 200 people at the top of a mountain in 2015, they ended up with a vegan recipe for traditional Mexican street food that continues to mystify those who bite into their barbacoa today.
Almost overnight, their Cena Vegan taco stand was drawing long, snaking lines when it appeared on the streets of Highland Park in 2016. After garnering success and a faithful following at locations in Lincoln Heights and Whitter, Cena Vegan will debut in Long Beach on Tuesday within Partake Collective, a ghost kitchen dining hall in the East Village.
But first, back to the mountaintop: About seven years ago, Simms, a volunteer forest ranger for LA County, was able to gather 200 volunteers, who worked tirelessly to help him achieve his dream of uncovering historic ruins and restoring a trail at the top of Echo Mountain in Altadena. Together, teenagers, children, parents and grandparents worked to transform the area, with many clearing overgrown brush by hand.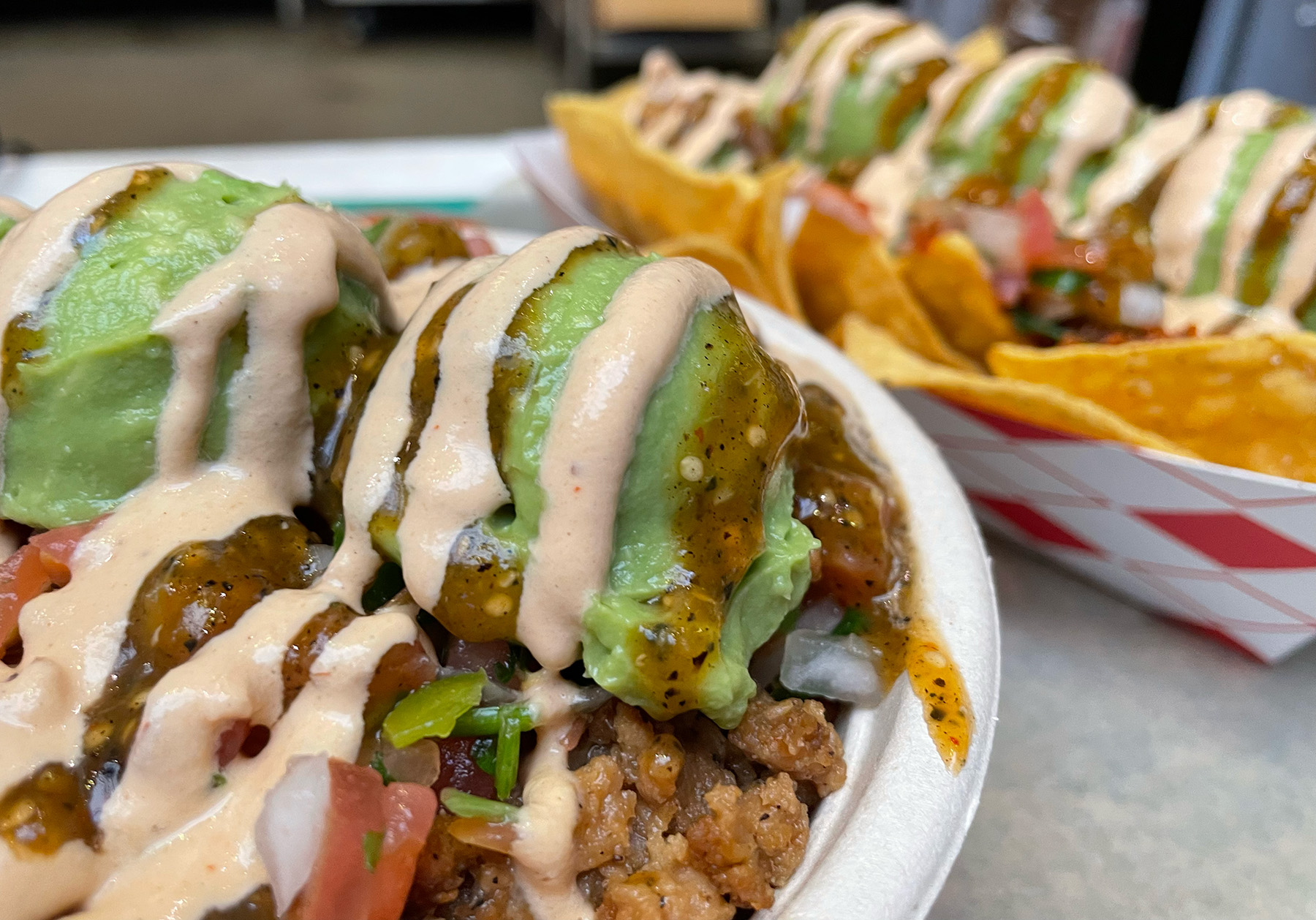 Simms was so overcome with gratitude that he made a fateful promise: to feed all of the volunteers homemade vegan tacos when they returned to the mountain months later for the next work day.
"'Are you out of your mind?'" Santillan questioned her husband at the time.
"He's a dreamer," she told the Business Journal.
The couple had only recently decided to transition to a vegan lifestyle after Simms' doctor dealt him dire warnings about his health and diet. At first, Simms jumped into action by becoming a vegetarian, but even after losing weight and adapting to that diet, he was told that he had the clogged arteries of a 90-year-old man.
"My husband is my best friend," Santillan said. "If you're vegan, we're vegan."
But the prospect of feeding 200 people with what had essentially been a home experiment was going to cost an estimated $800. That's because seitan, a vegan meat alternative made from hydrated gluten, comes with a massive price tag in large quantities.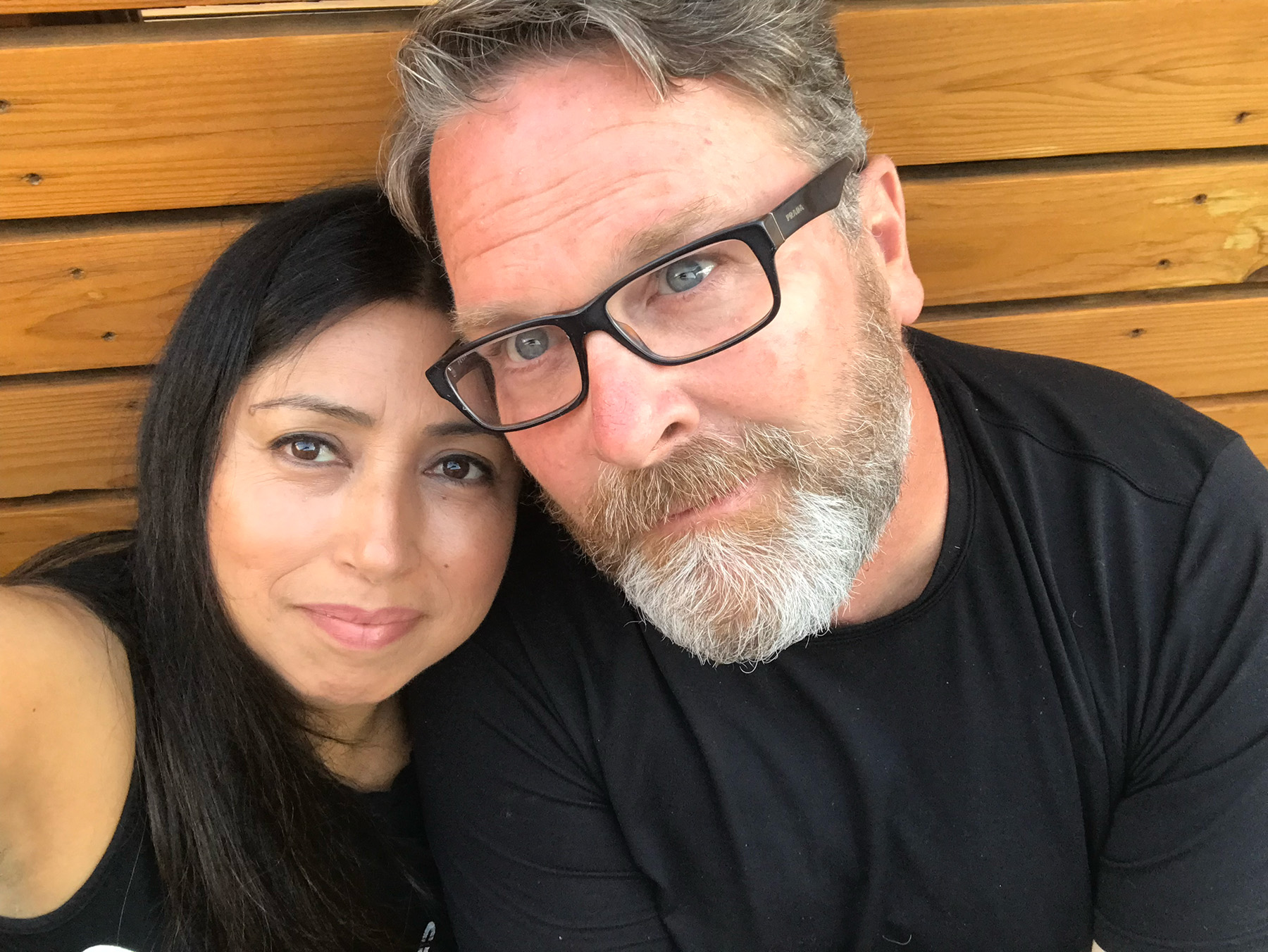 It would have drained the couple's savings, Santillan said. Simms had also just lost his job at the time. But that seemingly insurmountable promise was one that Simms was determined to realize.
"'I got myself into this mess, I'll figure it out,'" her husband told her then.
Just as Santillan had recently cast meat and dairy aside, she told him: "'We're in it together.'"
So, if the couple couldn't afford to buy a colossal amount of seitan, they would figure out how to make it themselves.
When they first began their journey into veganism, Santillan knew in her heart that she would have to find a way to recreate the traditional Mexican meals her grandmother and mother raised her with.
"We missed having the food I grew up eating, because … in the Mexican diet, I mean, it's very, you know, meat-centric."
But for her, those recipes held an emotional connection.
"My mother passed away when I was 17 years old," she said. "I felt like I got really lucky that I was able to spend time with her in the kitchen, that I was able to learn how to cook, that I could make these beautiful recipes—because to me, it's a way of connecting and staying connected with her."
One day, as Simms ran trial and error over and over again in an attempt to develop their home seitan recipe, Santillan set out two traditional Mexican marinades for her husband before she left that day: one for carne asada and the other for pollo asado. When she returned home, he told her, "'I think we nailed it.'"
"And the version of that seitan with that marinade is very similar to what you enjoy from Cena today," she said.
Santillan then enlisted the help of her sister, Marcy Velazquez, to help begin the weeklong task of preparing enough seitan to feed 200.
"She's always been extremely supportive," Santillan said of her sister, "no matter how crazy the idea is."
When the big day on Echo Mountain finally came, the trio, along with a few other volunteers, drove up the fire access road and then lugged all of their supplies three quarters of a mile up to the top, where they set up tables and chafing dishes.
"Everybody ate. Some people ate twice, and everything was gone," she said, describing the range of emotions they felt that day from anxiety to relief to absolute joy.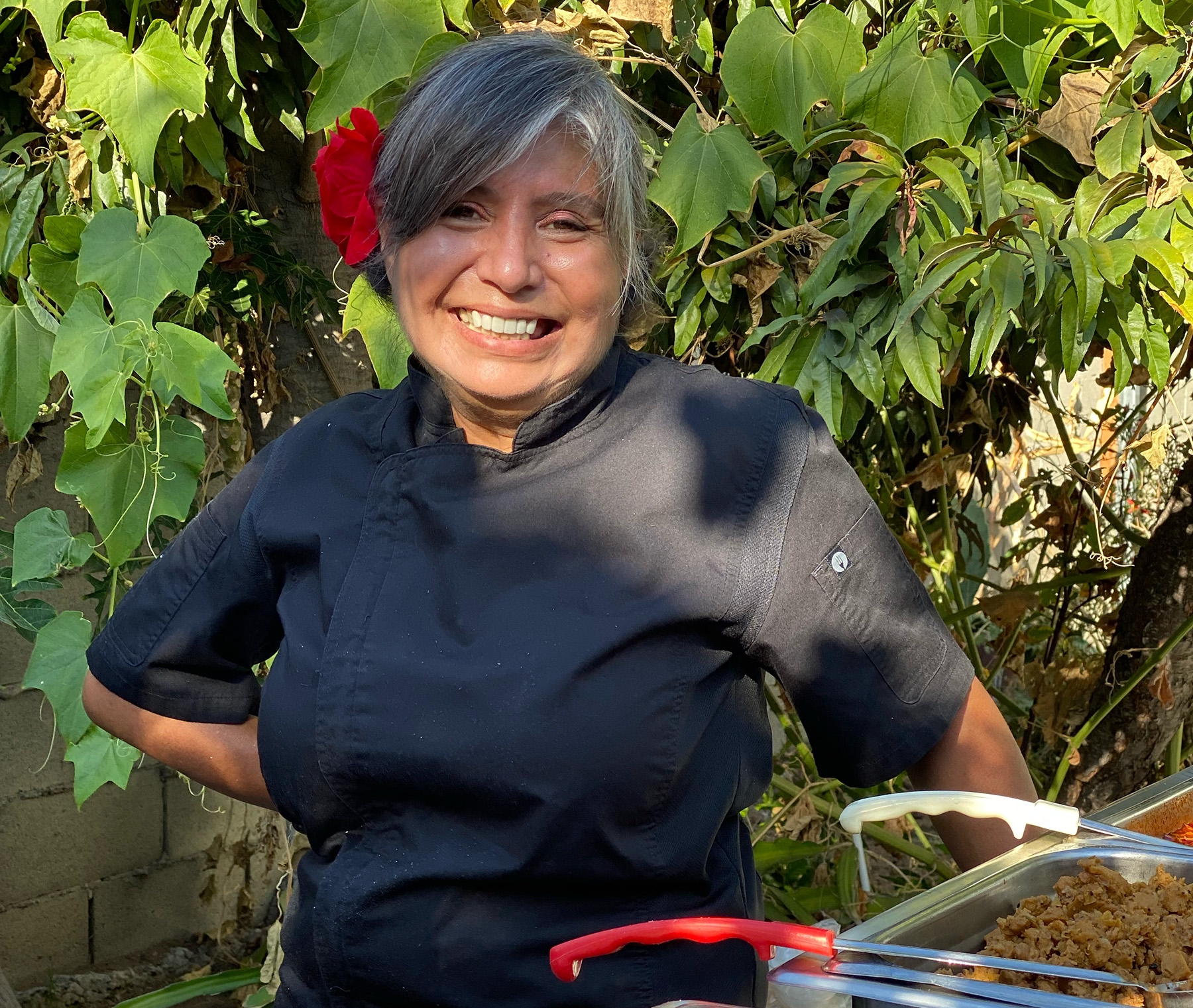 Shortly after, they began serving Cena Vegan at their taco stand in Los Angeles. The team consisted of Santillan, Simms and Velasquez. At the time, all Simms and Santillan could pay Velasquez was gas money. Now, Valasquez runs the kitchens, and Cena Vegan has 25 employees.
Cena Vegan's recipes, which have garnered something of a cult following, are available for pickup at another ghost kitchen in Lincoln Heights and at a food stall within Whittier Brewing Company. Long Beach marks Cena's third location.
While Cena exclusively offers Mexican street food, Santillian says she's excited for the day the public will finally get to try some of their more "formal" recipes, when they have a brick-and-mortar to call home.
But, Santillian says, Cena originated as a way to offer plant-based recipes to vegans and vegetarians who either can no longer or who have never been able to experience true Mexican street food.
"We used to go after a party or something. We would go find that taco cart on the corner somewhere, where you see the shiny light bulbs, and we would stand there and eat tacos on the street," she said. "You couldn't do that as a vegan."
Cena Vegan will debut its new location at 11:30 a.m. on Tuesday, March 14, at Partake Collective, 456 Elm Ave. The kitchen will be open Tuesdays through Sundays from 11:30 a.m. to 9:30 p.m. and will be closed on Mondays.