Vault 350 became a Long Beach legend as quick as the famed venue closed its doors: from 2004 to 2008, the space at 350 Pine Ave. in Downtown Long Beach (DLBA) hosted acts ranging from the B-52s to Kanye West, Flogging Molly to Ghostface Killah, Smokey Robinson to The Addicts.
After years of dormancy, Millworks CEO and DLBA Board Chair Michelle Molina, along with her husband John Molina, CFO of Molina Healthcare and boardmember of the CVB, bought the building for a cool $3.5 million via Millworks and plan on bringing back the space to its former glory as an esteemed music venue.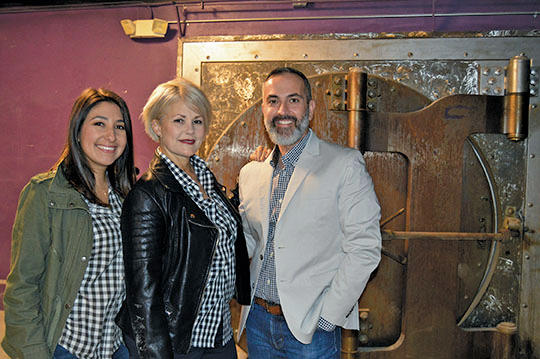 Michelle Molina, CEO of Millworks, which owns the Vault, is flanked by Lauren Limbaugh and Kasra Esteghamat inside the planned entertainment venue on Pine Avenue at 4th Street. (Photograph by the Business Journal's Larry Duncan)
The deal closed escrow in November and was purchased from East West Bank and, until the plans begin to turn it into a viable music venue take a more tangible form, Michelle Molina will take on the search for investment partners, an endeavor that she already begun by partnering with the DLBA.
"We're grateful for what the DLBA has done already to help facilitate the start of some conversations for partners," Molina said. "I look forward to the months of discovery I have ahead of me in not only building up the inside but building the Pine 350 family."
Molina and crew announced in late September their search for "the most dedicated of people to be a part of the team that will breathe new life into this wonderfully unique space and, in turn, create what will become an essential part of the region's musical and entertainment fabric," according to a press release from 350 Pine organizers. "This is 350 Pine's casting call to assemble a cast and crew to harness the power of live music and the performing arts with the potential of this space; to create a non-stop venue and destination for the region's best entertainment, dining, and events."
The building's history is extremely rich: once the original SoCal headquarters for the Bank of Italy, it was then transformed into a Bank of America venue. It was after that that former owner Mitchell Stewart bought the space, turned it into Vault 350 and then passed away in 2008; it was then that the venue sat silent, waiting. That waiting resulted in a quick-but-failed partnership between Luis Armen Kaloyan and Rudy Medina that was to have the Vault up and running once again in 2010 – only to end in a dispute that dissolved said partnership.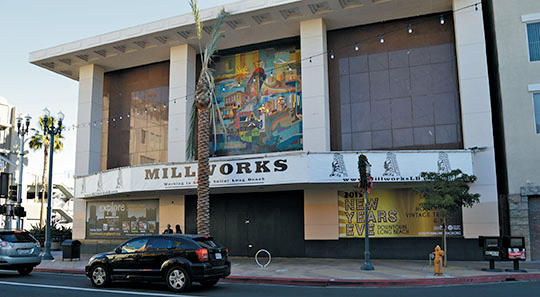 The former Vault 350, now owned by Millworks, is located at 350 Pine Ave. (Photograph by the Business Journal's Larry Duncan)
"We bought the space as is so its current state is this odd mixture of Vault relics and construction zone things," Molina said. "We easily have six months of cleanup and discovery to do plus securing a liquor license since the prior license was sold or taken back by the ABC. The space has been shuttered, literally, since 2009 – but we have big plans."
Those plans include possible partnerships with neighboring Hamburger Mary's to share events and outdoor dining space, activating the Vault's basement space, use the space for proms, weddings and corporate events, and, in the words of Molina, if [Press-Telegram columnist] Tim Grobaty has any say in it, to provide a brick and mortar home for the Long Beach music Hall of Fame.
Given the array of musical talent Molina is hoping to garner at the venue, a Hall of Fame home isn't far off.
"I want to genuinely hit it out of the park," Molina said. "From opening day on, I want awesome food, awesome drinks and more importantly, a diverse arts and entertainment lineup. I want local acts. I want state acts. National acts. International acts. And, yup, I even want music for grownups attracting the please-and-thank-you crowd."