On May 4, 1987 the United States Supreme Court ruled that states could outlaw gender discrimination in Rotary Clubs, effectively ending an era and ushering in a wave of members unlike those most Rotary Clubs across the nation had seen before: women.
In October of that year, Jean Bixby Smith, then-director and president of Bixby Land Co. and Alamitos Land Co., and Jane Netherton, then-president of International City Bank, officially joined Long Beach Rotary.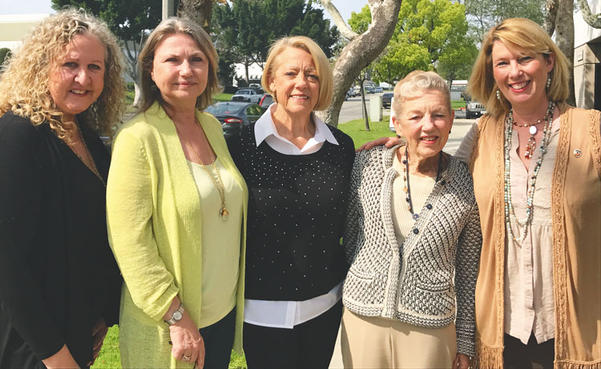 Current members of Long Beach Rotary met recently at the Business Journal offices to talk about how the club has evolved since its first female members joined in 1987. Pictured from left are Dana Buchanan; Willetta McCulloh; Jane Netherton; Jean Bixby Smith; and Gabrielle Canale. (Business Journal photo)
The club is celebrating its centennial this year, and is the oldest service club in the city with a variety of volunteer programs aimed at helping those in need. Its charitable foundation benefits local youth and educational programs.
"Over the decades since, women have grown to make up about one-third of the club's membership. It grew fairly slowly for awhile until we got kind of a critical mass of women I think, and then other women felt more comfortable [to join]," Bixby Smith said in a joint interview with Netherton and three current leaders in Rotary: Dana Buchanan, owner of Primal Alchemy Catering; Gabrielle Canale, owner of the boutique Raindance; and Willetta McCulloh, owner and vice president of Environ Architecture.
"It was a man's world. Women were not allowed in," Netherton recalled of the club in '87. "In fact, I was interviewed by the Press Telegram. [They asked], 'How do you feel about this thing, Rotary being men only?' And I said, 'If the men want to have their club, so be it.' And like three weeks later, I get the call saying women are allowed in and we'd like you to join. I wanted to eat the paper I was quoted in."
Bixby Smith was also invited to join. "We decided jointly when we were asked that neither one of us wanted to go in first, so we said we would go in as long as we go in together," Netherton recalled.
The following month, two more female members joined: current Rotary President Jayne Lastusky and Cam Killingsworth, who soon after became the first female president of the club.
According to Bixby Smith, a certain faction of the club's 400 or so male members had an air of resistance related to their new female counterparts. "The individual who was one of my sponsors and I think one of Jane's, his father was probably the most opposed to it of almost anyone," she recalled. "But he was a club member and he did what a good club member does. They went along with the group when it became apparent that that was it.
"And I will say that despite the feelings – and I was warned that I might not get a very warm reception from some – I absolutely never felt it," Bixby Smith continued. "I knew which ones would have preferred we weren't there, but never were any of them anything other than polite."
It helped that both Bixby Smith and Netherton already knew most of the Rotarians. "So we weren't going in to a group where we didn't know them well. A lot of them were my clients," Netherton said, noting that Bixby Smith had known many from her service on the boards of local organizations.
As business executives at a time when few women were in such roles, Bixby Smith and Netherton were already used to being women among men. "I would walk into rooms and sometimes  they would go, 'OK, the spouses are over here,'" Netherton recalled. "So I was pretty used to being the woman in the group of men. That didn't bother me." Bixby Smith said she felt the same way.
"I will tell you that the only thing that ever hurt when we first went in [to Rotary] was [they said], 'We need to watch our language at the podium now because we have females in the room,'" Netherton recalled. "And we're going, you obviously don't know us well enough if you [think you] need to watch your language," she said.
Bixby Smith added, "It was easily three to four years before there weren't constant apologies."
Buchanan pointed out, "That was also back in the day of the two-martini lunches," to which Bixby Smith replied, "It was more than that." Netherton chimed in: "Before the Rotary, there was the Rotary South meeting – which was the bar."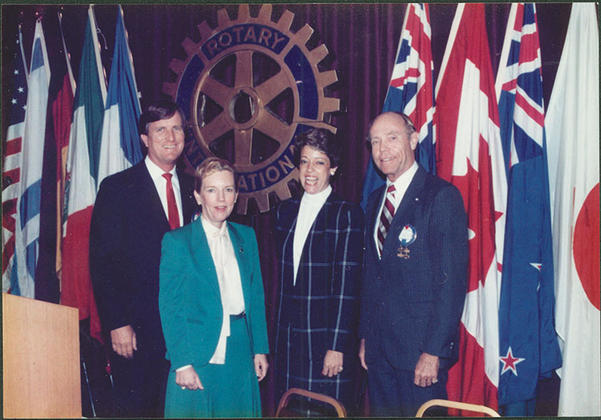 The first two female members of Long Beach Rotary, Jean Bixby Smith, left, and Jane Netherton were inducted in October 1987. They are flanked by their sponsors, Russ Hill (Rotary president in 1992-93), left, and Vic McCarty (president in 1984-85). (Long Beach Rotary photo)
Ultimately, even the members who felt somewhat at odds with having women in the club accepted them. "It is typical of Rotary to avoid conflict for the greater good," McCulloh said.
Canale agreed. "Rotarians never see obstacles. They see opportunities in everything they do," she said.
Over the years, Rotary has evolved from a club more oriented around business networking into a deeply service-oriented organization, according to Buchanan. "It completely morphed. And I don't know if women being involved had to do with that or not," she said.
"This club was founded by the elite business people of Long Beach," Netherton said. "There was a small handful of them, and they were a business organization. Their spouses are the ones who cooked dinners, brought them to the table and left so the Rotarians could eat. You just didn't have a woman in the room."
Now, "Women assume a reasonably equal share of leadership in the club I would say," Bixby Smith said. About two-thirds of the board positions will be held by women next year, she noted.
Canale is taking a seat on the board and is set to take on the role of sergeant at arms. As such, she will be responsible for recognizing Rotary members and fining them for achievements – an "all in good fun" tradition aimed at raising money for the foundation. One of her passions is leading Operation Santa Claus, a program through which Long Beach Rotary adopts local families at Christmastime and provides them with toys and necessities. She is also involved with membership and recruitment.
McCulloh is set to head up the club's international service efforts. "I am still learning what my role will be, but I love the idea of the global friendship and the idea of working together with other Rotary clubs both in the nation and internationally," she said. One of the club's international efforts is distributing polio vaccines throughout the world in an attempt to eradicate the disease, she noted.
Buchanan has served both as vice president and as sergeant at arms. One of her passions is Camp Enterprise, a Long Beach Rotary program that takes a handful of juniors from each local high school and brings them to a camp in Big Bear, where they break out in to teams and come up with business plans. These students may not be college bound, so the program aims to show them how there are other ways to take control of their futures and perhaps be successful in the realm of business.
"My last comment is, with Willetta, Gabrielle and Dana, you are seeing three great Rotarians but they are a representation of the other women in our club," Netherton said. "It's just a sampling of the rest of the amazing women who in their own way add to this club."