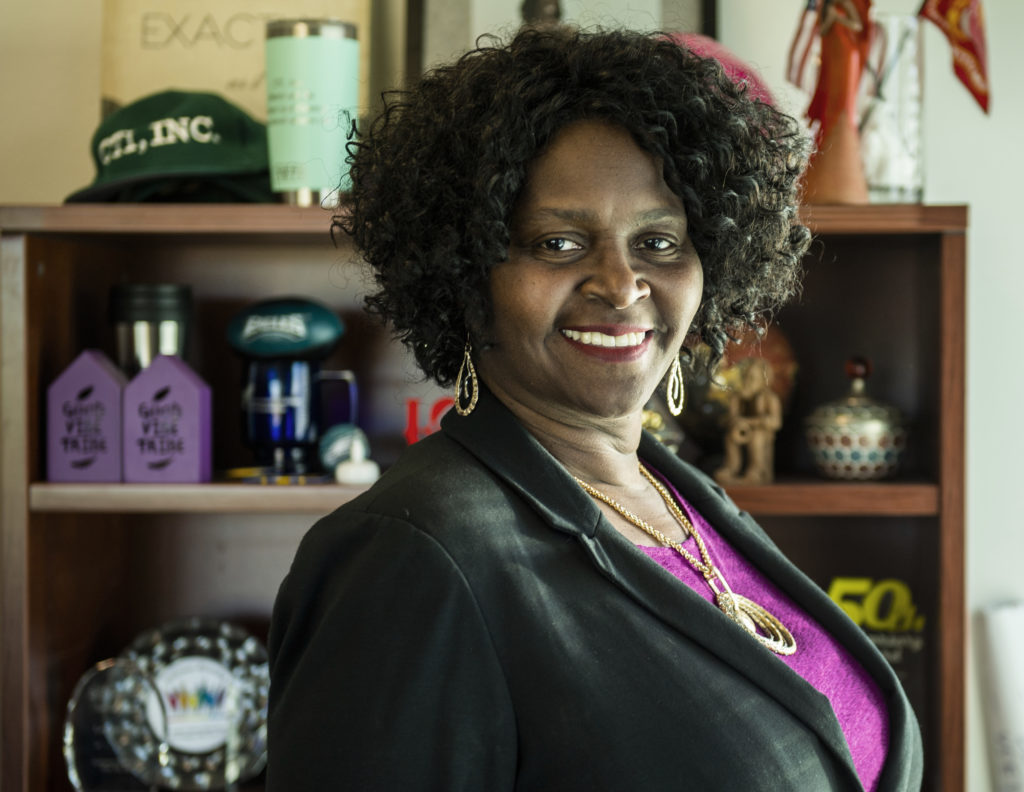 A few years ago, in 2018, Robin Thorne's company CTI Environmental was contracted to demolish a federal prison complex in the California desert. It was a multimillion dollar contract, with general laborers getting paid $42 an hour—good money for a job that doesn't require prior training.
But one thing stuck out to Thorne: she was one of only three women working on the lucrative project.
So the chemical engineer and CEO decided to start DemoChicks, a nonprofit with the mission to help women and girls find a footing in male-dominated industries like construction, demolition and architecture by introducing them to the science of the trades.
Since 2019, in addition to running her own environmental compliance company in Long Beach, Thorne has been organizing monthly educational workshops, which are currently offered online as a result of the pandemic.
Thorne said she's always had a passion for math and science, and the entrepreneurial spirit to propel her forward, something she now wants to pass on to younger generations.
"I think I was a born entrepreneur," she said, reflecting on her time working at her uncle's corner store in Philadelphia as a child, or selling pencils and erasers to her classmates at school. "The seed was planted early on."
She also knew that she wanted to be in the STEM field since she was in high school, although it ended up taking her several years to enter a college program in chemical engineering, learn about California's complex environmental regulations that would become her expertise, and eventually founding her own company in Long Beach.
In her early 20s, Thorne worked a variety of odd jobs, including a stint at the postal office. But something was missing. "It wasn't for me: there was no creativity, no excitement," she said.
After giving birth to her son, Thorne began seriously thinking about the life she wanted to build for her young family and the career that would enable her to live it.
"Engineering made sense, because engineers design, they improve," she said. "My love for math, my interest in science and my curious nature led me to engineering."
According to data collected by the Bureau of Labor Statistics, women are still vastly underrepresented in STEM occupations. While the percentage of women who work as mathematical and computer scientists, engineers or chemists has increased over the past two decades, most STEM occupations still show a significant gender gap.
Thorne's own occupation presents an especially stark example: only 19.4% of chemical engineers are women, according to the bureau's 2020 data, up from 13.1% a decade ago.
This low percentage of women in the STEM workforce is despite their equal educational attainment in the field.
According to the National Science Foundation, women make up half of science and engineering graduates at the bachelor's degree level, although their choice of studies varies widely between specific disciplines. Women are highly represented in the biological sciences, earning a higher percentage of degrees in this discipline than men, but they make up only 18% of computer science graduates.
With her program, Thorne now hopes to break down barriers of entry into the field propped up by stereotypes about women and people of color in science and engineering professions, and by a lack of awareness of her industry.
She first began dabbling in educational outreach as a student at Drexel University in the 1990s. Together with a group of her fellow students, she visited her son's elementary school to present science experiments and shatter stereotypes of what scientists and engineers looked like.
"We wanted the girls to see girl scientists and we wanted the kids to see scientists of color as well," Thorne said.
Since then, the chemical engineer and licensed general contractor has focused on educating both children and young adults about the opportunities that lie in fields outside of the public vision, like demolition.
"When people think about demolition, they think imploding or a wrecking ball—and I haven't done either," she said. With the help of DemoChicks, Thorne is hoping to shed light on the science behind her industry—and hopefully inspire more young women to follow her path.
"That's always been my nature, to broaden people's horizons," she said.