Succeeding in the occupation of racing car driver requires a fair bit of raw talent, but talent is only the starting point. It takes access to resources, a bit of luck, the right support network and a level of focus and study that would be painfully familiar to any graduate student.
Tommy Kendall studied race car driving as intently as any successful student pursues their studies. And that meant, when opportunities arose, he was ready to make the best of them. Seizing those opportunities and making them work made Kendall one of the all-time legends in Trans-Am competition. It gave him the opportunity to run at the front at the highest levels of motorsport in the country and to race at some of the most storied tracks in the world.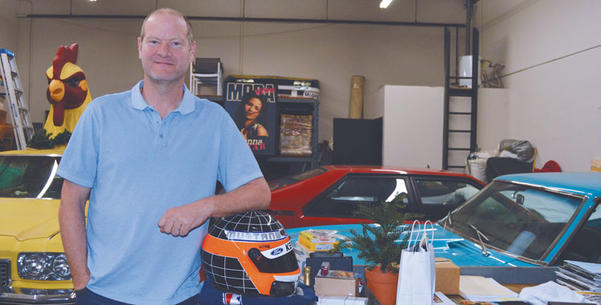 (Photograph of Kendall by the Business Journal's Larry Duncan)
This year, Kendall, already a member of the Motorsports Hall of Fame of America, becomes one of the 2017 inductees into the Long Beach Motorsports Walk of Fame.
"I'm honored," Kendall said in an interview with the Business Journal. "When you're in the middle of racing, you're not thinking about this stuff. You're just digging as hard as you can, trying to win the next race – or go faster the next lap. And as soon as that's over, you start thinking about the next one."
Raised in La Canada, one of the family's neighbors was involved in racing, and was, Kendall says, one of the initial investors in the Toyota Grand Prix of Long Beach. Kendall remembers coming to the race in the late 1970s to peer through the fences on practice day. His father, distinguished racer Charles Kendall, was careful with the family's resources, a practice that racing families the world over would recognize, so tickets for the actual race were out of reach.
But as the family's financial fortunes improved, Charles Kendall started racing. A neighbor sold Porsche sports cars to Hollywood stars, and Kendall's father started picking up sports cars, then second-hand racing cars. One of the secrets of success when starting racing is picking up well-sorted used vehicles, and Charles Kendall picked up a former championship-winning Porsche Carrera RSR as his first race car. Tommy remembers clearly his first race watching his father, a sports car event at Sears Point Raceway (now Sonoma Raceway).
"I remember thinking that racing cars was something I could do," Kendall says. "It seemed accessible, because my dad was doing it and people I knew were doing it. My dad said, the deal was that if I did well in high school, if I did well in college, dad would support me as much as he could. But from that moment on, all I could think about was racing cars."
Kendall raced karts, and dug until he found the Jim Russell school and racing series, an organization that allowed 16-year-olds to participate. He raced the series regularly, so "by the time I turned 18, I was already racing at the pro level," he says.
The family bought a used Mazda RX-7 race car and competed in the IMSA GTU (International Motor Sports Association, Grand Torino Under 2.5 Liter) category.  One day, there was a call to the race shop. Clayton Cunningham was looking for someone to drive the car that had won the past two IMSA GTU championships. The team needed some funding, and Kendall had some of that. The team needed an experienced driver, and Kendall had experience. The team needed someone who could step into a championship-winning car and succeed immediately. It was an incredibly challenging test, but Kendall was well-studied for this exam.
"I credit this math teacher I had at La Canada High. Every time I asked him a question, he answered with a question. It was infuriating. But I realized what he was doing long, long after the fact. He was teaching me to think, to find out answers on my own," Kendall says.
"When I got around racing, early on, I tried to learn as much as I could. When I was with my dad, whenever I got near a driver, I'd just pepper him with questions – why do you do this, why do you do this, why do you do that? I read as much as I could, trying to understand what was going on."
Driving for Cunningham, Kendall won the IMSA GTU titles in 1986 and 1987. Then he switched to Chevrolet, and won the championship again, and his career was well on its way, offering a wide variety of cars for him to race.
Kendall raced in NASCAR, standing in on road courses that were confusing and upsetting to the oval specialists who traditionally dominate stock car racing. He nearly won at Sears Point in 1991, leading until a flat tire took him out with a handful of laps to go. He also was making his mark in prototype sports cars, but a major crash in 1991 at the wheel of one took him out of the sport for more than a year.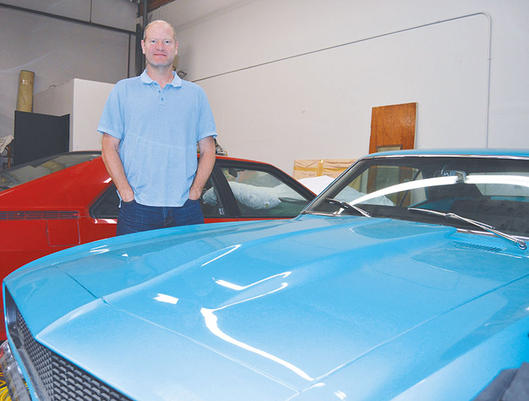 According to Tommy Kendall: "The blue car in the foreground is my younger brother's '68 Camaro RS, The red car is my first new car (a gift from my parents on my 18th birthday), a 1984 Audi Coupe GT, complete with modifications from the period, including a Fittipaldi E3 steering wheel covered in red leather. Emerson had just come out of retirement in '83 and was a hero of mine at that time. To think I would be added to the Long Beach Walk of Fame with Emerson all these years later is amazing. The elephant….er, chicken in the room is my beloved Rooster car, El Gallo, a '73 Olds Ninety-Eight that I have had since my record Trans Am season, 1997, and is a whole story unto itself.  In the background is a poster of an Italian magazine cover that my wife was on in the late 1980's, when we first began dating (I met her for the first time at the Grand Prix in 1983). It hangs above the Porsche convertible she gifted me for our wedding (hidden)." (Photograph by the Business Journal's Larry Duncan)
Interestingly, Kendall still thinks fondly of the car that shattered his ankles and legs, the Intrepid RM-1, an aerodynamically advanced prototype powered by an 800-horsepower Chevrolet V-8. "It was like driving a fighter jet on the ground. I don't hate it," Kendall says. "I have some bad memories of it, but I have some memories of some insane experiences in it. In a car with that much downforce, it was kind of a mind trick. You couldn't process that it would do what it could do. So you really had to just tell yourself, well, in theory, you don't have to brake there. In theory, you only have to go down one gear there …"
Kendall battled back to his greatest success, which came in Trans-Am, where he won four titles in the 1990s and was a threat to win every time the green flag dropped. In 1997, driving a Ford Mustang for Rousch Racing, Kendall won 11 straight races and his third straight title. Kendall was in the zone, the result of hard work and amazing support. When he'd driven for Cunningham, he'd been assigned a young crew chief named Dan Binks. The two clicked, and the pairing was a success from the beginning. Binks was with Kendall for most of his career, was with Kendall for every one of the Trans-Am titles, and has since gone on to become a motorsports legend in his own right.
"Because I had some success, I was surrounded by good people. I stumbled into that Clayton deal. The crew chief was this young guy named Binks. He'll go down as, I think, the greatest sports car crew chief in history," Kendall says.
"The Mustang team was a level of integration – I was racing that same car, that same team, for four years. We just kept getting more and more refined. It was like we'd finish each others' sentences. That last year, when we won 11 races in a row, even that there was some luck, but it was like we were just – humming. I would know by the middle of practice whether we had things in our control that weekend – and usually we did."
Kendall has raced at Le Mans, at the famous Australian Bathurst 1000 endurance race, battled it out with the world's best in the International Race of Champions series, where championship-winning drivers competed in identically prepared cars.
After he stopped racing, Kendall became a commentator for Champ Car, and has appeared on television in recent years. Some former racers have difficulty adapting to civilian life. Kendall has made the transition well. "I really like sitting at Starbucks, reading the paper," he says.
And looking back over the totality of his career, Kendall is satisfied with what he's accomplished.
"All things considered, I have zero regrets," Kendall says. "If it hadn't happened the way it did, I wouldn't have spent the time in Trans-Am, I wouldn't have had the run that I did. And for a racer, that was as good as it gets."