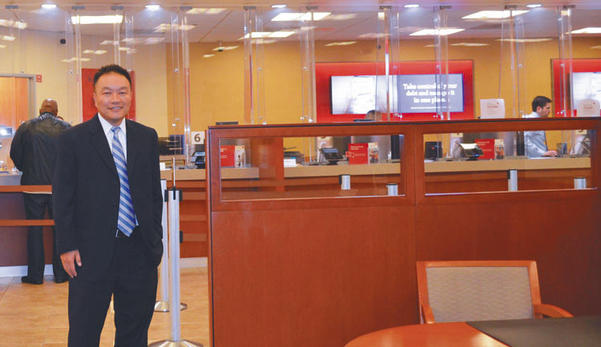 According to industry experts, Trump policies, such as the new tax code, are underpinning a positive 2018 for financial services. However, Wells Fargo Financial Advisor David Ko (pictured) recommends investors not become complacent with the historically high stock market, as a downturn is inevitable. (Photograph by the Business Journal's Pat Flynn)
Several fundamental catalysts are underpinning a positive outlook for financial services in 2018, according to experts. Quincy Krosby, chief market strategist at Prudential Financial, explained that the sector as a whole – from wealth management to banks of all sizes to insurance companies – will benefit from policies pushed by the Trump administration, as well as global growth.
"You have the tax cuts, and that has been very positive for financial companies because they are the direct beneficiaries of a lower tax rate," Krosby said. "In addition to that, you have deregulation – not expunging all the regulatory safeguards that were put in place because of the economic crisis, but scaling back those regulations that perhaps don't seem appropriate at this point."
When it comes to the new tax code, Krosby explained that media headlines portray it as simple, but that it is anything but. In order to fully understand and navigate the new policy, businesses and individuals will need more help from accountants, who themselves are still figuring out the ramifications of the code, she said.
"If the president and the Republican Party continue with the Trump agenda that was outlined during his campaign, we should see infrastructure spending gaining strength," Krosby said. "The reason this is important for the banks, especially the small and mid-sized banks, is because we would expect to see lending pick up."
Krosby explained that she expects to see mergers and acquisitions gain momentum in 2018. She said arguments have been made that there are too many small to mid-sized banks, and that this may be an appropriate business environment for consolidation. Even outside the financial services sector, mergers and acquisitions are strengthening across all sectors, which in turn will increase the need for accounting firms, she noted.
Other trends Krosby expects to see in 2018 include upward movement on inflation and wages gaining strength as the job market continues to tighten. Additionally, potentially steeper yield curves would mean that money could be lent at a lower rate and produce a higher return, increasing the lender's net margin.
"Overall, we're seeing a rebalancing of portfolios [and] new money coming in, and we're seeing investor interest in financial services," Krosby said. "Financial services were dormant since the financial crisis, but we are seeing an increase in interest in the sector."
Editor's note: The following are guest perspectives from industry executives about the outlook for financial services in 2018.
Kris Allen
Vice President, Senior Bank Manager, First Bank – Bixby Knolls
Our economic outlook for 2018 is broadly positive, and with the recently enacted tax legislation we expect to see accelerating economic growth into 2018 and 2019. Although the level of boost to GDP is uncertain, estimates range from 0.3% per year to potentially up to an additional 2% per year of growth. One of the goals of the new tax legislation is to make the U.S. corporate tax rate more competitive globally and to incentivize U.S. firms to invest at home rather than overseas. The new tax law lowers the tax rate for corporations from 35% to 21%. This is positive for profitability especially for companies, like regional banks, who are domestically focused with little overseas revenue. Many large global firms that are doing business internationally already have a much lower effective tax rate, so the boost to profitability will likely be lower than for those domestically focused businesses.
With our labor force being at a level considered to be full employment, and with the anticipated boost to growth from the new tax law and from potential infrastructure spending, we also expect to see interest rates rise in 2018. The Fed is poised to raise short term rates at least three times in 2018 in their effort to normalize rates and to stave off inflation, should it rear its head as a result of our economy heating up. A rise in interest rates will, however, likely be positive for banks and financial institutions with a respite from the very low interest rates we have seen for the last decade and increased margins on lending.
Although we may be in the late stages of the business cycle, there appears to be more room to grow, and First Bank is strong and here to partner with and support our community's businesses.
Blake Christian
Partner, Holthouse Carlin & Van Trigt
We continue to see solid growth in all 11 of our offices. Our revenue increased double digits and so did our headcount – with over 150 new hires firm-wide. The late passage of the 2017 Tax Cut and Jobs Act created significant demand for year-end tax planning and we are seeing an extremely busy January in all of our departments. As businesses grow, their need for bank and other third-party financing also increases and this expands the number of financial reviews and audits required.
With lower tax rates on businesses and most individuals, we anticipate a very strong economy in 2018, which will naturally increase demand for accounting and tax services. Businesses are reviewing their legal structures and state and local tax exposures to ensure a tax efficient future as worldwide competition continues to increase.
Despite the dire predictions that robots will taking over many accounting jobs, demand for employees – particularly experienced professionals within the accounting profession – continues to rise. We believe that an android takeover is years off, and will mainly be in the lower end service areas such as bookkeeping and payroll. The fact that Siri only understands 20% of what I ask her gives me confidence that I will be retired before robots become a real threat.
With the expansion of our client base – in terms of client size, industries served and geographic coverage – our employees are also rapidly expanding their professional skills. The industry is looking for new and experienced professionals with broader skill sets, including data analytics, programming skills and language/diversity characteristics.
2017 saw continuing consolidation/mergers amongst large regional CPA firms and we expect that trend to continue.
David B. Ko
Senior Vice President Investments, Wells Fargo Advisors
The current stock market's historical high is leading many experts to anticipate an end to this long running bull market. Are investors prepared? A 2017 Wells Fargo/Gallup Investor and Retirement Optimism Index revealed that most investors are not proactively shielding their portfolio from a market correction. While portfolio rebalancing is one way to prepare, just 40% of investors said they're currently rebalancing their portfolio in anticipation of a correction. Even fewer say they are selling stocks to help protect from future losses (18%) or buying bonds to help reduce their exposure to market risk (20%).¹
One of the consequences of a protracted bull market is, unfortunately, investor complacency. With a market correction inevitable at some point, it's important investors check their confidence with a comprehensive risk assessment to determine how a market correction could affect their overall investment strategies.
If you're unsure about how to manage your portfolio in light of a market correction or invest in the market for the first time, a good place to begin is by determining what type of investor you are.
If you already have a solid understanding of the investment markets, you may have what it takes to manage your own investments online. Perhaps you don't have the time or confidence in your ability to choose the right investments, and if that's the case, you may want to turn to a professional financial advisor.
A hot trend for 2018 is hybrid investing solutions that blend convenient technology with customized advice. These low-cost services help investors create diversified portfolios, tailored to their long-term goals and risk tolerances, based on responses to a personal questionnaire. Wells Fargo recently launched its Intuitive Investor solution which offers daily portfolio monitoring, automatic rebalancing and optional tax-loss harvesting, with registered financial advisors just a phone call away.
¹  Gallup.com, "U.S. Investors Expect Market Correction, Take It in Stride," Oct. 2, 2017.
Michael Miller
President & CEO, International City Bank
2017 saw improved performance in return on average assets and return on average equity for a large number of banks in California. Recent increases in interest rates and the continued reduction in problem assets put the majority of small to large banks in an excellent position to move forward in 2018 and anticipate equal results, if not improved performance, with the anticipation of further rate increases in 2018 as predicted by the Fed.
One would say all looks well for 2018 if it were not for the same changes in regulatory leadership combined with economic uncertainty and challenges around the world. Overall, the Federal Open Market Committee predicts three to four 25 basis point increases in 2018 based on current signs that the economy reflects positive growth for the year.  We anticipate that the current regulatory environment will not change substantially for 2018 with the current focus on such things as cybersecurity, and the anticipated changes to how banks calculate their loan loss reserves not to take effect until 2020. While we continue to see our industry shrink in the number of total banks, and in particular community banks, International City Bank is committed to remain an independent community-based bank focused on serving its local market.
We remain committed to the greater Los Angeles and Orange County area with respect to small to medium business, including many nonprofits in our local community. We are very optimistic for 2018 and look forward to continued growth in all aspects of the banks current product mix.
W. Henry Walker
President, Farmers & Merchants Bank
The industry as a whole is going to have a fairly good year. Banking is reflective of other industries. It's not as though we drive the business; we reflect what's going on in the marketplace. I think that is important to acknowledge. In the marketplace, currently, businesses are doing well. The interest rates continue to be low, although slightly rising, and we're at basically full employment. So the industry as a whole is doing well. I would suspect that credit quality will stay good, which is important for banking.
The overall world economy seems stable today. We have been supported by tax cuts, which will be helpful to business as a whole and will put more money back in the economy – which is a good thing – as tax cuts usually do. California may see some issues arising with the unfriendly marketplace that we have here in which to do business. That can of course be damaging to business, but we'll see what the long-term effects are of the new tax laws relative to business in California.
It depends on where in the tax code you fall, but it's going to be interesting to see what the lack of deductibility of state and local taxes are against your federal tax return, and what the long-term effects are for California and driving wealthy people out of state. California has already driven a significant amount of wealth out of state to places like Wyoming, Florida and many other states. We sit at a 13.9% tax bracket on the wealthy, and it's not deductible from federal taxes, which is significant. It was supposed to be a temporary tax, but it was recently put back in as another 10-year tax. California has a lot of issues – a high fuel tax, high sales tax, high personal income tax. We get hit in a lot of different places. So, this is yet another slam to individuals who earn high incomes within the state. We'll see what the effect is.
Again, the outlook should be stable. At some point, we will have a significant change in interest rates. Some banks are starting to chase yield again. While that may not present an immediate problem, when things turn, it creates problems for the banks that spend a lot of time chasing yield and disregarding traditional practices of safety and soundness, like the practices Farmers & Merchants Bank is known for.