The opening of the newest Starbucks on the ground floor of The Current apartments in Downtown Long Beach marks 30 locations within the city – 32 including Signal Hill – but the corporation isn't done moving in.
Excluding Signal Hill, the city of Long Beach, with a land area of 50.293 square miles, has a Starbucks location approximately every 1.68 miles. This number will lessen as two new Starbucks locations are in the works by Kayman Wong, president of commercial real estate development consultant firm Kaidence Group LLC.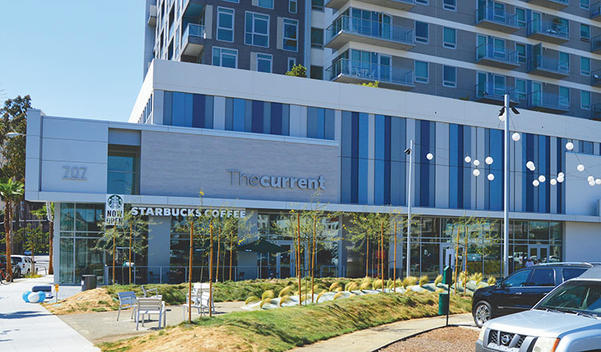 The opening of the city's latest Starbucks location on the ground floor of The Current apartments makes 30 stores in Long Beach, or approximately one every 1.68 miles. Two more locations are planned at 2250 E. Carson St. and 3503-3505 E. South St. (Photograph by the Business Journal's Larry Duncan)
Both locations were granted conditional use permits to operate drive-thru lanes by the planning commission during its September 15 meeting. The new sites are located at 2250 E. Carson St., currently a vacant lot, and 3503-3505 E. South St., currently Winny's Donut House and Good China Express Chinese Fast Food.
The Carson Street location will be 1,884 square feet with a proposed smooth stucco exterior and decorative stone veneer highlighting tower elements, as well as tan and green earth tone building colors to match the shopping center.
The South Street location will require the demolition of the 2,499-square-foot shared space to make way for the 1,868-square-foot Starbucks and its newly approved drive-thru. The project also includes reconfiguring the existing parking lot to meet city queuing standards and restriping parking spaces to comply with requirements.
During public comments, three people spoke in opposition of the Starbucks, claiming that the city is vocal about promoting small businesses yet allows corporations to disrupt or put owners out of business.
Mark Shenouda, a commercial real estate broker at Pacific Retail Partners, spoke on behalf of the property owner and said, "I just want to put everyone at ease with respect to Winny's Donuts. We understand that they have a following. We like them as a tenant. They do have rights under the lease. We have offered to move them within the shopping center, so we're not throwing them out of our shopping center. But it is a business issue, and we are relocating them within the shopping center."
However, Shenouda acknowledged that the locations offered to the Winny's owner are not as ideal, being that Winny's is currently located on a pad just off the street, clearly visible by every passerby. Through tears, Gina Yin, an employee of the family-run donut shop, explained that being moved to a less desirable location would hurt the business that is already struggling to make ends meet.
Christina, who did not give her last name at the meeting and is the daughter of Good China's owner, also spoke to the commission and said that her mother was not given an option to relocate. Also fighting back tears, she explained that since the end of her mother's lease three years ago, the property owner has only allowed her a month-to-month lease. The daughter claims this was because the property owner was shopping for a corporate tenant, which has been found in Starbucks.
Shenouda was unable to speak to these claims as he already used his allotted time for public comment.
Donita Van Horik, vice chair of the planning commission, seconded the motion to approve the conditional use permit but added that she hopes the property owner continues to work with these businesses affected by the decision to bring in Starbucks.
Before the unanimous vote, Commissioner Erick Verduzco-Vega said, "These kinds of situations are really heartbreaking, to see a small business owner suffer through this sort of process. Unfortunately, it's not within the rights of the planning commission to restrict a property owner on who they can or cannot lease to. I was really hoping that there could be a happy ending to this story. Our hands are tied – they are the property owner and it is their right."
The issue passed on a 4-0 vote with three commissioners – Andy Perez, Ron Cruz and Jane Templin – absent.
The commission's October 6 meeting includes a study session of the Land Use Element of the city's General Plan.