Throughout Long Beach, residents and visitors have no shortage of dining and shopping options. The city is a conglomeration of large national and small local brands of food and retail and is in the midst of a renaissance for maker culture.
The downtown area is home to various districts, each with its own vibe and culture. The East Village Arts District hosts numerous small and specialty stores, restaurants and bars, including independent boutiques, a wine bar and a basement bar called the Blind Donkey, which specializes in whiskey.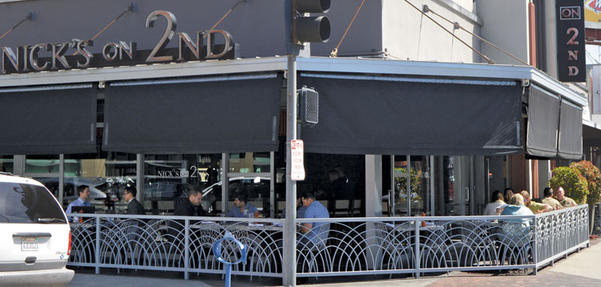 Long Beach has evolved as a Southern California dining destination, featuring Asian, European, and Latin American choices as well as a variety of American food establishments. Patio dining can be found throughout the city (Photograph by the Business Journal's Larry Duncan)
The Promenade is a walkable strip between the East Village and the downtown core, which features hotspots for food and beer, including Beachwood BBQ and Dog Haus.
The most well-known restaurants and nightlife can be found downtown on Pine Avenue, just east of the East Village. The street features restaurants like contemporary BO-beau Kitchen and Roof Tap and the Federal Bar, a large restaurant and bar located within a historic bank building and complete with basement speak-easy and music venue. Other nightclubs include Sevilla, which draws big on Latin dance nights, and Harvell's, which specializes in burlesque shows but will have the occasional live music act.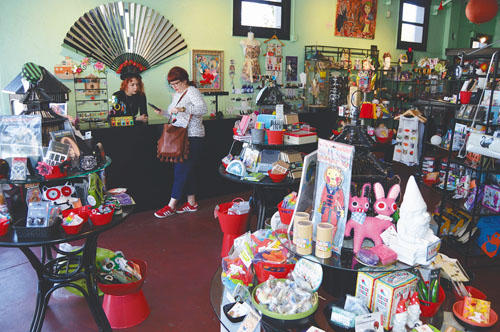 Some of the most unique shops in Long Beach are along 4th Street in the area known as Retro Row. It's a popular destination for locals, visitors and movie studios. (Photographs by the Business Journal's Larry Duncan)
Pine Avenue dead ends at Shoreline Drive and The Pike Outlets, a bustling shopping center that features larger national brands. Anchored by a 17-screen Cinemark movie theater, the center also features brands such as Nike Factory Store, H&M, Forever 21 Red and Restoration Hardware Outlet. Restaurants include Bubba Gump Shrimp Co., California Pizza Kitchen, P.F. Chang's, Famous Dave's and Islands Fine Burgers & Drinks, among many others.
Downtown also features City Place, a shopping center that is currently being renovated, revitalized and rebranded to become more pedestrian friendly and welcome more localized businesses. One of the city's most popular destinations is Shoreline Village on Queensway Bay. The family-friendly center is home to iconic restaurants such as the well-established Parkers' Lighthouse, which offers guests high-end dining with ocean views. The Village also features a comic book store, a hat shop, various boutiques, a coffee shop and dessert and snack shacks.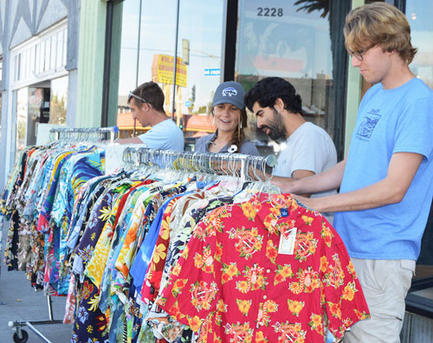 Other areas of the city, such as Belmont Shore's 2nd Street, a mile-long corridor, have a much different ambiance than the downtown districts. Second Street has a feeling of a small-town beach city that is lost in much of downtown. The corridor is home to numerous independent boutiques and restaurant options ranging from Greek to Japanese to Lebanese and everything in between. The street is also lined with pubs and bars, such as Legends Restaurant and Sports Bar, popular during sporting events.
Retro Row on 4th Street between Cherry and Temple avenues earned its name for the collection of vintage shops that line it. The historic Art Theatre of Long Beach fits the retro vibe perfectly and frequently features indie films, major blockbusters, musical acts and even midnight performances of the cult classic "The Rocky Horror Picture Show." The area is also home to numerous coffee shops, restaurants and bars including Portfolio Coffeehouse, Kafe Neo (Greek food), Lola's (Mexican food), Number Nine (Vietnamese food), Restauration and wine bar 4th Street Vine.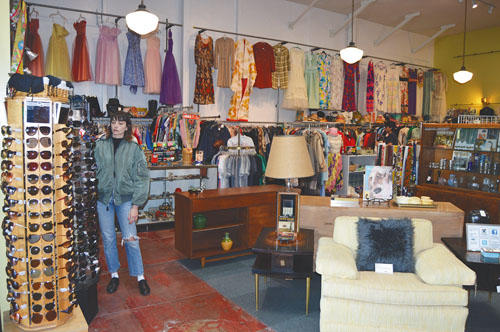 Further north, Bixby Knolls offers small-town charm with a quiet suburban atmosphere. The restaurants are eclectic and include Rasselbock Kitchen & Biergarten with its German focus and SteelCraft, a new food collective concept constructed from repurposed shipping containers. The complex features Smog City Brewing Co. and eateries serving waffles, coffee, shaved ice, chocolate, pizza and ramen. The area also features many independent shops and boutiques and hosts a First Friday's event the first Friday of each month.
The city's oldest bar, Joe Jost's, is located on the East Anaheim Street corridor and shares the area with Alex's Bar, a popular music venue that hosts national and local acts. The most LGBT-friendly stretch of road in the city is Broadway, which is home to numerous bars, restaurants and small businesses from Alamitos Beach to Belmont Shore.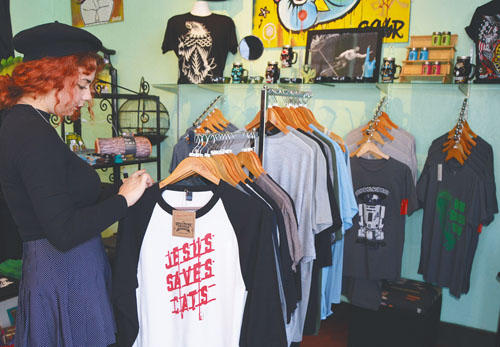 Several large shopping centers are located throughout the city, including the Long Beach Towne Center in East Long Beach, just off the 605 Freeway. The center features a 26-screen Edwards Theatre and large retailers such as Barnes & Noble, Old Navy, Michael's Arts & Crafts, Ross Dress for Less and Lowe's. On Bellflower Boulevard, the Los Altos Market Center is anchored by Target and Sears, while the nearby Los Altos Gateway features Lowe's and Kmart.
Southeast Long Beach is home to several shopping centers. Marina Pacifica features an AMC movie theater (currently undergoing renovations), various dining options, grocery stores and retailers, such as Best Buy. Across the street, Marketplace Long Beach is home to a United Artist movie theater and numerous dining and shopping options, including Trader Joe's and BevMo. Nearby Alamitos Bay Landing features several restaurants including Joe's Crab Shack, Schooner or Later, Boathouse On The Bay, Malarky's and craft beer brewer Ballast Point.
With other small shopping centers and stand-alone shops and restaurants littered throughout the city, residents and visitors are never short on new experiences. For a list of shopping centers, visit longbeach.gov/citymanager/economic-development/shop/.