To keep up with new development downtown and community needs, Long Beach Transit and the Los Angeles County Metropolitan Transportation Authority (Metro) are upgrading their systems.
According to Long Beach Mayor Robert Garcia, who has served on the Metro board for the past year, the Blue Line that serves Long Beach is undergoing a series of improvements. These include replacements of old light rail cars, as well as repairs to the track and electrical system.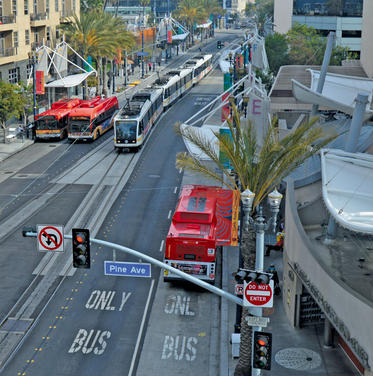 An overview of the Long Beach Transit Mall on 1st Street shows the Metro Blue Line and Long Beach Transit buses. (Business Journal Photograph)
Garcia said that the biggest change to the Blue Line this year was the switch in security from the Los Angeles County Sheriff's Department to the Long Beach Police Department (LBPD) on the Long Beach segment of the rail line, including the city's eight Metro stations. Metro is funding the patrol system, which has been in operation for about six months.
"The security prior to the new arrangement was, unfortunately, not providing a secure ride for everybody," Garcia told the Business Journal. "We are lowering the response time by about four or five minutes. The average response time was 14 minutes with the L.A. County Sheriff's Department. It's much less now with LBPD."
Garcia reflected on his first year on the Metro board, describing it as "very interesting and successful." He said that, since he assumed the role, the Blue Line has had more attention than before.
"The improvements are important so people feel like it's a safe, clean, acceptable experience for everybody," Garcia remarked. "We want to make sure everybody enjoys their riding experience. We've already seen a small uptick of riders in the last few months. That's a positive development and we hope that continues."
The mayor also mentioned an initiative by Long Beach Transit (LBT) to reroute the bus stops. He said that next year riders can expect a new bus system across the city, which will improve connections and the overall rider experience.
"The goal is to create a better riding experience for people across the county, but especially for trips between Downtown Los Angeles and Downtown Long Beach," Garcia said. "There could be more trips and less time waiting on the freeway."
LBT is conducting a comprehensive operations analysis. The research focuses on possible changes in customer travel patterns due to increased residential development downtown.
"We want to be able to be front and center with how public transit helps people move effectively around our city," LBT President and CEO Kenneth McDonald said. LBT has partnered with local groups such as the Downtown Long Beach Alliance and the Long Beach Area Chamber of Commerce to gather feedback. The study has been going on for about 10 months.
"The last time we did a survey was 10 or 12 years ago," McDonald said. "We don't do them very regularly. These are things you look at after seven to 10 years, when there's more construction and people moving around downtown. We want to make sure we're providing transit systems where our customers need them, after gauging economic development in the city."
LBT is also expanding its environmental initiatives. It is installing a wireless battery charger in front of the Long Beach Convention & Entertainment Center for its 10 zero-emission, battery-electric buses. This project is slated for completion in March, with a goal to finish construction by the Toyota Grand Prix in April.