The northeast corner of Atlantic Avenue and Artesia Boulevard has been an empty dirt field for years but will soon be transformed to bring additional amenities to Long Beach's northernmost communities. Frontier Real Estate Group is putting the final touches on the designs for its first North Long Beach project, Uptown Commons, to be built on the 2.14-acre lot.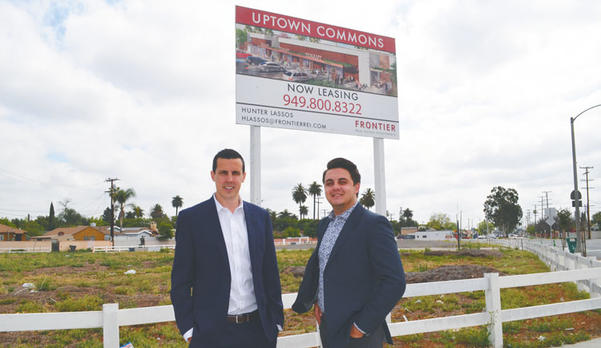 Newport Beach-based Frontier Real Estate Investments is developing Uptown Commons on the northwest corner of Atlantic Avenue and Artesia Boulevard. Frontier President Tom Carpenter, left, is pictured with Frontier Leasing Representative Hunter Lassos at the project's future site. (Photograph by the Business Journal's Pat Flynn)
"We've tracked this site for a long time. We believed in the intersection and the potential of the area," Frontier Vice President of Acquisitions Tom Carpenter said. "The city was helpful in the sense that they provided a list of different voids in the area [and] a list of uses they thought would be a good fit."
Through community outreach, city officials gained insight on the types of amenities North Long Beach residents wanted and needed in their communities. This input is informing the decisions being made by Frontier, Carpenter said. While the other corners at the intersection are anchored by fast food giants including McDonald's, Carl's Jr. and Subway, Uptown Commons' three main target tenants include a national coffee shop, sit-down restaurant and bank.
Leases are being finalized for a majority of the space at the $2.1 million center, Carpenter said, adding that none are far enough along to be announced. Frontier has been working closely with these tenants to ensure the project meets all their requirements. Once the tenant mix is set, the site plan can be finalized.
"We're actually in the middle of some pretty large changes. Some of the buildings moved around on the site," Carpenter said. "In this latest round, we've really put an emphasis on orienting everything so the corner . . . is more inviting when people are walking along the street. That is something the city has always pushed for."
Currently, designs feature roughly 12,000 square feet of building space, including a 2,000-square-foot coffee shop, a 3,000-square-foot bank and 7,000 square feet of restaurant space. Most of the restaurant space will be utilized by a sit-down concept, however, Carpenter noted that residual restaurant space could be used for fast-casual dining.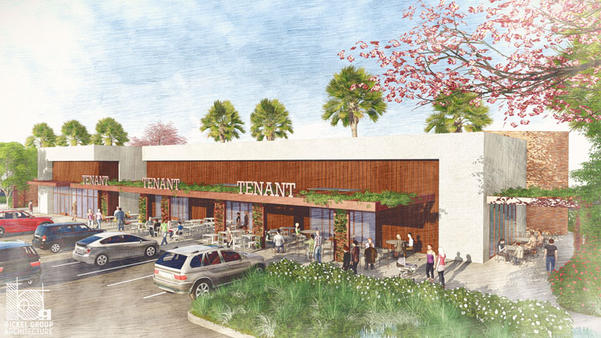 Poised to redefine the intersection at Atlantic Avenue and Artesia Boulevard, the development dubbed Uptown Commons will consist of about 12,000 square feet of restaurant and commercial space. The project will be anchored by a bank, a sit-down restaurant and a coffee shop. (Rendering courtesy of Frontier Real Estate Investment)
The cornerstone of the project – literally and figuratively – is its inclusion of outdoor community gathering space for residents to eat, drink and socialize. The communal space will be located directly on the corner of the intersection and include seating areas that can service restaurant and coffee shop patrons.
"A focus on patio and outdoor dining areas is something we have always talked about doing," Carpenter said. "We have spent a lot of time refining how it looks and works for the tenants on site and making sure it's a place that's open and welcoming for pedestrians and students."
With two more major developments planned in North Long Beach along the Atlantic Avenue corridor by the LAB Holding LLC and Westland Real Estate Group, Carpenter said he is excited to be a part of the area's renaissance. He explained that the collaboration between the city and developers in North Long Beach will result in a neighborhood that residents will enjoy and be proud of. The success of Frontier's and the other two developments will only breed more investment in the future, which is win-win for everyone involved, he added.
Frontier is currently working with the city to obtain entitlements for the project, Carpenter explained. Once the design and entitlement processes are complete, the final project proposal requires planning commission and city council approval. Carpenter said he expects to break ground on Uptown Commons before the end of the year with an opening anticipated for summer 2019.
"We want to do something special for the area and for the community. We're working hard to attract the types of tenants that will benefit the community. The overwhelming aspect – we feel it on this site – is we are excited to be part of what's taking place in the area. It is pretty unique what the vice mayor and the city are getting done within North Long Beach – they are really making things happen."