When Urban Commons assumed a 66-year master lease of the Queen Mary and 65 acres of surrounding land and water, it did so with the promise to invest millions into developing the underutilized land, as well as the Queen herself. On March 22, the company revealed its vision, dubbed Queen Mary Island.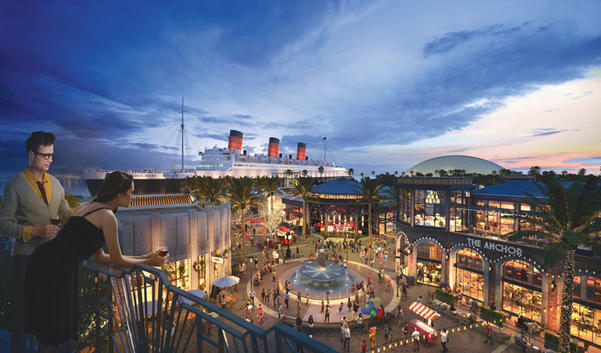 Urban Commons officials say their vision for "Queen Mary Island" is for it to serve as an all-inclusive entertainment destination, including retail, restaurants, a 5,000-seat amphitheater and an indoor adventure park. (Rendering by Gensler)
"We're proud to have partnered with Urban Commons and thank the Queen Mary Land Development Taskforce for their guidance with an innovative project that represents the spirit of Long Beach," Mayor Robert Garcia said in a press release. "Queen Mary Island will invigorate our downtown core with its reimagined, urban dining and entertainment experience."
The $250 million, all-inclusive entertainment destination will activate land and water surrounding the ship, space that is currently parking lot or nothing at all. The company said the development will "pay homage to the golden age of the luxury liner while bringing to life a curated collection of music, entertainment, dining, retail and adventure offerings that take full advantage of the coastal setting."
The self-contained destination will feature landscapes, amenities and recreational experiences for people of all ages. The team envisions several creative entry points for visitors by land, water and air. The project will include a 2,400-square-foot boardwalk along the marina, to be lined by 700,000 square feet of cafes, bars, eclectic retail shops and a 200-room hotel.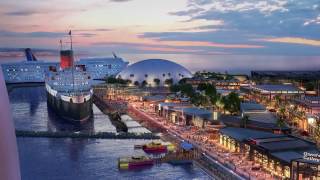 (Urban Commons video depicting Queen Mary Island concept)
Urban Commons Principal Taylor Woods said his two favorite features of the project are the 5,000-seat waterfront amphitheater and the 150,000-square-foot Urban Adventure, London-based Urban Legacies' first North American attraction.
"Having an amphitheater that can host community events and large concerts and create a lot of energy and experiential enjoyment for people on the water, overlooking the harbor and the City of Long Beach skyline, I think is spectacular," Woods told the Business Journal. "We'd like to envision that to look and feel, in large part, much like the Hollywood Bowl and other beautiful outdoor settings."
As for the indoor adventure park, visitors can expect approximately 20 interactive and experiential activities, including California's first indoor ice climbing wall, surfing, canyoning, skydiving, zip lining and a trampoline park.
The project announcement comes on the heels of a marine survey that found decades' worth of neglect has left the ship in dire need of repair. The report estimates total cost of repairs, most of which were deemed urgent, could range from $235 million to $289 million. When asked if these costly repairs would affect development of Queen Mary Island, Woods answered with a resounding no.
"It will not affect our development in any way whatsoever," Woods said. "We've identified those areas that need repair. We've identified sources of revenue, and we've brought in new revenue, and we've identified revenue from Carnival Cruise Line. So we have solved the equation of ensuring that there is enough capital in the historic preservation fund from day one."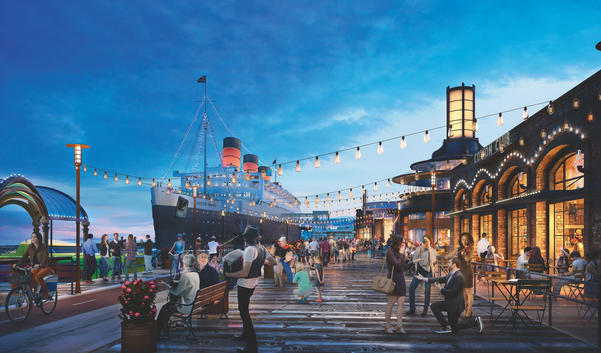 The Queen Mary Island development features a 2,400-foot-long boardwalk, to be lined with restaurants, bars, retail stores and a 200-room hotel. (Rendering by Gensler)
Woods added, "Through the entire lifetime of our lease, we will have hundreds of millions of dollars infused into that fund that will always be able to preserve and care for the Queen Mary adequately. That's very important to us."
Areas of the ship have already been closed off and are undergoing repair, Woods noted. He said the company hopes to reopen those areas as soon as possible for visitors' enjoyment.
According to Woods, Urban Commons entered its lease with several advantages that have helped prepare it for the undertaking of ship repairs and renovations, as well as the proposed development project. First, he said knowing the entire history of the Queen Mary is extremely beneficial, including past leaseholders and where they faltered. Secondly, Woods said the number of visitors and events, including Dark Harbor, CHILL and music events, currently generate far more revenue than in previous years.
In 2015, Garcia assembled the Queen Mary Land Development Task Force to create guiding principles as recommendations for the Urban Commons development. The principles were presented to the mayor and city council in September of last year.
"I hope Urban Commons and their architect, Gensler, will clarify how they have addressed the guiding principles put together by the [task force] and that there is an opportunity for the task force to weigh in on their approach," Michael Bohn, chair of the task force and a senior principal for Long Beach-based architecture firm Studio One Eleven, said. "I think some of the best projects that are done, particularly such public projects like this, are when there is a community effort, a back-and-forth effort with the developer to create a really great, balanced design."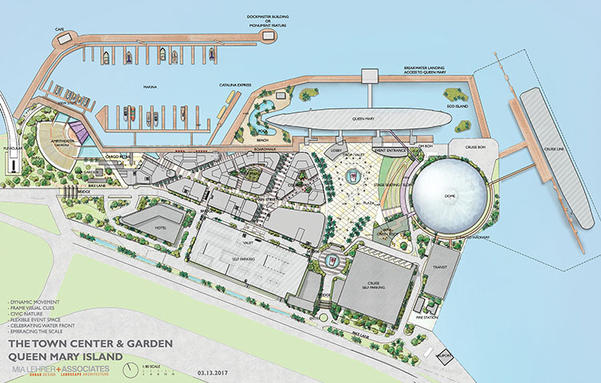 (Map depicting layout of Queen Mary island provided by Urban Commons)
When asked if the task force's guiding principles were taken into consideration for the master plan, Woods said they absolutely were and that they are a valuable tool. He noted that the slight variations include placement of buildings, driveways, walkways and pathways. However, though the layout and organization may differ, Woods said the master plan very closely resembles the recommendations.
In previous decades, several proposals have been made for the development of land surrounding the Queen Mary – at one point Disney was even considering a water-based theme park – each falling through in turn. In response to Urban Commons' announcement, some residents have voiced a certain skepticism that the project will actually come to fruition. Woods, however, explained that this is not the case.
"I think in years past, there were plans that really were built on the wrong components," Woods said. "We want this to be a publicly available, open-access area where people can feel like they have arrived at a destination and feel like they are on a sort of island getaway. The Queen Mary as the centerpiece definitely provides that ambiance."
Woods estimates the massive project to be completed in six to eight years, including one to two years to procure all the proper approvals and permits required to build in the coastal zone.