When Andrew John, 28, heard earlier this year that Universal Technical Institute (UTI) would be opening a campus in Long Beach, he didn't hesitate to enroll in the for-profit college's first session that started in August.
Today, the Signal Hill resident, who is an employee at Number One Auto Collision Centeran and also an independent automotive technician, is at the top of his class. Perhaps more importantly, he is already using skills learned in the classroom out in the field.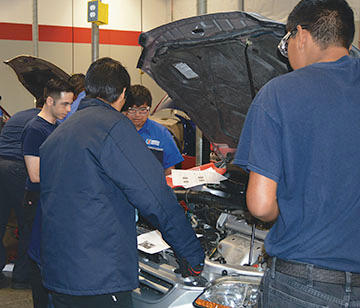 Students work in a lab at the Universal Technical Institute's (UTI) Long Beach Douglas Park campus, which opened in August. The campus offers manufacturer-specific advanced training for Nissan automobiles, trucks and SUVs while training students to take the California smog check inspector license exam. (Photograph by the Business Journal's Larry Duncan)
"Coming to UTI has really opened my eyes to a lot of things I wasn't sure about, and now I've got it down pat," he told the Business Journal. "It's just amazing. I can't believe that I'm actually here and this is happening . . . This is where I need to be."
John is one of about 260 students who have enrolled at UTI's Long Beach campus since it opened on August 17. He was recently recognized as a "student of the course," an honor given to students who achieve above 90 percent in grades and attendance.
While John had wanted to attend UTI earlier, it would have been too inconvenient since the closest campuses in California were in Sacramento and Rancho Cucamonga. Now, with the opening of the Long Beach campus, he is able to stay close to his friends, family and clientele, John said.
Campus President Larry Hohl said one of the main reasons for building the two-story, 142,000-square-foot campus at Douglas Park off Lakewood Boulevard was to better serve students and employers in Southern California. He added that about 20 percent of students at the campus live in Long Beach.
Moving to the business park on land once used for aircraft manufacturing adjacent to the Long Beach Airport made sense since it is surrounded by four freeways and is centrally located between Los Angeles and Orange counties, he said.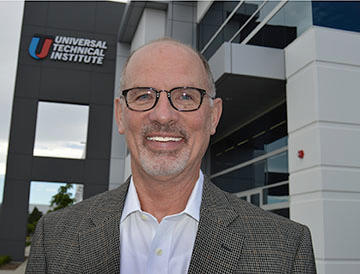 Larry Hohl is president of Universal Technical Institute's (UTI) Long Beach campus, where 260 students have enrolled since opening in August. With a capacity to serve up to 800 students, the college offers courses in automotive, diesel, collision repair and other fields. (Photograph by the Business Journal's Larry Duncan)
Hohl said UTI has already surpassed its expectations for student enrollment and has had to offer additional sessions to accommodate students.
He said a handful of students have transferred from WyoTech, a Corinthian Colleges campus that closed earlier this year. UTI also fills the gap where public institutions can't provide classes, such as in the case of Long Beach City College, which discontinued courses in auto body technology, welding and diesel mechanics in 2013.
"Now we'll have students in this area who will graduate here and go to work here," Hohl said. "The employer base is huge in Southern California, which was underserved by our Inland Empire campus."
With a capacity to serve up to 800 students in Long Beach, UTI offers courses in automotive, diesel, collision repair and other fields. The college also has training partnerships with manufacturers of more than 30 leading transportation brands, including BMW, Ford, General Motors, Porsche, Mercedes Benz, Nissan, Volvo and Honda.
Although UTI is not a degree-conferring institution, the college offers certificates that take a little more than a year to complete with classes every six weeks. Some certificates count as two years of work experience, Hohl said. In addition, the college is National Automotive Technicians Education Foundation (NATEF) certified, and all instructors are Automotive Service Excellence (ASE) certified. Students also have the opportunity to become ASE certified through the college.
Hohl said UTI's industry partnerships allow students to get training on a specific brand. For instance, UTI offers a training program with Nissan and Mercedes-Benz, which operates its West Coast campus and automotive testing facility on the east side of Lakewood Boulevard. In some cases, students achieving high marks will have their training paid for by an automotive manufacturer, he said.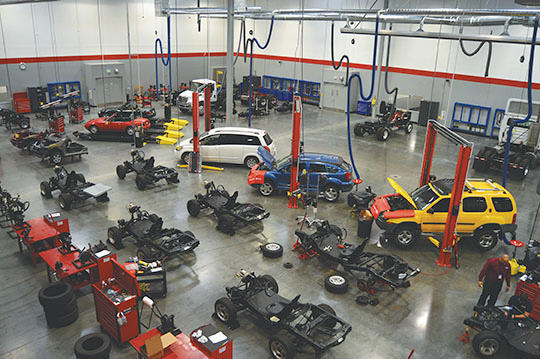 Universal Technical Institute's (UTI) 142,000-square-foot campus includes a main lab pictured here where students can use equipment and vehicles during training exercises for certificate courses. (Photograph by the Business Journal's Larry Duncan)
The $27 million, "state-of-the-industry" Long Beach campus includes classrooms and a spacious main lab, where nine courses are taught and students can work on equipment and vehicles.
"What they talked about and had dialogue about in the classroom, they will go experiment with in the lab," Hohl said. "The majority of time is in the lab because this is about hands-on learning."
While there is an emerging field in electric vehicles and other new technology, the bulk of the curriculum at UTI, which has 12 campuses in the United States, focuses on what is "mainstream," which today is diesel, he said, adding that only 5 percent of jobs in the industry are related to new technology.
Hohl added that the demand for trained technicians is expected to grow as baby boomers retire and the number of vehicles on the roads rises. The California Employment Development Department (EDD) estimates that jobs for automotive service technicians are expected to increase by 15 percent by 2022.
UTI, which offers a learning resource center and a touch screen where manufacturers post job openings, is particularly proud of the fact that 90 percent of its student graduates have gone on to find employment.
"This is about more than just providing you with a good education," he said. "We will also support you in your efforts to get part-time work while you go to school and to get your career started after you graduate."