With their sleek design, Ring LLC's video-recording doorbells barely stand out. But anyone keeping an eye out for the flat, black and silver devices will notice them guarding home entrances in residential neighborhoods across the country. On its website and social media platforms, the Santa Monica-based and Amazon-owned tech company proudly displays footage recorded by its cameras. In these videos, package thieves are startled as their prospective victims' voices blare from the small Ring devices, catching them in the act. They depict a potential burglar running away into the night after realizing he's been caught on camera.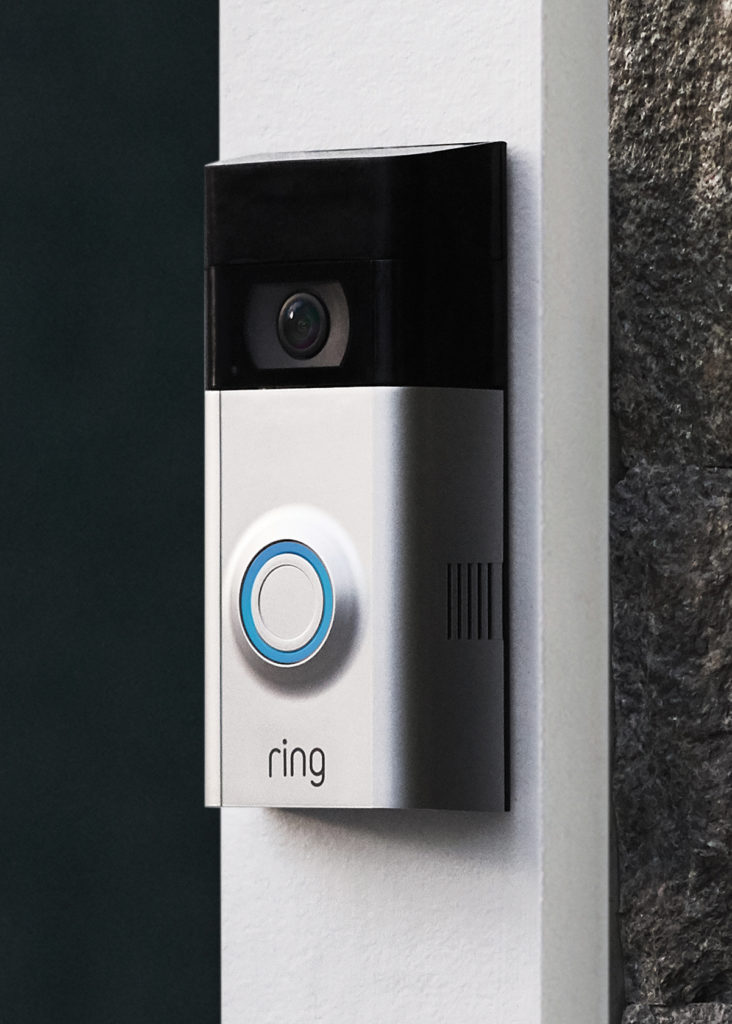 In recent months, the company has tested a new strategy in its pursuit of America's front porches: partnerships with local police departments and municipalities. The Long Beach Police Department (LBPD) recently signed a memorandum of understanding (MOU) that formalized police access to the company's Neighbors app, which allows users to share information on crimes and suspicious behavior, as well as any corresponding security footage, with others in their neighborhood.
A second partnership, this one between the City of Long Beach and Ring LLC, would create an incentive program for purchasing the company's devices. Such a partnership was proposed to the city council by Vice Mayor Dee Andrews in mid-July, and a specific proposal is currently being drafted by city staff.
If city staff follow Andrews' recommendation, the program will offer video-recording doorbells at a discounted price to "residences in low-income communities, residences where an increase in mail theft is noted and residences willing to partner with the current Ring Neighbors Portal MOU." The difference between the full price of the device and the discounted price offered to qualifying residences would likely be split 50-50 between Ring LLC and the city, according to communications between Ring LLC and the LBPD obtained through a public records request. In his recommendation, Andrews suggested that the city's payment could be covered by council district priority funds from council districts interested in participating.
The vice mayor and 6th District councilmember said he first learned about the possibility of a partnership between the city and the tech company when a constituent posted about it on Facebook. According to Andrews, realtor and Wrigley resident Karen Edwards had heard about the company's partnership with Temple City, a small municipality located just south of Pasadena. Why didn't Long Beach have such a program, Edwards reportedly asked on the social media platform.
Andrews was all ears and began drafting a recommendation to his fellow councilmembers. "I would like to have hundreds of eyes in the community that would help deter some of the stuff that [the district is] going through and help prevent crime," Andrews told the Business Journal. The feedback has been positive, Andrews noted. "Our residents have been very, very supportive of this."
But Ring's expanding network of local partnerships has raised concerns among civil rights advocates. Mohammad Tajsar, a staff attorney with the American Civil Liberties Union of Southern California, and his team have reviewed dozens of agreements between the company and local law enforcement agencies and municipalities. "We've been tracking a lot of this and our general, basic conclusion – without being hyperbolic – is that these partnerships are really an unmitigated disaster for the civil rights of community members across the country," Tajsar said.
Tajsar noted concerns with the way partnerships between Ring and public agencies are formed as well as the content of the underlying agreements signed by both sides. "It's unfortunate, because a lot of these partnerships have been struck without real public scrutiny," he said. "And I think if we scrutinized them a little bit more, we'd all be really concerned with what exactly this means." The agreement between the LBPD and Ring was not shared with the public before it was signed on August 9. A proposed agreement for an incentive program is still being drafted.
"What [these agreements] allow is an undemocratic expansion of a city's surveillance technology in a way that enables a private company to have a lot more access to a lot more information about peoples' lives," Tajsar explained. While residents who participate in incentive programs, like the one proposed by Andrews, choose to have their property surveilled, the area covered by the devices often extends beyond their property lines. "A lot of people can be scooped up in the purview of these cameras, whether or not these people decided to be subjected to them," Tajsar added.
Ring LLC's terms of service place all responsibility for complying with local restrictions on video and audio recording, as well as any applicable notice requirements that such recording is in progress, on the individual user. The user agreement also instructs owners of the devices to ensure that the camera's view only covers their own property. Once recorded, Ring reserves the right to use any footage recorded by its devices for any purpose, including commercials and social media posts. Some agreements for incentive programs reviewed by Tajsar and his team also assigned police the right to access footage collected by devices purchased through the program, he noted, without requiring additional consent from their owner.
Andrews said he disagreed that the cameras violated anyone's right to privacy. "We have a right to privacy in our homes, but not in public," he said. "Cameras of all types are in operation in public [spaces] throughout the city." The police department argued a similar point in support of its collaboration with Ring, which allows officers to request footage that may be of use in an investigation through the company's Neighbors portal. "Officers are already out there knocking on doors, asking homeowners, businesses, people in the vicinity of a certain crime for video footage," Shauna Dandoy, a public information officer with the Long Beach Police Department, told the Business Journal. "There isn't necessarily a cost to privacy, because it's something that's already happening," she added.
LBPD Lt. Joseph Gaynor said his investigations team stands to benefit greatly from the additional evidence the cameras could provide. "What we find with all our crimes is: video evidence is fantastic," Gaynor said. "The ability to have Ring assist in acquiring footage that citizens have approved to be given to us saves time from an investigative standpoint.
Andrews hopes that more cameras in his district will reduce crime, especially package theft, an issue Ring has placed front-and-center in its promotional campaigns. "I think this is going to be a great idea to deter some of those crimes that we're having in our area," Andrews said. "It would really be like putting more policemen on the ground."
Tajsar, in turn, pointed to a significant difference between Ring's devices and additional police officers: public accountability. "The more you have an entrenchment of the private sector in a fundamentally public enterprise – like policing – the less likely it is that the public will be able to hold them accountable," Tajsar said. "And that is a dangerous trend we should all be concerned about."
While city agencies, including those in charge of law enforcement, are subject to public records laws, there's no law requiring Ring to share its internal practices with the public. "The more people have these devices, the more the movements of people will be stored in databases that Amazon collects and is conducting algorithmic analysis on. Do people want that?" Tajsar asked. "I'm not sure they do," he contended.
According to Andrews, there will still be some time to hash out the details of the incentive program he proposed. The councilmember noted that staff is unlikely to come back to the city council with a report until after a new city manager has been hired, once current City Manager Patrick West leaves the office in September. "Everything's kind of at a standstill right now," he noted. "Once we're through this transition with the city manager, I think we're going to be able to come up with a very good situation here."