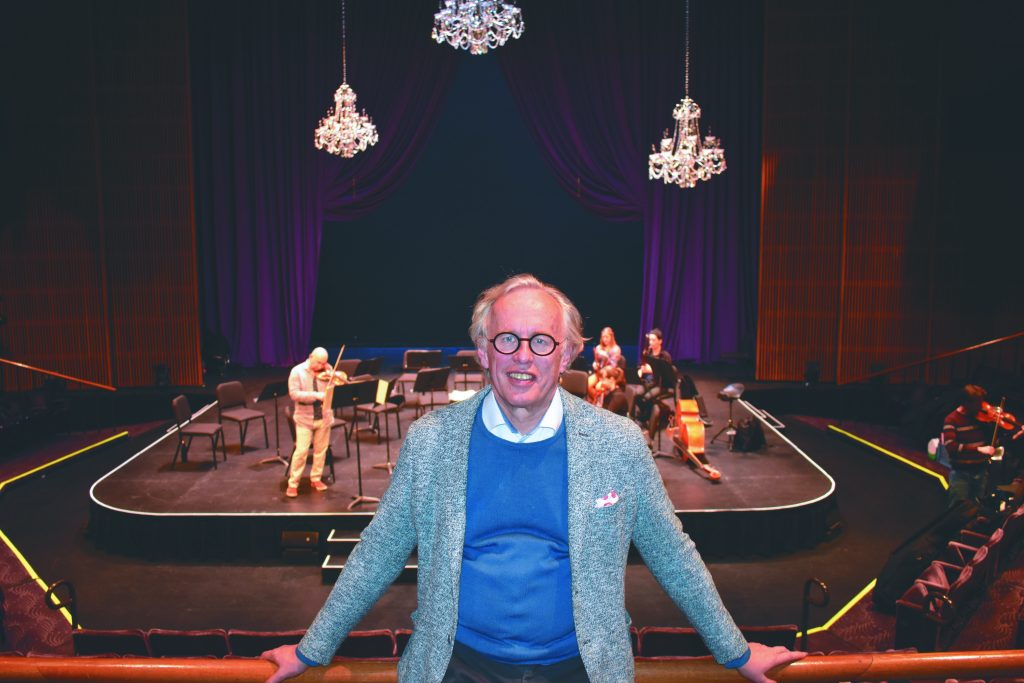 Martin Haselböck, musical director of the Musica Angelica orchestra in Long Beach, has conducted on some of the world's biggest stages in classical music, from the San Francisco Symphony to the National Orchestra and Choir of Poland at the Warsaw Philharmonic. Still, the Viennese virtuoso has continued to find inspiration in Long Beach since 2003.
"Here, there's this wow-effect and it's beautiful," Haselböck said of Long Beach audiences. "You can still find a kind of fundamental excitement here." In contrast, the long musical tradition of his native Austria has groomed more of an expert audience. "Over there, you have these great traditions, old traditions that you don't have here, which has its pros and cons," the conductor explained. "In Vienna, I have an audience that's heard every piece we perform a hundred times already."
Haselböck was among the first to focus on arranging classical and baroque music on period instruments. "Time and again, there have been attempts to play Mozart's work in its original sound, but we were the first in Germany and Austria to play his big operas with orchestras using period instruments," he said. "In that, we were pioneers."
Today, the trend of exploring original sounds has caught on in his hometown. "In Vienna, we have the privilege that much is still present from that time," Haselböck pointed out. There, the conductor and organist plans to participate in the Resound project, which stages performances of Ludwig van Beethoven's work on period instruments in the locations they were performed during the composer's active years in honor of his 250th birthday.
"When the composers wrote these pieces, they had a specific sound in mind. The orchestras, just like everything else in the 19th century, has evolved [since then]," Haselböck said. "There's a scene, a sound that develops that's different from the modern symphonic orchestras." Young musicians, he said, increasingly seek out the challenge of unearthing a composition's original sound. "It's detective work, exploratory work," the conductor explained. "Young musicians are seeing this as an additional value."
Haselböck continues to act as the musical director of the Orchester Wiener Akademie in Vienna, which he founded in 1985. Haselböck said he sees his work on both continents as a source of inspiration and cultural exchange. "I see it as a cultural bridge that I'm able to build here, across the ocean," the conductor explained. "It's a cross-pollination."
With Haselböck's help, the performing arts scene in Long Beach is increasingly gaining international recognition. In January, Haselböck conducted Musica Angelica's performance as part of a multimedia rendition of Edgar Allan Poe's short story "The Black Cat" in Bogota, Colombia, which was later performed for Long Beach audiences in January.
"The symphony has world-class entertainment, and Musica Angelica has rounded out those offerings with baroque music played on period instruments," Steve Goodling, president and chief executive officer of the city's convention and visitors bureau, told the Business Journal. "The Long Beach Convention Center has continued to grow [its] offerings, to create and offer top quality entertainment that competes with Los Angeles and Orange County."
Long Beach's entertainment offerings help support the ongoing growth of the downtown dining scene. "By having an array of performing arts options, it brings people in from around the area," Goodling said. "These people – at times – come early, so they can enjoy dinner before or after a performance."
Additionally, the diverse performances offered at the Long Beach Convention & Entertainment Center provide an educational opportunity for local students and their parents. According to Goodling, around 30% of the audience at Musica Angelica's concerts are students and their families, who receive complimentary tickets through a variety of educational programs. Musica Angelica partners with both California State University, Long Beach and the Long Beach Unified School District to offer free tickets, lectures by musicians and complimentary classes in composition.
"All of the artistic groups that perform at those two [Beverley O'Neill and Terrace] theaters provide opportunities for youth in Long Beach to experience the arts, and the craft and the skills involved," Goodling said. "In a lot of cities, that opportunity isn't as easy to achieve, but in Long Beach, there's a concerted effort to bring the youth and their families to the theater to enjoy."
Looking towards Musica Angelica's program for the upcoming year, Haselböck plans to further cultivate that spirit of pioneership and exploration. Performances in 2019 will include a series of evenings focused on the German composer Johann Sebastian Bach and a new musical theater project produced in partnership with the Long Beach Opera. "I think, once again, it's going to be an exciting mix," Haselböck said. "I think every concert will bring with it a sonic surprise, a sonic discovery."