Despite the number of murders falling to an historic low last year, violent crime in Long Beach has skyrocketed – up 36.8% over a four-year period ending December 2017. This ugly trend continued into the new year. During the first two months of 2018, violent crime in Long Beach is up more than 15% compared to a similar period for 2017.
Violent crime includes murder, rape, robbery and aggravated assault (refer to definitions in adjacent box). Crime statistics are available online at the police department's website and are updated monthly. According to the Long Beach Police Department, all crime reports are reviewed and sometimes adjusted, up or down, so initial 2018 numbers may change slightly.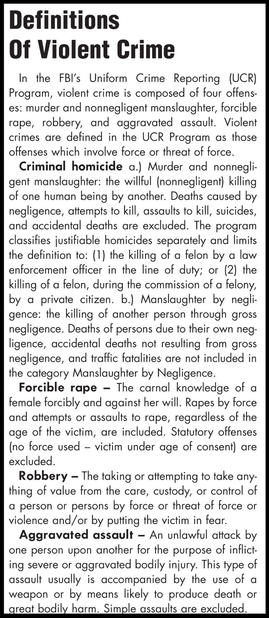 The violent crime numbers are especially troubling when compared to those of other large California cities. For example, San Francisco experienced a 6.3% drop in violent crime in 2017 compared to 2014. Oakland was down 10.8% while San Diego had just 7 more violent crimes in 2017 than it did in 2014. Large cities with double-digit increases include Bakersfield (up 9.1%), Sacramento (+13.4%), Riverside (+19.7%) and Fresno (+24.9%). But none approached the percentage increase registered in Long Beach. At press time, the Business Journal was unable to collect complete data for 2017 from other large cities, including Los Angeles, San Jose, Santa Ana and Anaheim. 
However, no matter the crime numbers are in other cities, we can assume most Long Beach residents and business owners are more concerned about what's happening here, on their streets. Therefore, the Business Journal is calling on the city council to hold a special meeting with Long Beach Police Chief Robert Luna, his command staff and the Long Beach Police Officers Association, whose members are on the front line, to understand what is occurring in Long Beach, why it's occurring and what can be done to reverse this alarming trend.
Discussion points might include: What can we learn from other cities? Are more police officers the answer? If so, how do we pay for them? Should Measure A money be shifted from infrastructure to public safety? Are taxpayers willing to reduce some services to help fund more police officers? Is homelessness part of the problem? Is legislation mandating the early release of prisoners contributing to the increase in violent crime? The city council needs to act now. Violent crime not only directly affects residents and workers, but will eventually impact the city's economy, including business attraction and retention efforts.
Overall Crime Is Down, But . . .
Earlier this year, Mayor Robert Garcia and Chief Luna held a press conference boasting – and rightfully so – that 2017 had the lowest number of murders in the city in nearly 50 years. They also reported that overall crime (combining violent and property crime) in the city had decreased by 7.9% in 2017 compared to 2016. While all true, these numbers – which have been touted by elected officials at community events and on social media sites, and repeated by incumbents running for reelection in the April 10 city primary – are deceiving.  For example, part of that 7.9% reduction in overall crime was due to a 39% decline in bike thefts. What wasn't discussed is that violent crime was up 9% in 2017 – the fourth consecutive year violent crime increased in the city. Ignoring this trend is unacceptable.
The Business Journal decided to compare 2014 crime statistics to 2017 because most of today's elected officials were sworn into office in July 2014.  This dramatic increase in violent crime has mostly occurred – and is still occurring – on their watch.

Where In The City Is Violent Crime Occurring?
The police department has five reporting divisions (refer to map): East, West, North, South and the Port, with the latter experiencing few crimes.  The South Division, which was merged into the West Division in 2013 due to budget cuts, was restored last year after voters approved the sales tax increase tied to Measure A.
During calendar year 2017, violent crime increased significantly in the West Division (up 27.9% – going from 759 crimes in 2016 to 971 in 2017) and the North Division (up 23.2% – increasing from 609 crimes to 750). The East and South Divisions recorded reductions in violent crime, dropping 7.9% in the East and 7.2% in the South.
That all changed during the first two months of 2018. The East Division is up 32.6% (going from 86 violent crimes a year ago to 114 this year) and the South Division is up 27.7% (from 94 to 120). The North Division is up slightly at 2.7% (from 112 to 115). The West Division is up 7.2% and recorded the most violent crimes in the city: 164.
As evidenced by these numbers, violent crime is occurring throughout the city in increasing numbers.
Chief Luna Responds
Asked to comment, Chief Luna acknowledged the numbers and said, "This is the stuff that keeps us up and night. . . . If you were to ask the average citizen what violent crime is, I expect, most people would talk about murder and shootings. . . . If you look at what we've done as a police department over the last several years, our priority is violent crime, but specifically in the category of violent crime, it is murders and shootings, which a lot of that is gang related. The big thing in this city for years and years has always been the gangs, gang warfare, 'our kids can't go to the parks, our kids can't walk home from school.' So if you look at the numbers at how we've lowered shootings, murders, we've done an extraordinary job as a city and as a police department. . . . I am very proud to say, we've worked our butts off in so many things that we've done, because  we've saved a lot of lives. If you look at our previous years of murder and shooting rates, outrageous. But look where we're at today."  
He said that aggravated assaults are the primary driver of violent crime in our area, adding that beyond what most people expect to be part of that category – such as domestic violence in a home – it also includes items such as battery on a police officer and school threats, both of which increased in the first two months of 2018 compared to a year ago. He noted that the largest increase this year is assault without a firearm. This could include fighting, being hit by a skateboard or problems at an alcohol establishment. "If you have somebody that swings a stick at five people, that incident counts as five crimes," he said. For the robbery category, Luna said phone snatches are on the increase (people are walking, looking down at their phone, and someone runs by and grabs the phone). There has also been an increase in rape related to online dating.
The chief also said that Propositions 47 (reduced penalties for some crimes passed by voters in 2014) and 57 (parole for non-violent criminals passed by voters in 2016) are part of the problem and affect all cities. "I can tell you this, a lot of these crimes we're talking about are being committed by repeat offenders."
The Business Journal pointed out that the City of San Diego, with a population nearly triple that of Long Beach, experienced virtually no increase in violent crime from 2014 to 2017. Deputy Chief Richard Conant responded, saying that "our department is always looking for ways to do things smarter and better for this community. We're not embarrassed to go somewhere to see what's going on."
Deputy Chief Conant added that the Long Beach Police Department is "forward thinking . . .  using crime analysts, data analysis" in fighting crime. "We apply patrolmen to each beat, and so within that beat, if we have more activity than what a single unit or a couple units can handle, then we apply our directed enforcement efforts in there.
Chief Luna wanted to make sure residents don't forget that it wasn't that long ago the department lost 22% of its staffing due to budget constraints. "We're still trying to recover from those difficult times," he said, noting that progress has been made under Measure A.