On a site steeped in Long Beach's long history of aviation and aerospace innovation, Virgin Orbit is continuing that legacy with the development of a rocket launch system meant to provide more accessible, affordable small satellite launch services than are currently available.
The firm's 180,000-square-foot building on Cover Street and a newly purchased second building on nearby McGowen Street, both within the Douglas Park business complex, serve as the manufacturing facility for the company's rocket launch system as well as corporate offices. About 450 people are employed by Virgin Orbit in Long Beach, and the company plans to increase that number to 600 by year's end, according to Will Pomerantz, vice president of special projects.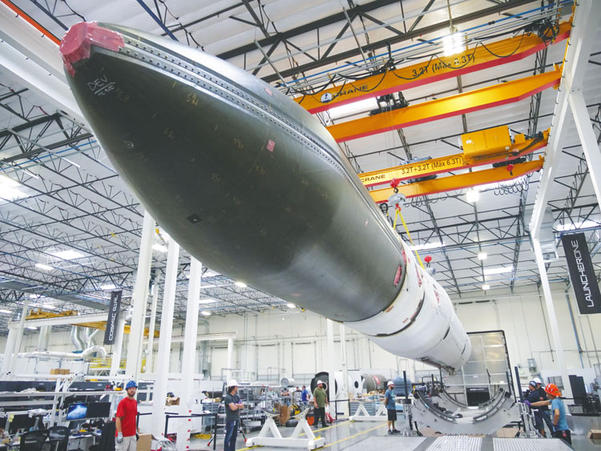 The first LauncherOne rocket at Virgin Orbit's Douglas Park headquarters dangles from an industrial crane system similar to those that move cargo at the ports. The dark, tapered portion of the rocket is where the payload of small satellites will be stored and released once in orbit. (Photograph courtesy of Virgin Orbit)
Virgin Orbit first moved to Douglas Park in 2015 as a division of Virgin Galactic of the Virgin Group of companies, but has since incorporated as its own firm within that group. Pomerantz said the company chose Douglas Park to manufacture its LauncherOne system because of the talent pool of aerospace and aviation workers in the area, as well as its proximity to strong universities.
Virgin Orbit's development of the LauncherOne system, which involves launching a rocket loaded with small satellites from a Boeing 747 named Cosmic Girl, is mostly complete. Now, the company is putting it through rigorous testing, both onsite in Long Beach and at a test zone in the Mojave Desert.
"The hardware is essentially all developed and has been being tested for years," Pomerantz said as he took the Business Journal on a tour of the facility. The rocket has been tested for a dizzying list of variabilities, each tested one at a time. Now, combinations of variabilities are being tested to see what the rocket can withstand, Pomerantz explained.
What makes Virgin Orbit's concept innovative is that it's not trying to build a bigger, faster rocket to launch bigger objects into space, which is what most companies have done up until now, Pomerantz explained. "We're coming in and we're doing something a little bit different than everyone else in the industry," he said. "We want to build the world's lowest-cost rocket that we think is commercially viable in the long run."
There were only 90 launches to space throughout the entire world last year, "which is not great, as far as we're concerned," Pomerantz said. With its LauncherOne system, Virgin Orbit's goal is to launch 24 rocket flights to deliver satellites to space each year.
"We start with a rocket strapped underneath the wing of an airplane," Pomerantz said. "The rocket itself is about 70 feet long, weighs about 57,000 pounds and it's what we call a two-stage, liquid-fueled rocket." The rocket has three parts: the first holds a larger rocket engine and fuel tank filled with kerosene and liquid oxygen for the main hurdle out of the atmosphere into space; a second holds a smaller rocket engine and fuel tank to push the payload the rest of the way into orbit; and the third holds a payload of satellites encapsulated in what Pomerantz likened to a trunk of a car. All of these components are manufactured at Douglas Park, with some metal components contracted out offsite.
Launching a rocket from an airplane reduces costs. When a rocket is carried to an altitude of 35,000 feet, it is already about 75% of the way through the Earth's atmosphere, Pomerantz explained. This vastly reduces the amount of material required to make the rocket. Additionally, using a plane provides flexibility for customers in that it can fly from anywhere. Rocket launches will occur over oceans for safety reasons, Pomerantz noted.
"Your life today would be unrecognizable without satellites," Pomerantz said, "Satellites power the GPS that helped you get here without getting lost along the way. Satellites power almost all your banking transactions. They power almost all the news that you watch on television. But also, they help make the food that you eat cheaper because crop farmers use them for crop rotation."
"There has been a huge expansion [of businesses interested in small satellites] just in the past five or ten years, and a lot of it is because of this new wave towards affordability," Pomerantz said. "There were always a lot of people who were interested in space and it just cost too much to dip their toe in the pool." Virgin Orbit hopes to change that.
Virgin Orbit has already sold "a couple dozen" LauncherOne flights, including to NASA and the United States Air Force, Pomerantz said. The majority of its customers are private companies. The firm is targeting firms of all sizes, from startups to corporations with international operations.
Virgin Orbit's factory floor is teeming with employees, equipment and the noise of work. During a walkthrough, Pomerantz made a point to stop where the engineers who design the computer systems for the rocket were working. "These men and women here are both building the computers and writing the software that will fly LauncherOne into space," he said.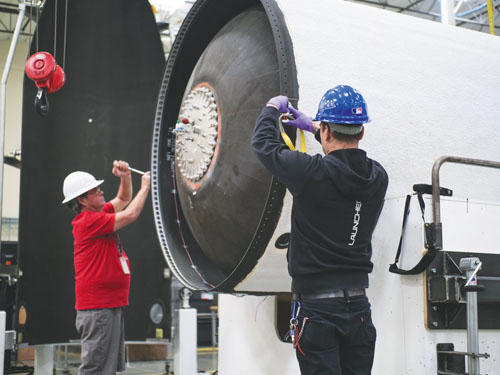 Virgin Orbit technicians work on the first stage of a LauncherOne rocket. The bottom of a fuel tank can be seen inside the rocket's casing. (Photograph courtesy of Virgin Orbit)
While some of these workers have aerospace backgrounds, others come from Silicon Valley tech firms due to their background in creating smaller, more efficient technologies. "A lot of the men and women who work in this area, certainly some of them come to us from the aerospace industry," he said, gesturing to a couple of engineers at work. "Kayla over there came to us from JPL, and Garrett over there runs the department and came to us [after] building avionics for basically every other rocket that's ever flown from the United States. But just as many of them will have come to us from Apple or Google or Oracle."
"A lot of what we're focused on here is miniaturization," Pomerantz said. Most computer systems powering rockets are actually affixed to them and are about the size of a desktop computer box. As many as five or six of these boxes are typically included on rockets, Pomerantz noted. He gestured to a display of computer boards ranging in size from a laptop to about the size of a smartphone. The smallest, lightweight systems are what Virgin Orbit engineers have developed for LauncherOne.
Located just past the engineers were large machines used to manufacture parts of the rocket, one of which is perhaps the most high-tech piece of equipment in the building: a 3D printer that is a hybrid additive and subtractive manufacturing machine. The machine, the first ever off the production line from German-Japanese company DMG-Mori, is able to create fully fused pieces of metal equipment. Instead of having to build a rocket engine made of dozens of different pieces of different metal types that have to be created and fused together over the course of about 10 months, Virgin Orbit is able to create a rocket engine with this machine that is one continuous piece over the span of about a month, Pomerantz explained. "Basically, into that machine you feed powdered metal. . . . and you feed computer files – and out comes an entire engine," he said.
Virgin Orbit isn't working on just one rocket – there are four underway on the shop floor. "Richard Branson, our founder, and Dan Hart, our CEO, basically told everyone here in the shop, 'Hey, on the day we do our first flight to orbit, rocket number two should be ready to go. And rocket number three shouldn't be too far behind and neither should rocket four," Pomerantz said. Having equipment such as DMG-Mori's machine is helping the company meet this goal.
While rocket science may sound inaccessible, Pomerantz hopes the company will inspire new generations to pursue careers in the field. "Rocket science has a great reputation as being like the toughest, smartest, hardest thing in the world, which is flattering in some ways but really off-putting to a lot of other people," he said. "There are a lot of very bright young children out there who think that they could never work in rocket science because they got a B in a math class one time, or because no one who looks like them has ever worked in rocket science before."
The basics of rocket science, however, are simple enough for an elementary school student to understand, Pomerantz noted. "I like to remind people that rocket science is really just plumbing. It's very advanced plumbing. But that's all it is," he said. "Take that kerosene, take that oxygen, put it through some valves and some pipes into that thing and light a spark."
Pomerantz said LauncherOne's first flight would be this year, adding, "We are planning to pull off multiple flights this year."