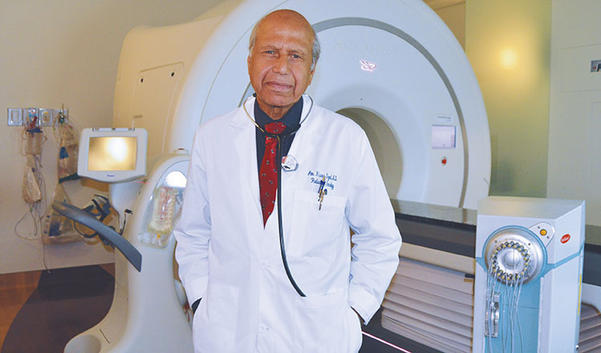 Thanks to the pioneering work of Dr. Alam Nisar M. Syed, Long Beach Memorial Medical Center has become an international training hub for a minimally invasive, localized treatment that helps preserve quality of life for cancer patients.
Syed has spent much of his career developing and refining modern brachytherapy, a process by which a radioactive implant the size of a grain of rice is injected into a tumor for a brief period of time to treat the cancer.
At the start of his career, Syed received his doctorate in India and became a board-certified surgeon in England. "I saw during that period when I was doing surgery [that] many patients had cancers where the surgery had to be very radical," he said. "Like if they had tongue cancer or throat cancer, they had to have the tongue taken out and had the feeding tube [and] the breathing tube. Even if they are cured, they don't have any life," he reflected. "So having had the surgical experience, I thought I should do the radiation oncology and develop some techniques to take care of them and avoid the radical surgery."
After completing a surgical fellowship in Chicago, Syed moved to Washington, D.C., to train with Dr. Erlich Henshcke in the basic aspects of brachytherapy. "I just learned the principles, and then I moved here to USC. That's where I started my developmental work of this technology," Syed said.
"You implant needles directly into the tumor and send a radioactive source through it. And the treatment itself lasts five to 10 minutes," Syed said of brachytherapy. "It travels under computer control. . . . And that goes into the tumor and travels a couple of millimeters every few seconds [and] . . . it treats those areas and then goes back to the container."
Unlike traditional external radiation or chemotherapy, this technique localizes radiation therapy so that surrounding tissues and systems remain intact, with minimal radiation exposure. The technique can be used for early stage cancers or combined with other treatments if the disease is more advanced, according to Syed.
"[With brachytherapy,] you leave the normal tissues close to normal and the cure rates are improved," Syed noted.
Despite the benefits of brachytherapy, many radiation oncologists are not trained in the technique, and it is not readily available at many medical centers, Syed explained.
Although brachytherapy was first employed when radium was discovered more than 100 years ago, the practice went by the wayside in the 1960s after more efficient external radiation technologies were developed, Syed said. For about 20 years, until Syed entered the field, there were no major developments in brachytherapy treatment. "It takes some surgical skills to do the procedure, and it's kind of labor intensive," he noted.
Syed founded the American Brachytherapy Society and is the founder of the Journal of Brachytherapy International. As the medical director of radiation oncology and endocurietherapy (another word for brachytherapy) at Long Beach Memorial, Syed estimated he has overseen the training of more than two thousand doctors who come from across the world to learn brachytherapy techniques.
"As a matter of fact, we conducted 22 annual brachytherapy workshops and symposiums right here at Memorial," Syed said. "They get intensive course training but with their whole staff – physicians, nurses," he said. Some choose to stay for weeks, months or even a year at a time. Syed and his team also travel to many countries to teach the procedure.
"We are always on the cutting edge. We are always looking on the ways to improve it," Syed said. In the past 10 years or so, a technique to combine brachytherapy with focused radiation has improved cure rates. A tool called CyberKnife allows oncologists to treat patients with focused beams of radiation. "The result is almost like brachytherapy . . . but it still treats some surrounding structures," Syed said.
Syed said it is important to continue training physicians in brachytherapy so more people have access to the treatment. "We are the center of the world for the brachytherapy treatments and the training at Long Beach Memorial," he said.