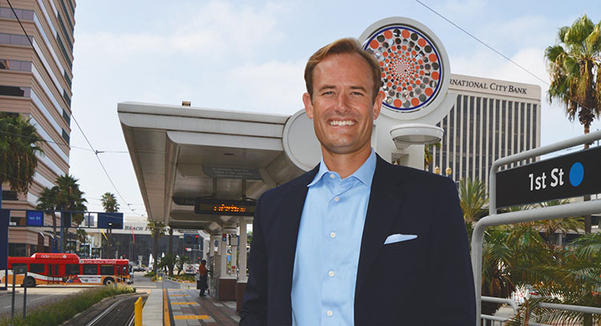 John Keisler, director of the Long Beach Economic and Property Development Department, wants the city government to run like Google: as a facilitator and disseminator of information in the interest of advancing economic development. It's a vision that aims to set aside "the old government way" in lieu of innovative, self-sustaining approaches to fostering business within Long Beach.
"It begins with our role for creating economic opportunities for workers, investors and entrepreneurs. And what that means for us is that it's not government creating economic development – it's government facilitating opportunity and creating platforms for investors and entrepreneurs to leverage," Keisler said.
Keisler likened the concept to the evolution of the technology industry, in which some of the most successful companies have achieved success by creating open systems for sharing information. "Does Google create any content at all? Zero. They connect people with it. They facilitate the transfer, the creation, the sharing of information," he said. "And that has become an incredible economic engine. So I think as a city, we're not looking to grow the city staff. We're looking to create platforms and applications whereby we can connect people with each other, connect people with opportunity, with information. . . . We're not looking at the city as the solution. We're looking at the city as the facilitator."
The Long Beach Innovation Team, which Keisler formerly headed, and the economic and property development department have already introduced a number of tools to support business. The city's online BizPort application, launched last year, allows entrepreneurs to create business plans and navigate the city's licensing and permitting requirements, thereby streamlining the process of starting a business.
The tool also gives users the ability to get information about what's around the potential properties they might want to lease or buy. "We have a tool, Zoom Prospector, where they can get all that information about consumer spending and demographics. And doing a ring study, which to pay a consultant would cost $15,000 to $30,000, they can do for free," Keisler said.
Keisler's department has partnered with a group called StartUp Toolkit to test a new mobile application for entrepreneurs. A beta test phase is planned in partnership with the Uptown Business Improvement District and is set to launch in October. Users will be able to download a free application, which will prompt them with a series of questions derived from Tufts University and Stanford University to assess the readiness of entrepreneurs.
"This has never been done by a city in particular, and we are the first financial partner as well as the first partner organization to beta test this," Keisler said of the project. The application will provide insights and connect users with mentors to help them create a business plan, he explained.
One of the objectives outlined in the city's recently approved Blueprint for Economic Development is to "strengthen the partnership for innovation and entrepreneurship between the city, educational institutions, and industry to promote economic opportunity" – a goal Keisler has already gotten a jump on.
The city recently partnered with California State University, Long Beach to launch the university's first institute – the Institute for Innovation and Entrepreneurship. The institute, which provides programming and mentoring for local entrepreneurs, grew out of a series of workshops Keisler and Ryan Murray, former deputy of innovation for the mayor's office, held at the school in the spring of 2016 in which student participants developed a plan for a center of innovation.
The first fellow from that institute now works within the Long Beach Economic and Property Development Department. "This is how serious we are. We aren't just talking about this stuff," Keisler said.
Another major initiative in the works is a 10-year fiber master plan for the City of Long Beach, which lays out the next steps to building out the municipal network for high-speed internet. The plan includes options for branching the network out to local businesses down the line.
"It's government thinking. All right, what can we do to support and strengthen the economic ecosystem?" Keisler reflected. "These are the seven key areas that we need to build ecosystem strength around: real estate development, quality of life, place making, economic cooperation, innovation, business assistance, economic inclusion," he said. "That is a very different approach."