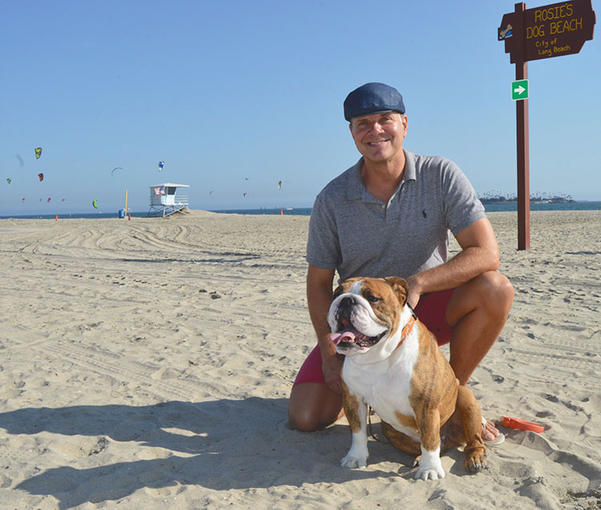 Since 2001, Justin Rudd has coordinated more than 60 annual events as founder and organizer of his nonprofit Community Action Team, which he currently operates out of his one-bedroom apartment in Belmont Shore.
Rudd has organized book swaps, spelling bees, art contests, parades and monthly beach cleanups. He even successfully lobbied for the city's one and only dog beach – Rosie's Dog Beach, named for his late bulldog – 16 years ago. However, he said his work is far from done and he will continue adding to and expanding his events and projects.
"I guess my vision is to keep doing what I'm doing but to engage more people and do it on a larger scale," Rudd said. "I would love to see more leaders. But more importantly, I would love to see more effective leaders who are actually getting it done and getting more people involved and engaged."
Ultimately, Rudd said his goal is to inspire his peers and younger generations to take it upon themselves to organize events and engage the community. He described a trickle-down effect where he hopes to inspire a handful of people to begin organizing events who would in turn inspire other people and so on, until community events are frequent and commonplace citywide.
Having started monthly beach cleanups 18 years ago, Rudd said in the beginning there would be parents who would bring their babies and young children. Eighteen years later, these children are in high school and college, bringing in a whole new generation for him to reach out to and inspire.
"My goal is to be able to inspire people to do what I am doing or to help in what I am doing without having to pay somebody – but for them to love it enough and keep it simple enough so that it's not a full-time job," Rudd said. "I think we can all participate and help without getting paid, but I'm certainly open to having a full-time or part-time employee or employees."
Though most of his current events are focused in or around the Belmont Shore area, Rudd said they are open to people citywide and he would like for events to expand out of the area. Without the use of a cell phone or car – by choice – Rudd said it is difficult for him to hold events out of the area but that he hopes others would take it upon themselves in the future.
Being passionate about animals, Rudd said he has long thought Long Beach needs another animal shelter – more specifically, a no-kill shelter. Additionally, he said he would like for a pet store which only sells rescue and shelter animals to open in the Belmont Shore area. Rudd said both of these visions should be achievable in his lifetime. It's just a matter of working with the city and surrounding residents.
"Another vision is to get dogs legally on leash on the beach all year-round and then have other areas where dogs could be off leash," Rudd said. "The municipal code says dogs are not legal on the beach. We'd have to change laws, and we'd have to get approval from the California Coastal Commission. That's what I had to do for Rosie's Dog Beach, but it happened."
Rudd explained that technology, such as social media, has made community outreach and engagement more effective and cheaper by being able to maximize an event's visibility and mass promote causes and projects. Moving forward and looking to the future, he said there is no telling how far the world will advance and the positive impacts these advancements will have on communities.
"When I started, I was just getting into e-mail. I was faxing back then and sending letters, sending press releases by U.S. mail. So if we are this far in 18 years, where are we going to be in another 10 to 20? There's no telling." Rudd said. "Every year, I seem to add one or two events or projects, and I'm going to continue to do that. I'm not at my limit and I'm still learning. After 18 years, I still have a lot to learn."