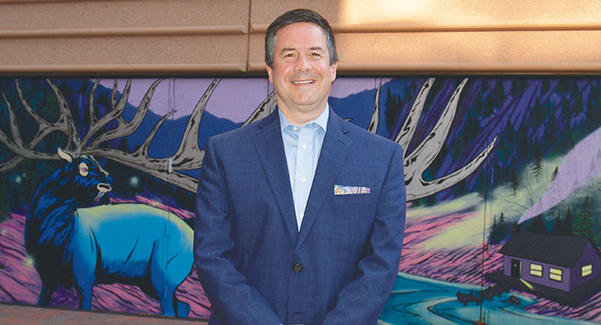 The success of Long Beach's convention, hospitality and tourism industries depends in part upon a forward-thinking approach to investment and collaboration – and Steve Goodling, president and CEO of the Long Beach Area Convention & Visitors Bureau, is the man with that plan.
Goodling has been recognized by national convention and meeting organizations and publications for his approach in repositioning the Long Beach Convention & Entertainment Center as a flexible, contemporary venue. In July, for example, he was named one of 25 of the most influential people in the meetings industry by Successful Meetings magazine.
Under Goodling's purview, the center has in recent years seen its arena transformed with state-of-the-art theatrical rigging and lighting, and previously underutilized spaces converted to hip venues for parties and networking. Up next is an overhaul of the Terrace Theater plaza fountain, which when completed next year will entertain onlookers with a "mini Las Vegas-like" water show.
But if he has it his way, Goodling does not intend to stop there. And he's tapping into emerging trends for inspiration.
"If you look at the last 20 years, we have become as a culture more experiential," Goodling said. "The other trend that has been solid for the last decade, and I see it continuing, is personalization. . . . You need to create facilities for conventions and conferences that are going to both permit personal experiences and 'wow' experiences."
One of Goodling's future goals is to update the cavernous exhibit hall. "I believe that the ceilings should be lit. There could be LED lighting to accent the steel beams that are overhead, giving it a little bit more of a cool contemporary twist," he said. Goodling would also like to upgrade the exhibit hall's current concession stands to an "elevated food court" type of experience like that found in Long Beach Airport.
If he gets his way, Goodling will also see to it that the center's ballrooms are equipped with similar technology as the arena. "It has to feel theatrical, and it has to have components that make you feel that you're in some place special." Even smaller networking spaces within the convention center should be equipped with lighting and sound elements, he noted.
"Much like a theme park, you have to open a new ride every couple of years to be current and fresh. This business is no different," Goodling said. "You have to continue to reinvent yourself in order to be fresh. And Long Beach has demonstrated that we have that capacity and the desire to do so."
Goodling anticipates that gaming conventions like the upcoming TwitchCon are emerging as a major force in the convention industry. "These companies all require large bandwidth," he said. "Right now, the convention center is undergoing a major upgrade in its wireless fiber bandwidth because of the types of groups we're getting. We will now have the same bandwidth that Los Angeles and Anaheim have in their facilities."
All this, of course, will require consistent funding. "With the convention center generating $300 million in economic impact and $27 million in just hard cash in terms of transient occupancy tax, it's an investment that needs to be continued to be nourished," Goodling said.
When it comes to enhancing Long Beach's tourism industry, Goodling believes better mobility and connectivity are needed along the waterfront. "There needs to be a solution to get people from the Queen Mary and that side of Long Beach over to this side," he said. "Other cities have solutions that are really cool. And what happens is, those mobility projects actually become rides . . . but they also serve a very functional purpose."
Goodling also sees local businesses playing an important role in the city's hospitality and tourism industries. Incorporating local goods and services into area hotels and events helps create a sense of community and appeals to visitors' increasing desire for a customized experience. "The Pie Bar now is supplying pies in Mason jars to four hotels in their sundry shops. So it's neat to see local businesses working with hotels and providing a local flavor," Goodling noted. "And I think that's really critical. . . . It's helping local businesses grow, but it's also creating a unique experience for visitors and convention attendees."