With year-round sunny skies, a long shoreline and network of waterways, an Aquarium with a diverse array of aquatic wildlife, a unique historic vessel that now serves as an attraction and hotel, art museums, a 400,000-square-foot convention and entertainment center and more, there is no shortage of places to go and things to do for Long Beach visitors.
The Long Beach Convention & Entertainment Center is perhaps the single-largest draw for visitors to the city, attracting thousands of people through conventions and events each year. In addition to meeting rooms, ballrooms and 224,000 square feet of exhibit halls, the convention center is also home to the Long Beach Performing Arts Center, which includes the 3,000-seat Terrace Theater and the 825-seat Beverly O'Neill Theater.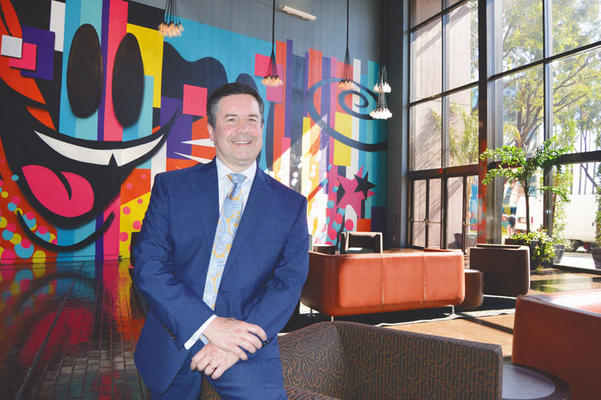 Steve Goodling, president and CEO of the Long Beach Convention & Visitors Bureau, told the Business Journal that continual investment in the convention center keeps the facility unique and on the cutting edge. (Photograph by the Business Journal's Larry Duncan)
"The convention center continues to maintain a cutting edge through its new special events spaces which cannot be found in any other city," Steve Goodling, president and CEO of the Long Beach Area Convention & Visitors Bureau, told the Business Journal. "We're hearing from convention planners how this facility is so well-designed for people to connect and network and have unique experiences, which is what the Millennial market is looking for."
Convention attendees are within quick walking distance to a variety of shopping, dining and entertainment. Shoreline Village offers waterfront dining and shopping, plus a host of activities for all ages. Directly across from the Pine Avenue entrance of the convention center, The Pike Outlets has major name-brand stores like H&M and Nike, as well as a Laugh Factory and Cinemark Theater and a number of restaurants. Just a block north is the restaurant row that is Pine Avenue, eclectic eateries and shops in the East Village Arts District, and the walk and bike friendly Promenade with its ample patio dining.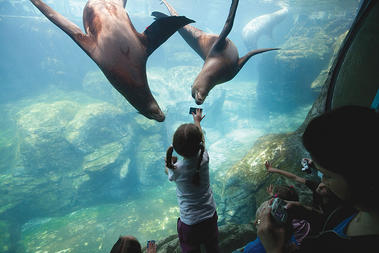 "In terms of pleasure travel, Long Beach continues to make inroads because of its growing unique restaurants and bar scene," Goodling said. "New microbreweries, fun breakfast restaurants, etc., let people experience venues that are locally owned and operated, which is what many people are looking for today when they explore a new destination. They want something local."
One of the city's most recognizable landmarks and attractions is the historic RMS Queen Mary, a floating hotel and events venue located on Queensway Bay. The ship, which first set sail from England in 1936, has been permanently moored in Long Beach since 1967.
The vessel offers daily events, with historical and ghost-hunting tours, a 4-D movie theater and more. There are many places to shop and dine aboard, including the Observation Bar, an Art Deco-designed bar with original artwork. The Queen Mary also hosts well-known annual events, including the ScotsFestival, the Halloween maze Dark Harbor and the holiday-themed CHILL.
The Queen Mary found a new owner in Urban Commons last year, and the company is slated to unveil plans for the ship and surrounding land in the near future, according to a spokesperson for the firm.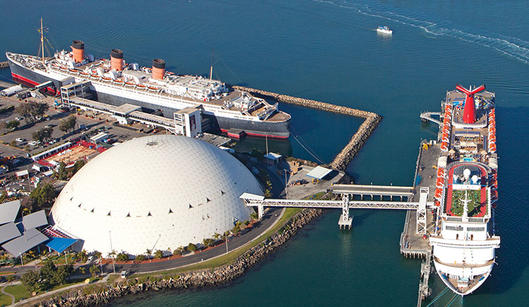 The RMS Queen Mary has been an icon for Long Beach since it was permanently moved here in 1967. At right is a Carnival Cruise Line ship. (Business Journal photograph)
The Aquarium of the Pacific is just a short drive or boat ride away from the Queen Mary. Located in Rainbow Harbor on the downtown waterfront, the Aquarium has more than 11,000 marine animals and is host to annual events like the Festival of Human Abilities, the Moompetam Native American Festival, International Children's Day and many others. The Aquarium is dedicated to education through an ongoing lecture series and other events. It recently broke ground on an expansion project to build an art gallery, high-tech theater and interactive exhibit to educate visitors about human impact on the world's oceans.
Long Beach is also home to the Museum of Latin American Art, the only museum in the United States devoted to showcasing modern and contemporary Latino and Chicano art. The museum, located just outside the East Village Arts District, offers docent-led tours of its exhibitions and often holds festivals and special events. Through May 21, the museum is showcasing its first solo exhibition by a Chicano artist, Los Angeles' Frank Romero.

Nearby is the Long Beach Museum of Art (LBMA), a historic home that was dedicated as a municipal art center in 1950. Its permanent collection includes "more than 3,200 works encompassing 300 years of American and European art in all media," according to the museum's website. LBMA is also an events venue with stunning views from its location on a bluff overlooking the ocean.
Getting around town is made easy for visitors, thanks to Long Beach Transit's services such as its Passport buses, which provide free rides to the city's most popular downtown destinations. In the summertime, the transit company offers water taxi service so residents and visitors can travel around downtown and to Belmont Shore and Alamitos Bay by boat. Travelers wishing to take a day trip to Downtown Los Angeles can hop on the Metro Blue Line, which has eight stations in Long Beach and offers direct connectivity to the heart of L.A.
The Long Beach Airport, located adjacent to the 405 Freeway, provides some of the lowest airfares in the country. Its terminal has won numerous awards for its indoor/outdoor, resort-style design. Rather than offering national restaurant chains, the terminal features fare from well-known Long Beach eateries like Sweet Jill's Bakery and Polly's Gourmet Coffee.
There are a variety of accommodations for visitors to Long Beach located throughout the city, with most concentrated in the downtown area and near the Long Beach Airport. A comprehensive list of hotels is available at www.visitlongbeach.com/stay/.