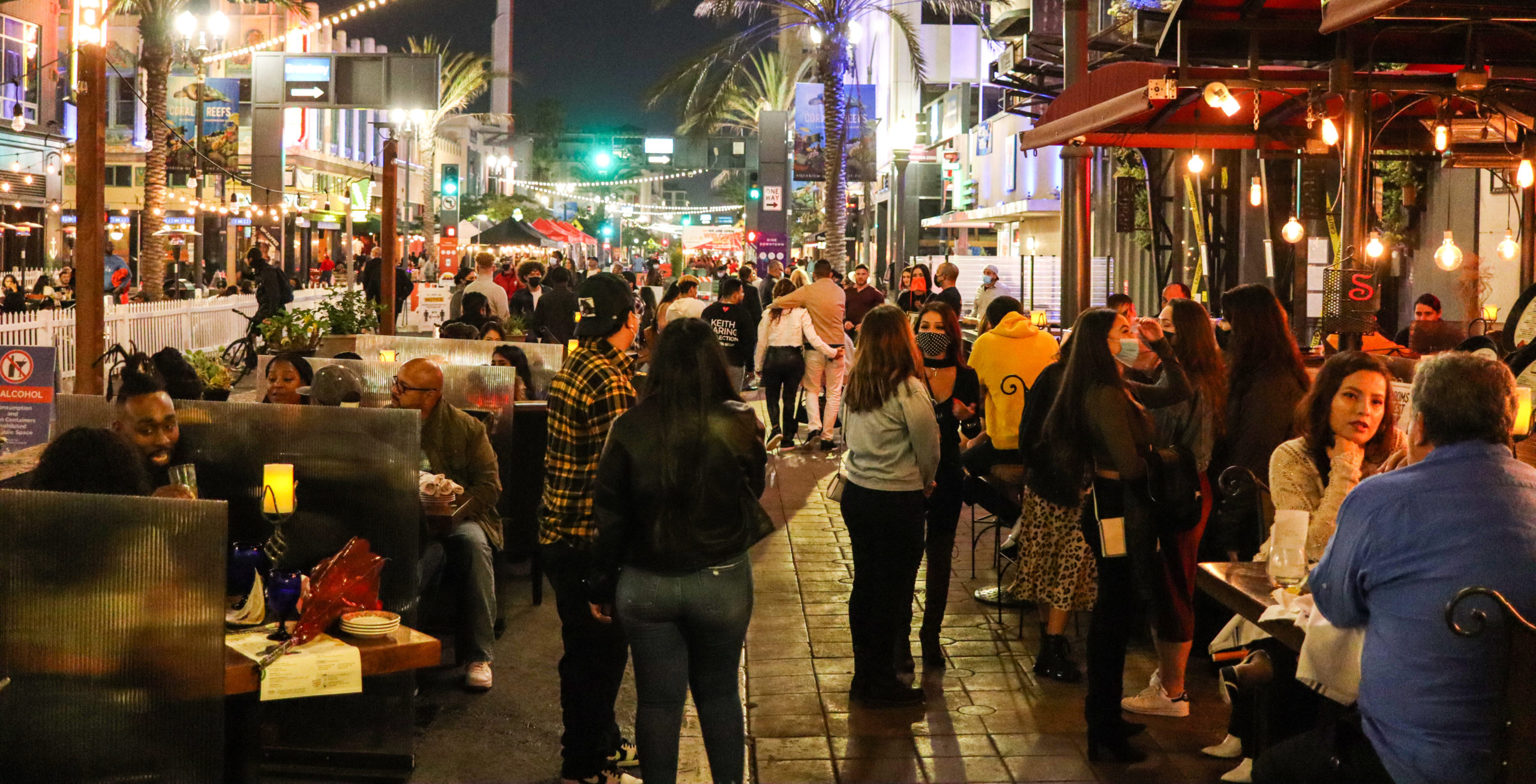 Downtown Long Beach has become a less appealing place for visitors, residents and business owners over the past two years, a recent survey by the local business improvement district found.
The survey, which was conducted by the Downtown Long Beach Alliance between April and May, collected input from 1,223 respondents. Fewer people said they would recommend others visit Downtown Long Beach compared to previous years. Homelessness was the number one concern among respondents, along with the safety of parking lots, street lighting and the cleanliness of alleys and lots.
Broc Coward, chief operating officer of the business improvement district, said much of the increased focus on homelessness is likely a matter of perception: empty streets making Downtown's unhoused population stand out more during the coronavirus pandemic.
"This survey is a perception study," Coward said, adding that the district hadn't seen a surge of people experiencing homelessness over the past year. The annual point-in-time count, which usually takes place in January, was cancelled this year so it's unclear whether the number of homeless people in Long Beach increased during the pandemic.
Still, Coward said, the district has continued its efforts to connect homeless people with services and promote donations to service providers like the Long Beach Rescue Mission.
Over the past five years, the DLBA has collaborated with Mental Health America to train and hire mental health associates to assist the district's outreach team on the street. "There's service providers out there on a weekly basis, engaging folks," Coward said.
Fewer respondents to the survey reported feeling comfortable Downtown this year, especially in the nighttime, although the survey questions did not specifically address whether this was due to the homeless population, general public safety concerns or a discomfort with being in larger groups related to the pandemic.
"The idea of feeling safer also has to do with your comfort level of being around others in your community," Coward said, pointing to possible lingering anxieties about gathering in larger groups.
While collected earlier this year, the results also come on the heels of two shootings in busy Downtown locations, a drive-by at the Pike that injured three and an argument that ended with deadly gunfire on the corner of Pine Avenue and Broadway last Saturday.
"We're hopeful that they're isolated and that the desire for folks to get out into the Downtown and experience it—for some being the first time in quite a while—outweighs these isolated incidents," Coward said.
Coward applauded the city's recent approval of the Safety Recovery Plan, a $5 million investment that will largely go toward funding more police, including a program to combat gun violence.
"All this underscores the need to be more present and visible," Coward said. "COVID has had a fairly large impact on this Downtown and this community—its perception of safety, cleanliness," he added. But, "collectively, we will find our way back to normal."