The word, warehouse, may evoke an image of a huge, dusty, dimly lit building stuffed with crates, devoid of human life except an occasional forklift driver, reminiscent of the final scene from "Raiders of the Lost Ark" with Indiana Jones.
No longer.
The economic benefits of just-in-time deliveries, the foundation-wrenching impact of e-commerce on the practice of retailing and simple land cost/benefit calculations are transforming the modern regional distribution center into a thrumming hive of high-tech activity.

DAMCO is a freight forwarding and supply chain management services company that is part of the Maersk Group. The photograph is taken at a DAMCO warehouse in the City of Carson leased from Watson Land Company. (Photograph by the Business Journal's Erin Kleekamp)
"There is very little 'warehousing' going on in a warehouse nowadays," Lance Ryan, executive vice president and chief operating officer of Watson Land Company, told the Business Journal.
Warehouses and distribution centers used to serve simply as a holding point for goods headed for retail outlets. But the next step in the supply chain has diverged, with retail outlets, other distributors and even individual consumers as the next link in the chain.
"The landscape of the supply chain has evolved dramatically over the last 20 years and is continuing to do so," said Nick Vyas, assistant professor of clinical data sciences and operations, USC Marshall School of Business, a nationally recognized expert in global supply chain who has coordinated supply chain operations for Fortune 500 companies.
"What we used to use in warehousing and distribution was truly for access to assets. So your initial demand for the product would typically be a push, then wait for some data points to come and tell me, 'How much more do I need?' And then, from then on, future demand (for warehousing needs) would be driven by this distribution. That was the traditional supply chain," Vyas told the Business Journal.
"What is happening now with omni-channel, multi-channel concepts is that DCs (distribution centers) are required to do a lot more multi-tasking, if you will. They have to create a model that serves many masters. So the bottom line, if you look at it now, is that the needs and the demands on the DCs and warehouses mean that they have to be much more agile."
The new model involves locating and shipping a much wider variety of goods, in a much greater mix of sizes of shipments, than in the past, said Jim Flynn, president of The Carson Companies, which has industrial parks in Southern California, the Inland Empire and Houston.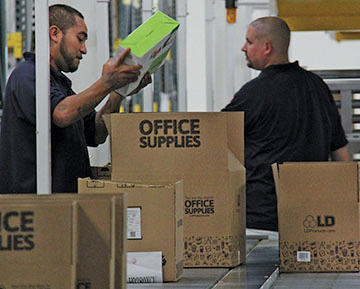 Headquartered at Douglas Park in Long Beach, LD Products has grown into one of the largest online retailers of printer supplies in the U.S. Its 110,000-square-foot warehouse is equipped with the latest technology to provide quick and efficient customer service. To view its products, visit www.ldproducts.com. (Photograph by the Business Journal's Larry Duncan and Erin Kleekamp)
"There's a lot of tech that goes along with it. There's a lot of optical scanners, there's a lot of picking, there's a lot of software, there's a lot of logistics that are required," Flynn told the Business Journal.
"It used to be that, if you were going to sell TVs through Walmart, you'd have a forklift driver who would pick up a pallet of TVs, stuff it in a truck and drive it to Walmart.
"Now someone orders one TV. So someone has to go pick one TV, send it through the routing systems that are highly technical to, maybe, FedEx Ground, which delivers it to your home, one at a time. The types of labor that are required in these buildings are significantly higher than what they used to be. Some of it is moving people from the store to the warehouse. But there are a lot of technical pieces and parts that go into moving those parts through the warehouse."
And the goods themselves are being handled, packaged, bundled and reconfigured in the warehouses. Ryan said that today modern warehouses are more like light industrial or manufacturing. A "warehousing" company may, for example, bring in shipments of individual computers, monitors and printers, bundle them into entirely new packages and ship the packages to retail outlets or individual consumers.
As the level of agility and flexibility demanded of a distribution center changes, the needs for the facility change. With more human labor required at the facility, more parking, bigger break areas and more carefully planned accommodations for a greater number of people are becoming high priority items for companies looking for a distribution facility.
"A lot of employee parking is very important. It didn't use to be that way, but it has evolved to where a lot of employee parking is critical," Flynn said.
And with real estate prices close to population centers higher than for similar structures in outlying areas, taller buildings with greater internal "clear height" also is important; "The more cubic feet they have, the more goods they can store for the price," Flynn said.
One of the most intriguing impacts of e-commerce has been a reversal of the flight to remote outlying distribution centers. Flynn noted that companies like Amazon are moving into grocery sales to individuals, and you simply can't distribute lettuce to individual homes in the Long Beach area from a location in the Antelope Valley. "Amazon is going to have to move some of its platforms from Redlands and Moreno Valley into Carson and Long Beach," he said. "It's a different model, and the world is evolving quickly."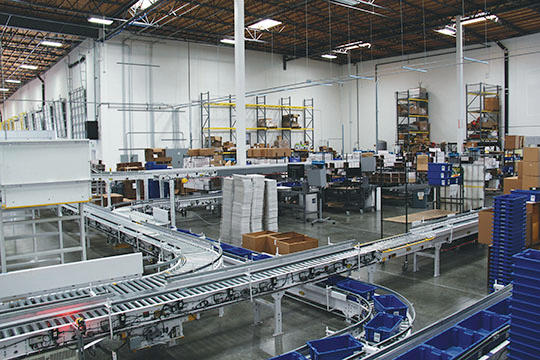 Inside LD Products. (Photograph by Larry Duncan and Erin Kleekamp)
What has happened is that companies are being forced to recalculate the balance between their warehousing costs and their transportation costs now that they are increasingly shipping, not from a distribution center to a retail outlet, but to an individual home. Proximity to a port – or airport for just-in-time inventory delivery – can save twice on transportation costs.
For example, if a distribution center is located near the Port of Long Beach, and the goods are shipped directly from there to the consumer, the company avoids the costs of trucking pallets of goods to a distant distribution center – and then trucking those goods back to a retail outlet in the Long Beach area.
"You may have a retail network, then you have retail customers – that is you and I – individually clicking a list of items that you might be replenishing. You may have other needs – you might be servicing some small distributors. You may be serving the customers on the e-commerce side. Now you are trying to integrate all of them into your warehouse distribution network," Vyas said.
"You still have to have access to a network of transportation – an infrastructure of access to a port, an airport, rail network. And in most cases [the center needs to be] close to where the demand is, so that you ultimately don't save a penny of warehousing costs and pay a dollar on transportation. That is still striking a balance – finding a location that strikes the right balance."