On the go? Listen to our podcast episode instead.
With over a thousand injuries and 26 deaths nationwide, three in California, the Center for Disease Control and Prevention's numbers on a recent outbreak of vaping-related illnesses paint a stark picture. While the exact cause of the outbreak remains unclear, state and local governments have taken steps to regulate vaping products in light of the deadly wave of pulmonary injuries, and Long Beach is no exception.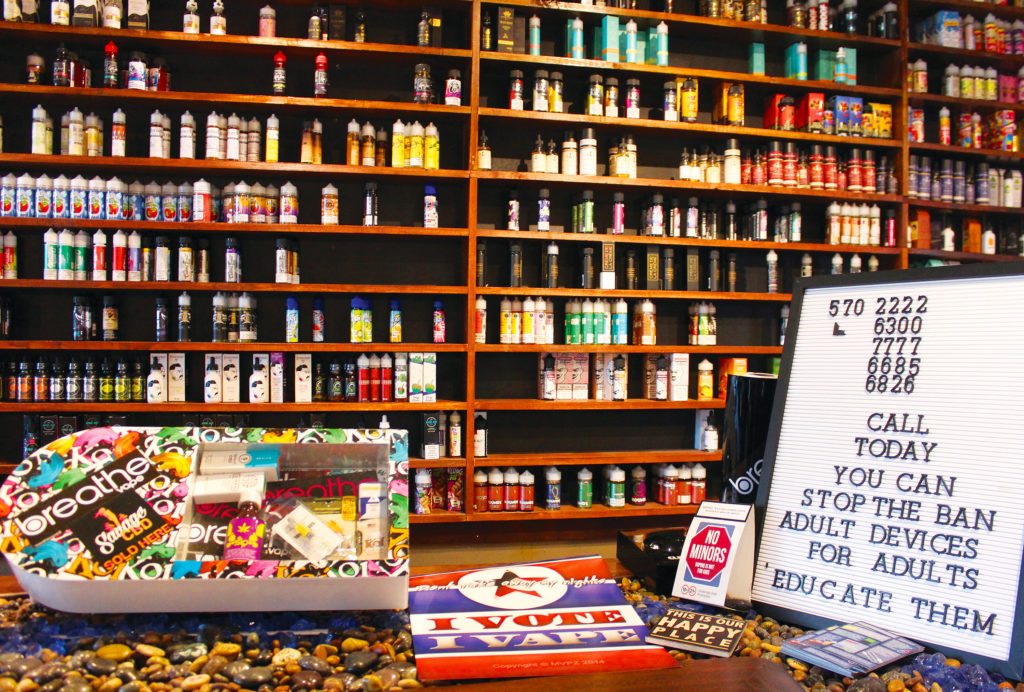 The Long Beach City Attorney's Office is currently drafting a temporary ban on flavored vaping products, following a 7-0 vote on the matter by the city council on October 1. Vice Mayor Dee Andrews was absent from the meeting but submitted a letter in support of the proposed ban. "Cities, counties and states all across the country are making major strides to confront this issue, and it is time the City of Long Beach did the same to protect our residents until we have more information regarding the health impacts," 3rd District Councilmember Suzie Price, who spearheaded the effort to create a temporary ban, said during the council meeting.
But local vape shop owners and users of vape products voiced concerns that the ordinance would decimate local businesses while doing little to prevent the kinds of injuries that have placed patients across the country in intensive care units. A group of vape shop owners has started a petition to fight the ban, which is currently being drafted.
Instead of focusing on flavors, they say elected officials should address the sale and use of products containing tetrahydrocannabinol (THC), particularly those obtained from illicit or informal sources, which "are linked to most of the cases and play a major role in the outbreak," according to the CDC. Among the 573 patients who provided information on the substances used, 73% reported using vape products containing THC and 57% reported using products containing nicotine. Only 13% reported that they exclusively used nicotine-containing products, while 32% reported they had only used products containing THC.
"They did not even put [the THC cartridges] in the scope of their interest," Jeff Luciano, owner of Long Beach Vapor, bemoaned. "That is so shameful." Luciano said vaping has helped him minimize his nicotine addiction and that the products sold at his store have helped others do the same. Now, his customers worry that without access to flavored vaping products, they will return to cigarettes, Luciano explained. "My customers are calling me depressed, and I don't know what to tell them," he said. "This is something beyond my control."
Medical experts in the United States have questioned the health benefits of vaping claimed by manufacturers, merchants and devoted users of vape products. Dr. Fady Youssef, a pulmonologist at MemorialCare Long Beach Medical Center, said there was no strong evidence so far that vaping constituted a healthier alternative to smoking. "There is a misconception that e-cigarettes are healthier," Youssef said. "There is a big difference between healthier and less harmful." Instead, he said, the recent wave of injuries should serve as a reminder that ingesting nicotine or THC-containing smoke or vapor into one's lungs will have adverse health effects. "Now is a great time to stop smoking," he noted.
Price said adults using vape products to curb their smoking habit would still be able to access them. "Anyone using e-cigarettes to quit smoking and break themselves of a nicotine addiction, under our temporary ban, would still be able to access the products. It would just not be the flavor of cotton candy," Price said at the October 1 meeting.
Flavors like cotton candy have long been blamed for the prevalence of vape use among teens, and some in the industry argue that elected officials are succumbing to the pressure mounted by worried parents, without any evidence to suggest that flavors have played a role in the recent slew of injuries. "So far, we don't have a strict link between the two," Youssef said. "But the thought is that the flavoring itself can be an irritant."
Nels Hansen, owner of Breathe Vape shop in the Park Estates neighborhood, expressed doubts that banning flavors such as caramel or cotton candy would address concerns over potential lung irritations. "What they don't understand is: tobacco is a flavor," he said. "To make a tobacco [vape] juice, you're actually putting in flavors, just like you would for a strawberry vape juice." Tobacco-flavored products would not be affected by the proposed ban. "So are we talking about people getting hurt or are we talking about kids liking flavors?" Hansen asked.
Instead of flavors, vape shop owners and employees have pointed to a specific style of vaporizer popular with teens. The vaporizers sold at most vape-only shops are larger, more expensive devices than the thumb drive or pen-like devices commonly used by teens. "The kids are using smaller devices that are more discreet," Luciano pointed out.
A recent letter to parents sent out by the Long Beach Unified School District confirms this assertion. "The casing can come in any shape or size, but its most popular form is the Juul, which usually appears as a flash drive and can be easily concealed in a backpack, coat, purse, etc.," the letter stated.
Juul, which is partially owned by Altria Group Inc., the maker of Marlboro cigarettes, uses pods that feature a much higher nicotine content than most other vaping products commonly sold at vape-only stores, according to store owners. Juul pods and devices can be purchased at tobacco and convenience stores. The company has been rebuked by the U.S. Food and Drug Administration for its marketing to youth as well as claims that its products present a healthier alternative to smoking.
Price said she wasn't surprised to see local vape shop owners arguing against the proposed flavor ban. "Something like this would be a hit to their business model, I get that," she told the Business Journal. "I regret that that that's the case, but they happen to be selling a product that's causing death throughout the United States."
Fifth District Councilmember Stacy Mungo, who later joined her fellow councilmembers in supporting the proposed temporary ban, cautioned against painting the industry with too broad a brush. "What I don't want to do is punish and ban an industry that has not actually caused any deaths," Mungo said.
Many in the vaping industry have argued that banning flavors would kill off small businesses such as vape shops and vape liquid manufacturers, handing the market back to big tobacco companies like Altria Group. Hansen pointed to the diverse array of vape liquids displayed behind a bar at his store. "If they get rid of this wall of small business, this store goes with it and the only products that you'll have available are at 7-Eleven, which is only big tobacco products," Hansen said.
Flavors or not, teenagers will continue to use vaping products or even cigarettes, Hansen argued. "Are kids vaping? Yes, it's bad. But it's not our fault," he said. "Kids are going to do bad stuff. Kids are going to experiment. Kids are going to try things that adults are doing. That's part of being a teenager: emulating adults."
Hansen argued it is parents' responsibility to educate their children and the task of law enforcement and school officials to enforce existing regulations against teen use. "If they're using this as a scapegoat to ban flavors, it's pretty appalling and temple-scratching. It doesn't make sense," he said. Instead, he and other industry members argued, the sale of vape products should be restricted to the few vape-only stores in the city, to make age restrictions easier to enforce. According to Kelly Colopy, director of the Long Beach Health and Human Services Department, there are currently 13 vape-only stores and 490 stores licensed to sell tobacco products.
Some also proposed a limit on the percentage of nicotine permitted in vape liquids, arguing that the high nicotine content of products like Juul made them more attractive to teenagers looking for a buzz. "They want it for the head-pop," Hansen said. Adult smokers preferred liquids with a lower nicotine content, he argued, pointing to the 0.3% nicotine content of his top selling vape liquid compared to the 5% of nicotine contained in Juul Pods.
The amount of nicotine consumed by teens can have long-lasting health effects, according to Youssef. "Younger individuals who are exposed to high nicotine levels are going to be more dependent on and more addicted to those products," he said. He also pointed to adverse impacts on the long-term mental development of teens and immediate symptoms such as irritability and lack of impulse control linked to underage nicotine consumption.
Despite a lack of evidence that flavors are responsible for the serious and deadly injuries reported by the CDC, Youssef said he supported a ban on flavored vape products until more research becomes available. "I think the goal should be to minimize the exposure to younger individuals," he noted.
While the percentage of high school students using cigarettes has decreased significantly in the past decade, 20.8% of high schoolers in 2018 reported that they used electronic cigarettes in the past 30 days, according to the CDC. In 2014, 73% of high school students and 56% of middle school students who used tobacco products in the past 30 days reported using a flavored tobacco product during that time.
While her current proposal is focused on banning only flavored products, Price said a complete ban on vaping products might also be on the table. "That's something we want to look at in the future," she said. For now, placing a temporary ban on a specific product group is a compromise, Price explained. "We're trying to mitigate harm to the industry," she added.
Hansen said the current rhetoric around vaping has already impacted his business. "Our numbers are already down dramatically, just from media hysteria," he said. "We had to lay off everybody except for one person." Among the few customers who trickle into the store throughout the day, the proposed ban is a constant topic of conversation. "I've had customers sitting right here, crying," Hansen said, pointing to a leather couch near the storefront window. "They don't want to go back to cigarettes." If the ban passes, Hansen said, he will likely convert his store into a smoke shop to stay afloat. "We can't survive without flavors," he noted.