If you were to compare wedding photos of the past three generations, the differences would likely be stark. From the wedding venue to the design of the gown to who is in the wedding party, traditions have evolved greatly over the years, although some people still opt for the old way of doing things.
According to representatives from The Emily Post Institute and The Knot, since the early 1900s the big day has shifted from a simplistic affair – typically held in homes or houses of worship – to ultra-personalized, less formal and often very detailed (and expensive) parties.
"Typically, ceremonies were held in a church, and the reception was then held right afterwards at somebody's home," Lizzie Post, great-great-granddaughter of famed etiquette expert Emily Post, told the Business Journal. "My grandmother got married in a living room." Post is an author and a spokesperson for The Emily Post Institute, which holds seminars and trainings built on the original Post's principles of good manners.
"I think there was a period, especially during war times or right after wars, where it was a lot more common to have a less frivolous wedding and to really just make the wedding actually happen," Post said. "It was nice and it was simple, but it was not over the top. It was nothing like what you see on TLC or any of these channels that do wedding shows." Gradually, a shift occurred where more receptions began to be held in hotels, Post noted.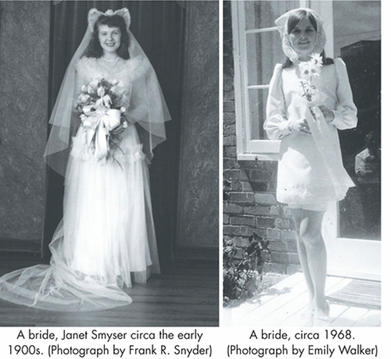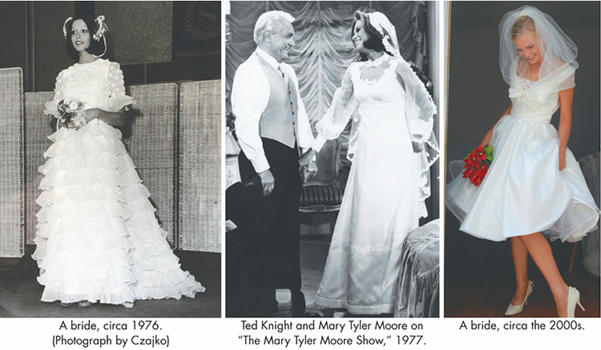 Ivy Jacobson, editor for The Knot, a wedding magazine and online planning guide, pointed out that venues for modern-day weddings vary greatly. "Couples are breaking more traditions," she said. "We have been seeing a shift in traditional ceremony and reception sites."
While many people still choose to be wed in churches or houses of worship, many others are opting for less conventional venues, according to Jacobson. The general rule now, she said, is "if a place can hold people and you can have caterers there and a liquor license, you can consider it."
Nowadays, the venue is more related to creating a personal or thematic atmosphere, Jacobson explained. "People want to get married in historic homes and farms, wineries, campgrounds, breweries and museums," she said. "If the couple are sports fans, they might want to get married at a stadium. If they love movie theaters, they might want to get married at a historic theater in their area. The sky is really the limit with personalization."
As venues have changed, so have wedding vows. "Years ago, vows were very by the book, especially if you were getting married in a church or another house of worship," Jacobson said. "You would meet with whomever your officiant was and kind of flesh it out with them," she explained. "But now, couples are having their friends marry them, and the whole ceremony is a little bit more personalized. People more often than not are writing their vows, and they don't have to say the same thing or repeat themselves."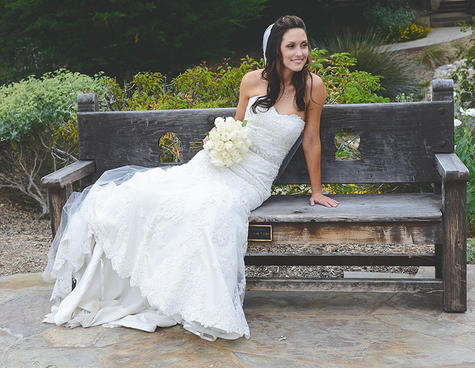 A bride in May of this year. (Photograph by Caught In The Moment Photography)
While the format of receptions – a meal, dancing, a cake and perhaps cocktails – hasn't changed much, those elements have evolved in some ways, according to Post. Dancing, for example, was mostly restricted to partners dancing to formal music in the days of Emily Post. "In my grandmother's day, it was still probably more formal but a mix of slow songs and kind of more contemporary dancing songs," Post said. "And then nowadays, I think it's mostly contemporary dance songs and a few slow songs."
After-parties are also quite common now, with many couples meeting up with guests at another location after the reception for drinks or an activity like karaoke, Post noted.
The wedding dress – one of the most talked about aspects of any wedding – has also evolved over the generations from simplistic styles to today's endless array of forms, colors and fashions. "We have gone through a lot of different style changes – tons of them over the decades," Post said. "A bride used to get married in kind of what was her best dress, whatever color that may have been, whatever style it may have been. It wasn't until Queen Victoria that we got a trend of white dresses."
While in days past, many women wore their mothers' or grandmothers' wedding dresses as their own, this tradition has largely been abandoned, Jacobson said.
In the 1940s and 1950s, lace became a popular fabric for wedding dresses, Jacobson noted. Post pointed out that ball gown-style dresses also came into vogue. In the 1980s, for example, Princess Diana wore a voluminous ball gown in her highly publicized marriage to Prince Charles.
"Nowadays people don't feel as obligated to wear a white ball gown-type dress," Post said. "You see a lot of sheath dresses, a lot of low-cut dresses. You see short, knee-length dresses. I think we sort of opened up our scope of what makes a woman feel her most beautiful on her big day."
Jacobson noted that some women choose to wear two dresses on the big day – a longer one for the ceremony, a shorter one to dance in at the reception.
Wearing white is also a tradition that is, for some brides, on its way out. "A lot of color has been on the bridal fashion week runways in past seasons, and now we're really seeing it stick with brides across the country," Jacobson said. "We have seen lots of ombre tones, blush or gray, floral patterns. . . . It's definitely a trend I think is here to stay. A lot of brides still wear white or ivory, but it's not becoming so crazy to wear color now down the aisle."
There has also been a shake-up in recent years of who is included as bridesmaids and groomsmen, according to Jacobson. "Usually it was men on one side, women on the other," she said. Now, many brides incorporate their male friends into their wedding parties, and grooms include their female friends in theirs, she explained. Also, while traditionally there were matching numbers of people in the groom's and bride's parties, now couples simply include whomever they please. "People are trying not to stress about that as much," Jacobson said.
"Another thing we have seen change from years ago are finances," Jacobson said. "The traditions of who pays for what – who pays for the ceremony and reception, that's kind of all out the window now." Traditionally, the bride's family pays for the wedding. Nowadays, sometimes both families contribute, or the bride and groom pay some and one family pays the rest, or the engaged couple pays for the whole affair, she explained. In 2015, 12% of couples paid for their weddings entirely by themselves, she noted.
Post said engaged couples should meet with their families to discuss finances early on. "Now we say it's really important to have an open and candid conversation about what people are willing, able or expected to contribute," she said.
"To me, it's fascinating how obsessed American culture has become with the wedding," Post reflected. "Whereas in past generations the wedding was definitely important, the actual act of getting married seemed more prominent than the wedding itself. Nowadays, we put a lot more pressure and expectation on the event, rather than what the event is about." She concluded, "Mostly, it is the sentiment we want to make sure stays alive when it comes to weddings."