Once the budget is set and the venue is booked, the next step for couples planning their wedding day is choosing vendors for all their other day-of needs: photography, the cake, flowers, an officiant, and even hair and makeup.
Local professionals with years of experience in these fields told the Business Journal that the most important must-do's when selecting wedding vendors are sticking to a budget, researching, obtaining references and preparing for consultations in advance. The biggest "don't": not going with a professional.
"Location is the most important thing, first. And the budget," local florist Melinda McCoy said. McCoy owns Melinda McCoy's Flowers in Bixby Knolls, which has been serving the Long Beach area since 1976. "Weddings are a big production. You can easily go over budget because you keep adding on with the photographer, the cake, the venue, the favors."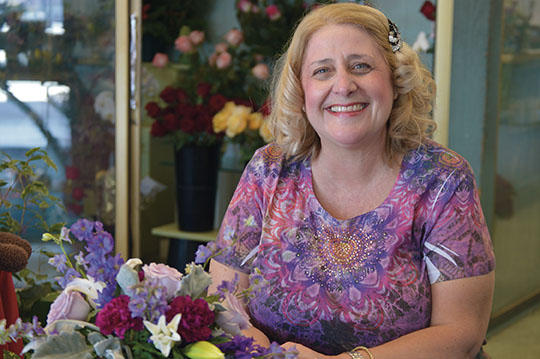 Melinda McCoy, who opened Melinda McCoy Flowers in Bixby Knolls in 1976, said brides often reference Pinterest, a social media platform where users can save images and links from around the web, when consulting with her. She recommends having a set budget and location for the wedding before meeting with a florist. (Photograph by the Business Journal's Larry Duncan)
Lana Farfan, who co-owns Caught in the Moment Photography with her husband, Salvador, also emphasized the importance of having a set budget before meeting with any vendors. "We made a list of the different things we would need to pay for, and then we sat separately and prioritized that list," she said of their own wedding planning. "Based on how we matched our priorities together, that's how we allocated our funds."
Having a venue for the ceremony and reception already booked before selecting vendors is also a necessity, according to local events professionals. That's because the style and atmosphere of a venue are important for certain design elements, such as flowers, and also because some venues require couples to select their vendors from a preferred list.
"The couple should have a finalized relationship with the venue," Charles Feder, owner of Rossmoor Pastries in Signal Hill, said. "Because they may . . . find out we're not the baker for the venue they choose. Or they might decide to go elsewhere geographically out of our range." Rossmoor Pastries has been in business for about 27 years, and in that time has garnered a name for itself in the cake biz – famed past clients include Elizabeth Taylor, Jack Nicholson, Hugh Heffner and others.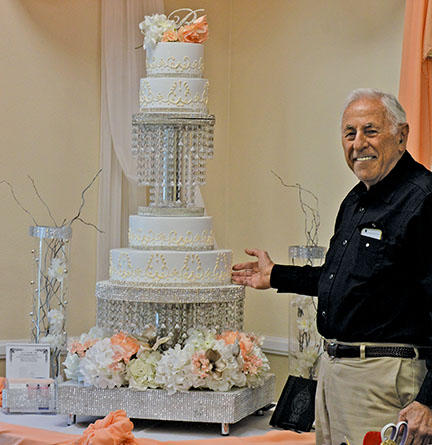 Charles Feder, owner of Rossmoor Pastries on Redondo Avenue in Signal Hill, said it is important to know your wedding guest count before consulting with a baker for the cake. The number of guests determines the size of the cake. (Photograph by the Business Journal's Larry Duncan)
"A lot of venues have rules and regulations that these professionals must adhere to," Salvador Farfan said. "The reason they have a vendor list is they have seen how they work and how they treat their clientele." For that reason, he recommends selecting vendors from preferred lists, even when it isn't required by the venue.
Another benefit to sticking with vendors suggested by the venue is that their services often come in a package, which makes managing the budget a simpler task. "Generally it's better to buy the cake in the package, if it's offered," Feder said. "It's a much more efficient way to handle the financial aspect of the wedding reception."
McCoy urged a bit of caution about selecting vendors from a list. Just because a professional is on a preferred list doesn't mean that vendor is the right fit for a couple, or even that the vendor has a close relationship with the venue, she pointed out.
Personal or word-of-mouth referrals are another good bet for finding good quality vendors for wedding services, according to Alan Katz, presiding officiant with Great Officiants, a network of about 35 wedding officiants in the Greater Long Beach area. "First, if you have a wedding coordinator, ask for some referrals from them, because they know who is good and who is not," he said. "The next way is to ask friends if they have had good luck with somebody in the past."
If word-of-mouth recommendations aren't an option, for example if a couple is planning a destination wedding and doesn't know anyone in the area, a Google or Yelp search may also be a good way to find vendors, including an officiant, Katz said. "That can provide some great information on people who are available and . . . good feedback on how they are," he said. "Find an officiant who has at least 100 reviews, or more," he suggested, adding that WeddingWire.com and TheKnot.com are two good sources for viable leads.
A common misstep couples make when selecting vendors is not asking for references, according to Lana Farfan. "People don't ask for references, ever," she said. "If you're going to spend thousands of dollars, don't you want to know that someone else had a good experience?"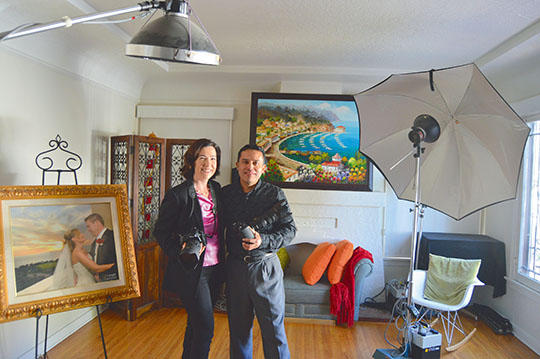 Lana and Salvador Farfan, owners of Caught in the Moment Photography, emphasized that engaged couples should assess how well their personalities mesh with a prospective photographer's before hiring one for their wedding day. (Photograph by the Business Journal's Larry Duncan)
How well a couple's style and personalities mesh with their vendor's is also a key consideration. "One of the things we tell our clients when we meet with them is that [photographs are] the thing you will get to look over and cherish after the day of the event, so you want it to match your personality and your style, both in terms of the product and in terms of the photographer," Salvador Farfan said. Lana added, "They need to enjoy being with their photographer because they will be with that person for their entire day, and if there is bad chemistry then that is going to be something they remember."
Certain considerations – everything from color palette to wedding theme to the style of the dress – should be well thought out before meeting with a wedding vendor.
"If they want to bring color swatches, that's a good idea," Feder said. "Flavor, general description of the cake, and color are very important," he added. Some couples become overly concerned with making sure all their guests will be satisfied with their choice in cake flavor – but having different flavors in different tiers of the cake doesn't ensure everyone will get the flavor they want, Feder noted. "Personally, I think if you're inviting 135 people to your party, they should eat the cake that you pick out," he said.
Having swatches, clippings from magazines or even inspirations from the Internet is helpful when planning floral arrangements, according to McCoy.
Charlene Ferry, owner of Salon Indah in Belmont Shore, said a bride should have her dress picked out before having a hair and makeup consultation. "You most definitely want your hair style to complement the whole look – especially the dress," she said. "If your dress is really fancy and embellished, you might want your hair to be a little softer. And if you're wearing a more simple dress, your hair can be a little more embellished, maybe with pearls or diamonds."
It's also important to find a hair stylist who will be honest with you about what style best suits your hair's texture, Ferry said. "You need a stylist who is able to communicate and make adjustments for the look you're going for to work within your hair texture. . . .  I think it's the hair stylist's responsibility to be able to communicate what their hair texture can handle."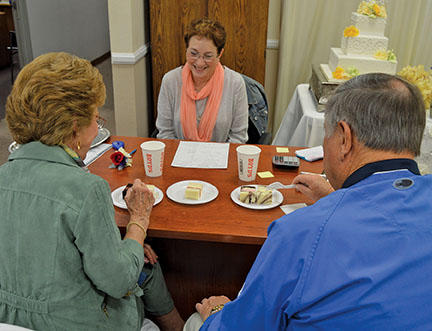 Judy Gilbert of Rossmoor Pastries in Signal Hill consults with a couple in the company's cake studio. (Photograph by the Business Journal's Larry Duncan)
The Farfans emphasized that finding a photographer who is a professional, rather than someone who takes photos as a hobby, is the best way to go. "We saw this a lot during the recession," Salvador said. "As people were getting laid off from their jobs, they at one point had somebody who told them 'You should be a photographer,' and it turned from a hobby into a profession. But it's a steep learning curve."
Katz said the same rule of thumb – going with a pro rather than an amateur – applies to officiants. "One of the most important things that couples should not do is choose a friend or a family member to be their officiant," he said. "They will mess up the wedding time and time again. . . . I hear stories all the time – they forgot to tell people to sit down, they forgot to tell them to kiss, they're nervous when they get up there. So hire a professional officiant." Another key consideration to make in advance is what religious affiliation, if any, you would like that person to have, he added.
When it comes to finding a baker for the cake, Feder pointed out that using a professional company with years of experience is a more reliable option than, for instance, assigning a family member to the task. A professional company will have experience, trained drivers who can get the cake to the venue on time without incident, he noted. "I have owned Rossmoor Pastries for 27 years. . . . That kind of exposure gives us a lot of training and professionalism with regard to delivery and presentation," he said.