If you've been tuning in to the Olympic Games, you might have noticed some odd, circular bruises on some of the U.S. swim team athletes, including the most decorated Olympian of all time, Michael Phelps. The bruises are the result of cupping – a practice in Eastern medicine that involves placing cups on the skin, creating a vacuum for suction and then removing them to stimulate blood flow.
With the world watching, the Olympics are giving Eastern medicine a moment in the limelight. But while these practices are still gaining visibility in Western culture, many of them – from acupuncture to herbal medicine and even yoga – have been around for thousands of years. Two 2015 studies by the National Institutes of Health show that Americans are increasingly seeking alternative, or complementary, health practices to help improve their wellness and everyday health.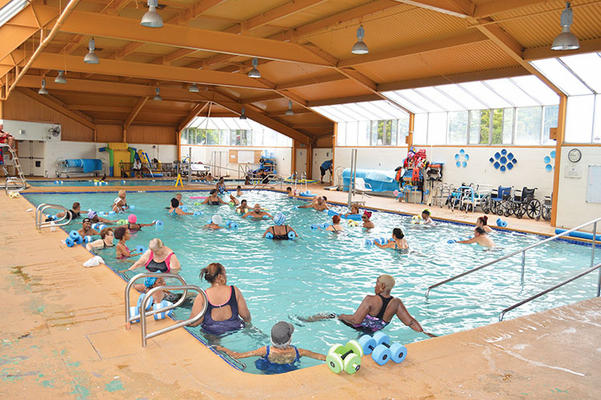 At the center of the shallow, heated pool at the California Aquatic Therapy and Wellness Center in North Long Beach, an instructor leads an aquatic therapy and exercise class for seniors. The center, operated by the nonprofit Pools of Hope, offers group and individual classes. Executive Director Patrica Dixon said aquatic therapy in a warm water environment helps build strength for those who find it difficult to exercise on land due to physical or mental conditions. (Photograph by the Business Journal's Larry Duncan)
Dr. Christina Lee, a general practitioner affiliated with Dignity Health St. Mary Medical Center who has been practicing medicine for more than 20 years, said Americans seem to be seeking out Eastern or alternative medicinal practices with increasing frequency. "I have seen that in some of my patients who are chronically ill or have pain," she said. "It works for them to go to these alternatives."
Lee said she would advocate for her patients to seek out alternative treatments so long as they would not cause harm. Some herbal medicines, for example, can interact dangerously with prescriptions, she noted. Also, it is important to first consult with a physician to ensure any serious underlying health problems are not overlooked, she said.
For patients with chronic pain, Lee said she would recommend acupuncture if medication isn't sufficient to manage the issue. Acupuncture is an ancient Chinese medicine in which a practitioner strategically inserts very thin needles into the body. These needles are inserted along meridians, which in Eastern medicine are traditionally thought to be pathways through which energy flows. "Studies have shown it can help people. They get some relief from the pain," Lee said. However, she added that reduction of pain in acupuncture recipients is likely caused by a placebo effect.
Julia Wu, one of the founders of Simple Health Acupuncture & Wellness in Bixby Knolls, said the majority of the center's acupuncture clients have some type of chronic condition, including pain. "They don't want to take any sort of medications, or they may have negative reactions to medications," she said of her clients' motivations.
"The way that it works is by communicating with your nervous system," Wu said of acupuncture. "When acupuncture is performed, the body actually starts releasing its own pain-alleviating chemicals called endorphins, which are usually released after strenuous exercise," she explained. "The body also starts to release anti-inflammatory chemicals, and the overall circulation is improved. So all of those are ways that acupuncture can help with alleviating pain and many other sorts of chronic disorders too."
According to the National Center for Complementary and Integrative Health (NCCIH), a division of the U.S. Department of Health and Human Services, research has proven acupuncture to be effective in easing chronic pain, particularly back, neck and knee pain, as well as headaches and migraines.
"Our goal for all of our patients is to eventually not see them," Wu said. "If it's a chronic pain issue, it could take maybe a couple months or up to a year to treat." At first, clients typically visit multiple times per week but often reduce their visits to once per month after they show improvement, Wu noted. Eventually, they might only come in for occasional checkups.
Simple Health Acupuncture & Wellness offers a number of other alternative medicinal practices to complement its acupuncture services. "The reason we have all these other services is because acupuncture, while it is a really good treatment for many people, has its limitations too," Wu said. "If there is something structurally going on, like for example, if they are actually out of alignment in their spine or their joints, or if their gait or posture needs to be corrected . . . then that's where our other services come into play."
One of these services is chiropractic medicine which, according to NCCIH's website, "focuses on the relationship between the body's structure – mainly the spine – and its functioning." Practitioners typically perform adjustments to the spine to correct issues with alignment.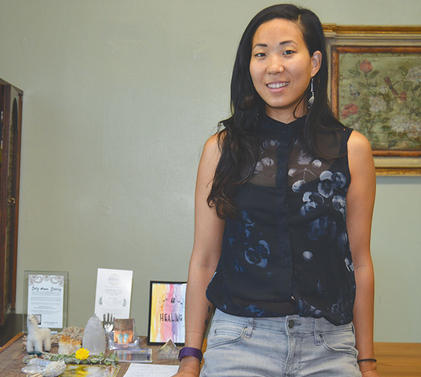 Jenny Ahn teaches yoga and practices ayurvedic medicine, an ancient Indian system of holistic care, at Sacred Roots Holistic Healing, which she co-founded in Belmont Heights four years ago. At left is an altar of sorts that she uses in her practice, she said. (Photograph by the Business Journal's Larry Duncan)
Lee said chiropractic medicine could be beneficial depending on who the patient is and if the practitioner is qualified. "Some patients should probably not go. If they have really bad arthritis, the manipulation may break or fracture the bone," she said. "But in the right hands of an experienced chiropractor, I see that it can help some people," she said.
In Belmont Heights, Sacred Roots Holistic Healing offers many alternative medicinal practices and wellness-oriented care services, including acupuncture, massage, yoga, herbal medicine, meditation, sound healing and more. "A lot of people come to us because they have gone to Western doctors and they've gotten sort of fed up with that system," said Jenny Ahn, who co-founded the center with Jocelyn Miller and Kailey Waite in 2012. "They're seeking something more long term versus sort of just treating the symptoms."
Often, people pursue alternative wellness practices in order to get off of medications, Ahn said. "People are looking for alternative ways of healing themselves – something that's a little more sustainable and cleaner for their bodies," she explained.
At Sacred Roots, Ahn offers yoga classes and practices ayurvedic medicine, an ancient Indian system of holistic care. The practice involves using the elements of nature to create healing and balance through herbal remedies and body therapies. One such practice is oil pulling – the practice of swishing oil in the mouth for detoxification. Another is the use of the neti pot, which flushes the sinuses out with water. Yoga, massage, movement and meditation are also a part of ayurvedic medicine, according to Ahn.
While Lee said she might recommend someone take vitamin supplements if his or her diet is insufficient, she cautioned that certain herbal remedies interact dangerously with prescribed medicines. "People who have a liver condition, they should probably not take those because any of the supplements, herbals or vitamins can increase the enzyme levels in the liver," she added.
Yoga, however, is something Lee fully endorses. Benefits include increased flexibility and muscle strength, which helps prevent injuries. Some forms of yoga incorporate meditation, which is helpful for mental health – especially "in today's world, where it is very stressful in the workplace or at school or with family issues," she noted.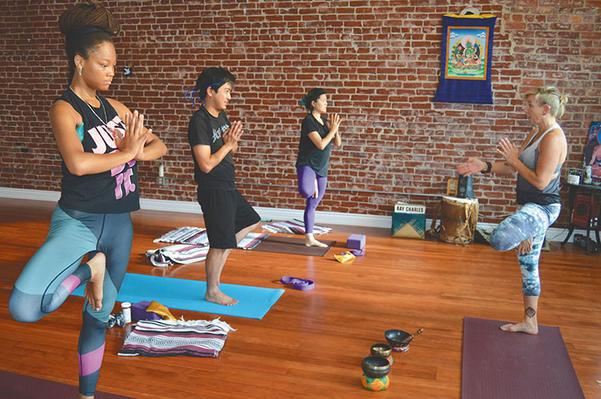 Elizabeth Olive Bolla instructs a yoga class at her Downtown Long Beach studio, Olive Yoga. Bolla combines meditation and breathing with the physical aspects of yoga, which she said have health benefits. (Photograph by the Business Journal's Larry Duncan)
Elizabeth Olive Bolla, owner of Olive Yoga in Downtown Long Beach, first got into yoga because she was seeking those benefits. Suffering from arthritis and degenerative disc disease, she often found herself bent over in pain, unable to change position. Her doctors wanted her to have surgery. "They were on track for giving me surgery. And through the physical postures, the meditation and the breath work [of yoga], I was able to strengthen my core and my spine," she said, adding that she did not have surgery.
Yoga also helped Bolla deal with another serious health problem: post-traumatic stress disorder (PTSD). Through controlled breathing and meditation – key aspects of yoga – Bolla has been able to overcome the stress and anxiety attacks related to PTSD. "There are actually chemicals that are produced in meditation and restorative yoga that increase your serotonin level and dopamine . . . that allow for the body to reduce blood pressure, heart rate, stress," she said.
Aquatic therapy offers similar benefits, both mentally and physically. The low-impact method of exercise can be calming, and it helps reduce weight and improve blood pressure, according to Patricia Dixon, executive director of the California Aquatic Therapy and Wellness Center in North Long Beach. It also provides a way for people who are injured, weak or suffering from chronic health issues to safely build strength, she noted.
The center, which features a shallow pool and a lap pool (both kept between 91 and 94 degrees), is operated by the nonprofit Pools of Hope. The organization has been active in Long Beach for more than 50 years, Dixon noted. "We provide aquatic, therapeutic programs primarily serving children with disabilities and the elderly," she explained.
"We have individual aquatic therapy with a doctor of physical therapy medicine. And then we also provide group exercise lessons for adults and seniors," Dixon said. "And then we do the therapeutic swimming lessons that are therapeutic in nature because of the warm water environment."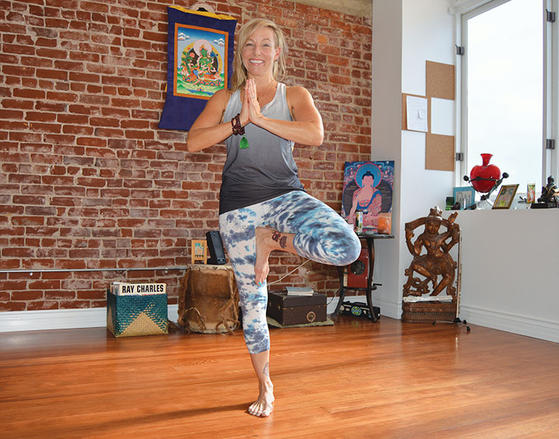 Elizabeth Olive Bolla owns Olive Yoga, a yoga studio at 244 Pine Ave. in Downtown Long Beach. Yoga can help build strength, ease certain physical ailments and even help calm anxiety, according to Bolla. (Photograph by the Business Journal's Larry Duncan)
Many of the children who come to the center for aquatic therapy have autism, Dixon said. "Children with autism sometimes are overstimulated," she noted. "So one of the things the warm water environment helps with is to decrease the stimulation to help them become more relaxed and focused. It helps with sensory integration as well."
Children who visit the center also often have physical conditions like spina bifida or cerebral palsy. Adults and seniors who swim there often suffer from arthritis, hypertension or neurological conditions, or have had strokes. People who have been injured in car accidents, who have spinal injuries, or who are amputees also use the center, Dixon said.
"Exercising in a water environment makes movement possible, where it may be limited on land," Dixon said. "For instance, most people weigh only 10% of their body weight in water. . . . So for someone who may be having a mobility issue or is a paraplegic or even someone with arthritis, the buoyancy of the water is going to help with the process of movement, as it would be restricted on land."
Tai chi, a Chinese martial art, incorporates meditation and has both physical and mental benefits, according to Dr. Matthew V, a tai chi master and owner of Health Arts Institute/Naples Wellness Center and Spa. Dr. V is also an anesthesiologist and pain management physician. "Tai chi improves people's health by improving their energy level," he said. "When you are healthy and strong, you can overcome a lot of illnesses."
Tai chi, which involves gentle movements, also helps reduce stress, Dr. V said. "Western society is severely affected by stress," he noted. "When you can learn a skill like tai chi, you can calm your mind and you can pick out the tree from the forest – you know, what's important."
Dr. V refers to himself as bilingual in both Western and Eastern medicine. His work at hospitals is what led him to open his holistic medicine business in Naples, which offers other Eastern medicinal practices like acupuncture. "People come to the hospital and they are on, like, 20 or 30 medications. They're like zombies and they're just barely alive," he reflected. "We are getting better and better at medicating the patients, but we are not getting better at taking care of them."
"The thing with Eastern and Western medicine is you are comparing apples to oranges," Dr. V said. "The truth is, Eastern medicine has been around for thousands of years. . . . Western medicine is great but has only been around for 200 years or so. It's an infant compared to Eastern medicine."