With the goal of providing "solutions – not compromises," Mag-Trol Long Beach, Inc. has operated for 34 years as a wholesale distributor of electrical and automation equipment for port terminal operators and manufacturers in Southern California.
The company, which sells products such as sensors on rubber tire gantry cranes (RTGs) and electrical components for air-conditioned enclosures, continues to grow as industrial customers seek new ways to stay efficient, safe and environmentally friendly, said James Shanahan, the company's principal owner and president.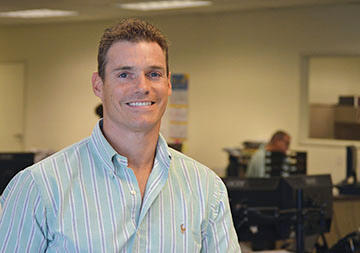 James Shanahan is principal owner and president of Mag-Trol Long Beach, Inc., a leading distributor of electrical components to port terminal operators and manufacturers in Southern California. (Photograph by the Business Journal's Larry Duncan)
Shanahan, who acquired Mag-Trol from its founder, Tom Johnson, in 2005, said the company was created in 1981 primarily to supply electrical and automation equipment to industrial businesses in and around the ports of Long Beach and Los Angeles, to help them remain competitive in the international trade industry.
"The ports are going to continue to modernize and they're going to continue to improve the work environment there for the employees," he said. "The ships keep getting bigger, so you need the sophisticated unloading systems in order to accommodate those bigger ships."
Located at its current Long Beach facility at 705 W. Anaheim St. for 16 years, the company sells products from nearly 50 equipment manufacturers, including General Electric (GE), Siemens, Square D and ABB.
Mag-Trol also manages two other locations, one in Huntington Beach and another in Ontario, both which focus on supplying equipment to commercial construction customers and operate under the name Turtle & Hughes, a New Jersey-based company that acquired a portion of Mag-Trol Long Beach, Inc. in 2012.
In total, the company employs 46 people, Shanahan said. Aside from some driver, warehouse and administrative positions, Mag-Trol hires sales representatives required to have engineering backgrounds or experience in automation or motor controls, to be able to work with customers on solutions to industry problems.
Shanahan said the distributor, which has grown from a $5 million company to about a $35 million company in the past 10 years, continues to see sales growth. In fact, the company is currently seeking to relocate to a larger facility in Long Beach about 50 percent larger than its current 8,000-square-foot location, he said.
The company's primary operation in Long Beach is assisting terminal operators at the local ports to become more efficient, such as maintaining equipment and cranes that load and unload cargo containers from ships, Shanahan said.
Long Beach-based Pacific Crane Maintenance Company, LP (PCMC) helps facilitate the maintenance of many cranes at the ports, while the terminal operators themselves place the orders for equipment, he said.
Despite fears from unions of longshoremen and warehouse workers that automation may wipe out manual labor positions, Shanahan said new technologies are likely to create new jobs, such as using radio frequency identification devices (RFID) and global positioning systems (GPS) to track containers.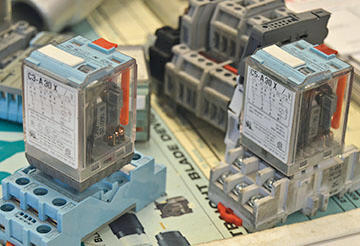 Pictured are devices known as relays, or electrically operated switches, that can be used in any motor control application. (Photographs by the Business Journal's Larry Duncan)
He said some new automation at the ports is inevitable as container ships are being built much larger than in the past and terminals will need to have the technology to turn them around quickly, within a week's time.
Still, despite worries that the opening of the Panama Canal this year would take away cargo, Shanahan foresees the ports of Long Beach and Los Angeles remaining a major job producer as the main gateway for international trade from Asia.
"I think you'll continue to see these ports be the major place for Asian ships to be unloaded just because a lot of it's consumed here and we have a lot more infrastructure than any of the other port complex in the country," he said. "This terminal is just used to handle the volume that nobody else is able to handle."
Aside from terminal operators, Mag-Trol's other customers are original equipment manufacturers (OEMs) along with maintenance, repair and operations (MRO) businesses.
While many manufacturing businesses have left Southern California for other states with cheaper operating costs, the exodus seen over the past several years has recently "subsided," Shanahan said.
He added that oil and gas companies as well as food manufacturers continue to be a local mainstay while manufacturing companies in emerging industries such as electric vehicles and solar installations are helping to fill the void.
Looking forward, Shanahan said the main challenge for Mag-Trol is finding enough skilled applicants to fill positions. Though it may take several years of training on the job to learn about the components the company sells, the unemployment rate in the electrical distribution industry is "extremely low," he said.