In its 100 years in business, Phillips Steel Co. has literally gone from rags, or recyclable materials, to riches – full-service metal.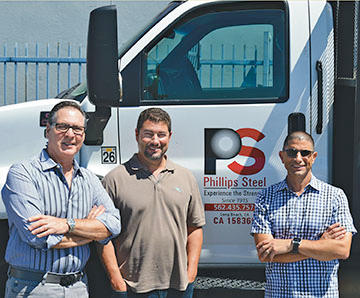 Daryl Phillips, left, runs Phillips Steel Co., founded in 1915 by his grandfather, Paul Phillips. Also pictured are Daryl's nephews, Todd Phillips, center, and Greg Phillips. (Photograph by the Business Journal's Larry Duncan)
Celebrating its centennial anniversary this year, the family-owned company has operated for decades as a full-service metal distributor at the edge of the Port of Long Beach, just over the 710 Freeway on West Anaheim Street.
But that wasn't always the case.
Paul Phillips, a Russian immigrant, founded the company in 1915 as a "scrap" recycling center a little more than a decade after arriving in America with his family, explained Daryl Phillips, Paul's grandson and the company's current president.
"In those days it was called scrap, which was fat, paper, metals and rags," Daryl told the Business Journal. "That's how they started."
While working for his cousin's butcher business, Paul had discovered that fat, oil and other byproducts could be recycled and reused.
Tired of brutally cold walk-in freezers and accidental knife cuts, he traded his butcher job for a wagon, cart, flatbed truck and small warehouse located on what was then called American Avenue, now Long Beach Boulevard.
After moving the scrap operation from downtown to Long Beach's burgeoning port area on the southern most portion of the Westside industrial zone, the company expanded and refined its products and services, eventually pursuing the metal service industry more seriously.
"We realized at some point that we were buying scrap metal from customers who were producing things," Daryl said in a statement about the company's centennial history. "They were buying their metal from somewhere, companies selling raw product, and it dawned on us that we could offer full-service metal."
Since the early 1930s, the company has been located at the corner of West Anaheim Street and Harbor Avenue, where one of the company's original warehouses still stands.
"This is the original warehouse my grandfather and dad built themselves," said Daryl, pointing to a structure surrounded by fully automatic commercial band saws, used for cutting large pieces of metal for customers.
After listening to the needs of customers, which today are mostly oil refineries, chemical companies and power plants, while fine tuning its offerings, Phillips Steel modernized its equipment with the latest technologies.
The company, for instance, operates large high-definition plasma-cutting machines, which use hot plasma to cut all types of metal. The company also uses water jet cutting machines, which use highly pressurized water to provide a more "high tolerance" precision cut, eliminating the need for a machine shop for cutting anything from plastic and wood to fiberglass and metal.
"We'll cut one piece for a customer or we'll cut 1,000 pieces for a customer," said Greg Phillips, Daryl's nephew, who joined the company in 1989. "We do everything here. We're open to the public. We don't have any minimums. We take orders, big and small."
Slowly expanding over the years, the company now encompasses more than 100,000 square feet, which includes another site nearby at the corner of West Anaheim Street and Canal Avenue that is used for metal fabrication and processing.
The company's main building at Harbor Avenue and West Anaheim Street also houses a retail shop that sells tools and accessories.
Daryl noted that Phillips Steel is one of only a handful of companies in Long Beach that have remained in business for 100 years. A major part of the company's formula for success and a selling point to customers is maintaining a "legacy" as a family-owned business that now spans four generations, he said.
Daryl's two nephews, Greg and Todd, have joined the company to carry on that legacy, along with his wife, Sandy, and daughter, Sara. Daryl came on board full time 50 years ago after learning the business from his father, Ted Phillips, Paul's son.
"It takes a family commitment," Daryl said. "Being in a family business, you have a long-term view, goals and concern about a legacy. It doesn't happen overnight. You realize it's worth working for."
Throughout the decades, the company has lasted through numerous financial hardships, including the Great Depression and the recent recession brought on by the burst of the housing bubble. Still, the company has never had to lay off an employee, according to Greg.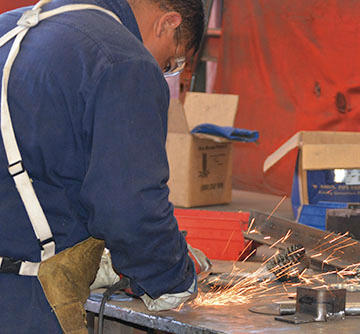 One of the Phillips Steel Co.'s 60 employees. (Photograph by the Business Journal's Larry Duncan)
In fact, within the past 25 years, the company's workforce has grown from 11 to nearly 60 employees. Some employees have remained with the business for up to 30 years, Greg stated, adding that, "it's all about cutting expenses, wages or perks, but not people."
Daryl noted that relations between the City of Long Beach and Westside industrial businesses has improved, recalling that redevelopment at one point threatened to take over the industrial area through eminent domain but was defeated in court after businesses banded to together and filed a lawsuit.
He said the company now has plans to expand into another warehouse in the near future, adding that the Port of Long Beach area remains the best location to operate despite ongoing issues, such as lack of parking, poor utility connections, ongoing construction and less room because of port expansion.
"There's a lot of concerns, but we're survivors on this end of town," Daryl said. "It's a viable area. It's a good business climate. The city encourages new business, and [the city] is easier to work with than it was years ago. This has been our home base for 100 years."