Inside the newly leased space covering two floors at 100 West Broadway in Downtown Long Beach, Mayor Robert Garcia last week welcomed WeWork, a creative workspace provider, whose mission is "To create a world where people work to make a life, not just a living."
The company, which launched in 2010 and now provides creative workspace to almost 65,000 members around the world, physically and virtually, is the latest firm to recognize the growing creative sector sweeping Long Beach. It's website says this about the city: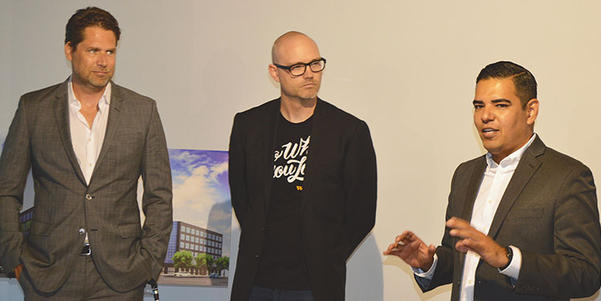 Mayor Robert Garcia welcomed WeWork, a company that provides creative workspace to its members, to Long Beach during a press conference on September 22. WeWork, which is expected to open in early 2017, is occupying two floors of the newly renovated and renamed Hubb building at 100 West Broadway, owned by Ocean West Capital Partners. Pictured from left are: Russ Allegretti, principal of Ocean West Capital Partners; Michael Kramer, WeWork senior project manager; and Mayor  Garcia. (Photograph by the Business Journal's Larry Duncan)
"With six million yearly visitors, Long Beach is one of the coolest emerging waterfront cities between San Francisco and San Diego. In the center of all of the action sits WeWork's Long Beach office space. The area's creative, breezy energy is palpable in our coworking and private offices, with unique features like an outdoor patio and woven string-art installation.
"Bikes, canals, gardens, farmers markets, art walks, and music festivals give Long Beach its signature relaxed character, while direct train access to Downtown Los Angeles via the Metro Blue Line makes this location super convenient. Join us at WeWork Long Beach for workspace fit for life on the coast."
The company expects to open its Long Beach operation in early 2017, occupying the third and fourth floors of the newly renovated Hubb building (formerly known as The 100 W. Broadway Building). The connected two-building site – overlooking Pine Avenue to the east, Broadway to the north and the Long Beach Civic Center to the west – is owned by Ocean West Capital Partners.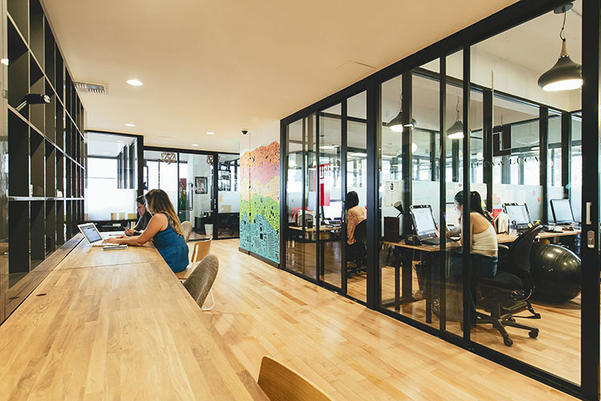 Individual offices like those at WeWork's Hollywood location, shown here, are available for a monthly fee. For more information, visit: www.wework.com. (Photograph provided by WeWork)
Headquartered in New York, WeWork provides more than 100 physical locations in more than 32 cities and 12 countries. Aside from creative workspace, the company offers teams of any size access to health care, payment processing, IT support, payroll, legal assistance, and education and training.
In addition to collaborative workspace and common areas, the company will offer private offices, event spaces and an outdoor terrace in Long Beach.
"By inviting WeWork into our community, we are joining a global network that will help foster business growth and economic development in Long Beach," Garcia said. "We are pleased to welcome WeWork to Long Beach's vibrant business community, and together, we will bring new resources and new opportunity to companies in all sectors and of all sizes – from startups to small and established businesses."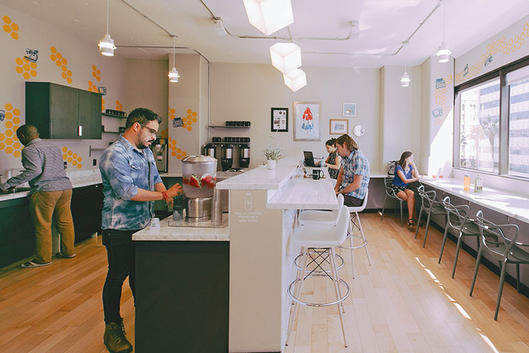 WeWork's Hollywood location features access to common areas, like a kitchen. (Photograph provided by WeWork)
Russ Allegrette, principal at Ocean West, said, "Ocean West is thrilled to welcome WeWork as an integral part of our new campus at the Hubb in Downtown Long Beach. As a leading platform for creating beautiful spaces that inspire community, WeWork is the perfect complement to the continued renaissance of our urban core and the revitalization of the Hubb."
Jon Slavet, general manager for WeWork's Western region, said, "Our vision for Southern California is big and bold, and the Long Beach location reflects that. We believe in creating opportunities and spaces that foster meaningful connections. Long Beach is a destination for people to work but also to shop, live and generally be inspired and share ideas. That's exactly what the future of work is all about – and exactly the community we're excited to be part of."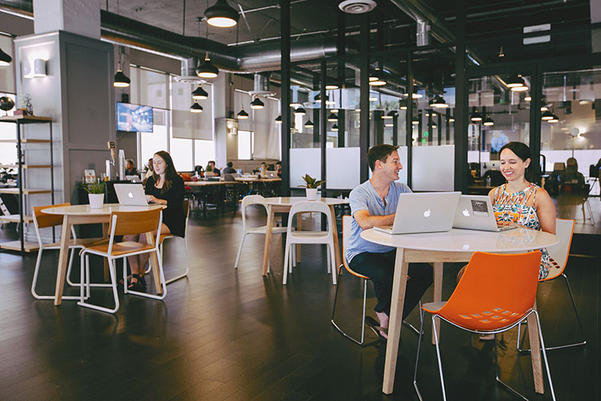 A creative space common area at WeWork's Hollywood facility. (Photograph provided by WeWork)
The company's newest offices are located in Yunnan Lu, Shanghai, China; Hackescher Markt, Berlin, Germany; and Northern Liberties, Philadelphia.
For more information about WeWork, visit www.wework.com.