With JetBlue leading the charge and a feasibility study nearing completion, airlines, surrounding businesses and Long Beach as a whole are beginning to think about what international flights would mean for the city.
"I hope that the community sees the benefits," Lou Anthony, the general manager for JetBlue at Long Beach Airport (LGB), said. "I know that an international city like Long Beach, with a very vibrant port, should have a vibrant airport as well to support the international activity and growth. This a beautiful community and I think international travel is in the best interest of all."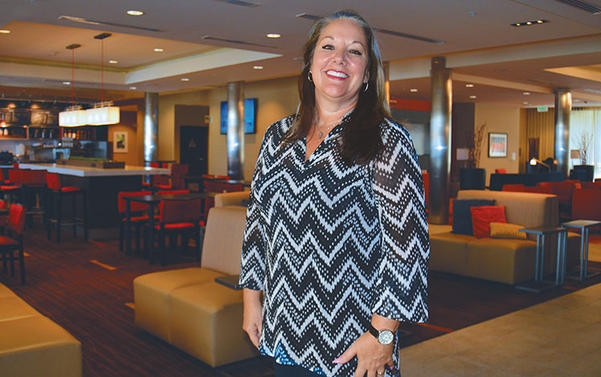 Julie Buettner, the general manager of Courtyard Long Beach Airport, hopes that international flights will be approved for LGB. She thinks that the decision would increase business for her hotel and many other businesses around the city, boosting Long Beach's economy. (Photograph by the Business Journal's Larry Duncan)
In January, the city council approved a $349,845 contract for the feasibility study to Texas-based Jacobs Engineering Group Inc., which also has carried out consultations for John Wayne Airport in Santa Ana and Los Angeles International Airport. The study, which will determine the impacts of international flight capabilities in tandem with a U.S. Customs and Border Protection Federal Inspection Station, is scheduled for completion and to be presented to the city council by mid-August to September.
Anthony has some ideas about destinations that JetBlue may consider, though he said it is all speculation on his part as the company is not likely to look into the matter until the feasibility study is complete. "I would guess that, probably, Mexico would come into play immediately. Potentially Costa Rica and some of the Central American countries," he said.
In Los Angeles County, there are 4.9 million people of Hispanic origin according to the 2010 U.S. Census. The census estimated the population of Long Beach to be 474,140 people in July 2015. Of that, Long Beach residents are 40.8% (193,449) Hispanic, which means nearly 4% of the L.A. County Hispanic population resides in Long Beach alone.
Therefore, flights heading south of the border would be a great convenience for a large portion of Long Beach residents, as they would not have to travel to John Wayne Airport or LAX to fly.
"We talk a lot about maintaining the quality of life in the Greater Long Beach area, and I think our noise ordinance does that," Curt Castagna, president and CEO of the Long Beach-based Aeroplex/Aerolease Group, said. "But having customs at Long Beach would also create an efficiency of operations where aircraft don't have to stop in other destinations – Tucson, Duluth, Alaska, Hawaii, anywhere else that might be coming to the L.A. or Long Beach area – first. By allowing customs services here, we also maintain the quality of life issues in those neighborhoods, too.
"Instead of airplanes having to stop and create more noise pollution and issues there, they can overfly and keep going because the airplane has the range to do so. And do we have a responsibility to do that? I think so."
Earlier this year, nine daily slots were added to the initial 41 commercial flights allowed by the LGB noise ordinance – Southwest Airlines being the newest addition with four daily flights to Oakland, which began June 5. Commuter flights remain limited to 25 flights per day.
With additional flights, major airlines and surrounding businesses hope the feasibility study will shed light on what they say they already know: international flights would not infringe upon the current LGB regulations as they pertain to noise pollution, number of daily flights and the curfew, and that more flights mean more jobs and more people spending money in Long Beach.
"We're authorized for 35 flights regardless of where they fly," Anthony said. "A flight to Portland takes up the same landing slot as a flight to Cabo San Lucas would. Right now, we're flying between 24-26 flights a day, so if we're able to operate international flights, the additional flight activity would be filled within those slots."
Aside from the number of flights and where they originate or end up, using more daily flight slots would have economic benefits, not just for the airport but the city as a whole.
"[We would] be able to attract corporate aircraft operators – Fortune 500, Fortune 10 operators – who might then look at Long Beach as an attractive venue in order to base their operations inside the Greater Long Beach area," Castagna said.
John Tary, the general manager for AirFlite, said, "Being a Toyota-operated entity, our flights that come from overseas into the L.A. area usually choose to land at LAX and stay there, instead of putting the additional time on the aircraft and [using] additional fuel. So for AirFlite, Toyota wants to come in here and do business in Long Beach. But since international [flights] cannot come into this airport, it makes it more difficult to visit this city."
With so much available land in Douglas Park, there is plenty of space for international businesses to set up operations in Long Beach. The city has already seen success from the Mercedes-Benz occupation of the former Boeing Company 717 plant.
"With the economic . . . growth in the Long Beach area, adding this capability would just increase the ability to do business, which would then increase the need for a larger workforce," Tary said. "I can't imagine – especially the tourism industry in general would benefit so much from the airline portion of this. Again, bringing people into our city would translate to direct revenue for the city."
Julie Buettner, the general manager for Courtyard Long Beach Airport at Douglas Park, agrees, saying that Long Beach is ideal for international tourism because it is centrally located to tourist attractions such as Disneyland and Universal Studios Hollywood. Because of this, travelers would find staying in Long Beach and driving to these popular destinations convenient, which would translate to more money being spent in Long Beach.
"Usually, when you bring in international people to any city, they're going to spend money somewhere," Buettner said. "They're going to go to the stores, they're going to go to the malls, they're going to go downtown, and they're going to go to the restaurants. So I do not see where this would be a negative on the economy in any way."
For her hotel specifically, international flights potentially means more occupancies. "The busier we are, the more people we can employ," she said. "Hypothetically, I hope this happens."
When asked what international flights could mean for tourism in Long Beach, Steve Goodling, president and CEO of the Long Beach Area Convention and Visitors Bureau, said, "On issues like this, I have been asked not to speak because this is a political issue that needs to be worked out through the council."
Both SkyWest Airlines, which operates flights in and out of Long Beach on behalf of Delta Air Lines, and Southwest declined to comment on international flights based solely on speculation. An American Airlines representative was unavailable for comment.
Castagna of Aeroplex/Aerolease Group echoed the sentiment that there would be no disadvantages to the airport allowing international flights, "unless you think not driving to LAX and going out of that airport is a disadvantage."