After six years working in Long Beach as the general manager of the convention center, New Jersey native Charlie Beirne has plenty of glowing things to say about what the facility has become, and working with the partners who helped make it happen. Beirne has developed a rapport with his staff and city partners, as well as an unrelenting appreciation for the temperate weather. What he will perhaps never get used to, however, is the way Californians behave when the temperature gets south of 70 degrees.
"The funniest thing for me to get used to out here is how people react to the rain," Beirne said. When it's 60 degrees outside, don't be surprised if you run into him wearing shorts and flip flops when off the job. "And the rest of the people are out with hoodies and gloves on, which I can't get used to. I really can't," he said, chuckling.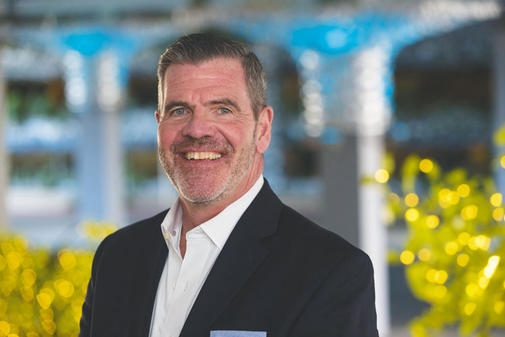 Long Beach Convention & Entertainment Center General Manager Charlie Beirne, left, and Long Beach Convention & Visitors Bureau President and CEO Steve Goodling have worked together over the past several years to transform once ordinary or unused places in and around the center to active, exciting event spaces that have drawn national recognition from meeting planners, event organizers and meetings publications. (Photograph courtesy of the Long Beach Convention & Visitors Bureau)
Having studied finance in college, Beirne's career began as a controller for Atlantic County, New Jersey. At the time, a fellow local football coach asked him for his support in running for mayor of the town Ventnor. "We told him we'd help him get elected on one condition: he stopped coaching. True story," Beirne recalled. He was elected, and asked if Beirne would be interested in becoming the city's business administrator. He took on the position and eventually became city manager.
Later, Beirne decided to try his hand in the private sector. His experience in municipal finance translated well to managing convention centers and entertainment venues, which involved working closely with local governments. In 1999, he became director of finance for the Atlantic City Convention Center with SMG, a global entertainment and conference venue management company based in Pennsylvania that also manages the Long Beach Convention & Entertainment Center.
"Atlantic City was a little different. It's twice the size of here, but half as busy," Beirne said, comparing the venue to Long Beach's convention center. "We had Boardwalk Hall, which was the same size as ours here. The cool thing is it was built in 1929," he noted. The venue was refurbished and reopened in 2000, and subsequently hosted major boxing events and musical acts including Bruce Springsteen, Paul McCartney, Lady Gaga and more. Over the years, he worked his way up to general manager of the center.
In 2011, SMG sent Beirne to Long Beach to assist Long Beach Area Convention & Visitors Bureau President and CEO Steve Goodling in planning and implementing capital improvements to the convention center here, and he ended up staying on past what was originally meant to be a temporary assignment.
"We were doing so much working with Steve [Goodling] and the CVB and the city on capital items [that] it was just a natural flow into keeping it going and working together," Beirne said of the decision to stay in Long Beach.
Beirne's two sons were both grown and out of college, which also made the move easier. He still owns a house in Ventnor, and his wife lives bi-coastally, he noted. He has been tempted on occasion over the years to be closer to family, but each time Goodling has a tried-and-true method to convince him to stay. "Every time I was thinking about making a move back to the East Coast, Steve would always remind me with the weather forecast," Beirne said. "You know, 'Hey, it's 30 degrees and raining [in New Jersey].' I say, 'Yeah okay, I'll stay for more.'"
When Beirne joined the Long Beach Convention & Entertainment Center, he saw potential in the facility and in its staff. "We just had to make some changes. Not personnel changes, but ideological changes, if you will," he said, explaining that a shift was made toward a more customer service-oriented focus.
"The first major project that I worked on with Steve was the Arena, the Pacific Ballroom. And that was two years from design to opening," Beirne said, referring to the transformation of the Arena into a turn-key facility with theatrical rigging for easy space conversion. That project was completed three years ago. "It has really done well for us."
Beirne and Goodling have worked side by side on a number of major projects since then, most recently overseeing the completion of the outdoor special events space, The Cove. "The capital improvements [made] in all the areas, especially all the special unique turnkey spaces we have, are only going to benefit us – meaning the center and the city – for years to come," Beirne said.
"I very rarely spend time in the office. I encourage our guys to be out and about looking at the facility. Is it clean? Is it presentable to the clients?" Beirne said. "Every day is different. It never goes the way I planned it, because something always comes up. That's what's great about our industry – every day is different."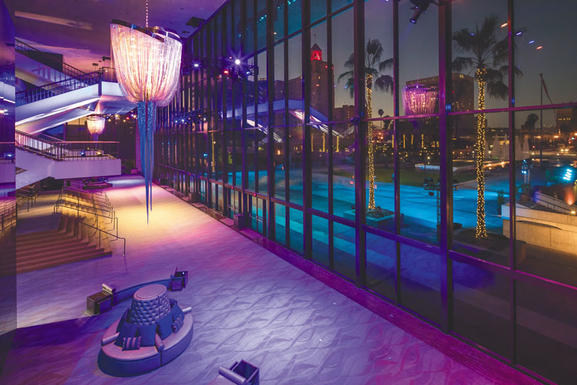 Pictured is the lobby of the 3,000-seat Terrace Theater at the Long Beach Convention & Entertainment Center, a complex managed Charlie Beirne and his staff.  (Photograph provided by the Long Beach Area Convention & Visitors Bureau)
The most challenging aspect of Beirne's job is overseeing the coordination of multiple events being held at the venue at once. "Since we are not a typical arena and/or convention center, we are like a campus, so we have multiple programs going on at the same time. And it's a balancing act, quite honestly," he said. "I tell our guys every day, that's their Super Bowl. That's their big day. That's the big event, no matter how big or small the event is."
The best part of his job, on the other hand, is that it fits perfectly with his self-professed personality as a people person. "You know, sometimes I stand at the entrance and just say hello to people for the heck of it and just get their reactions," Beirne said. "I try to instill in our staff that the most important person they meet here is the first person they have contact with. Because that's how you set the tone."
In addition to improvements made to the center itself, development and changes in Downtown Long Beach are also helping the center's competitive edge, according to Beirne. "It's nice for me to see the clients and people out and about at night time, going to the restaurants, going to the shops and everything," he said. "It's a cool area to live in, be part of and work in, no doubt."
Beirne feels that the Long Beach Convention & Entertainment Center is positioned well among its competition. "I like to be a winner, so I think we're doing great," he said. "We compare our team [and] our facility to any one in the country that SMG manages, quite honestly. Or any other competitor. I think we're top of the list."