Long Beach Mayor Robert Garcia frequently describes the city as "booming." One of the measures he uses to demonstrate this is the number of developments underway and planned citywide. Dozens of developments, residential and commercial, are already taking shape, with more to come.
According to city staff, over 1,350 residential units are currently under construction, with 1,500 more in the planning stages – and these numbers include only developments with five or more units. Lennar Multifamily Communities' 216-unit apartment complex, Oceanaire, at 150 W. Ocean Blvd. and Sares-Regis's three downtown housing projects totaling 348 units are among  the projects moving along, with several affordable housing developments rising up and two single-family neighborhoods also under construction, to name a few.
Hundreds of thousands of square feet of commercial space are currently under construction or planned as well. Aside from numerous residential projects featuring retail space on the ground floor, Douglas Park construction continues with retail, office and industrial space by Sares-Regis and others, and Southeast Long Beach is also seeing the demolition of the SeaPort Marina Hotel to make way for retailers and restaurants.
For the city to prosper, or be "booming," Long Beach needs investors who see potential in its future and are willing to take a chance on that future. From large-scale and unique projects the likes of which the city has never seen, to much-needed housing at all levels, the following companies are a few of the many investing in Long Beach.
The companies listed here responded to our questions: Why did your company choose to invest in Long Beach? What about the city's culture, economics and/or future makes it a good investment?
Ratkovich Properties
Broadway Block – One 22-story and one seven-story building at Long Beach Boulevard and 3rd Street, including 392 residential units and 30,000 square feet of restaurant, retail, art gallery and Cal State Long Beach creative space.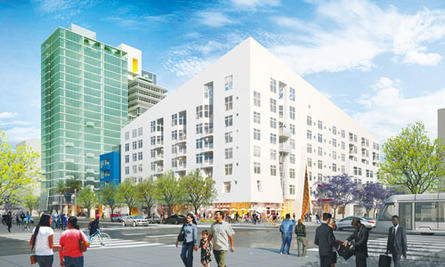 "For many years, dating back to the '70s, Long Beach was the forgotten city as families migrated from L.A. to Orange County in search of the utopian suburban lifestyle.  But today, Downtown Long Beach has been discovered and is in the middle of a dramatic renaissance fueled by the development of over 4,000 new residential units, a new civic center, the repositioning of retail centers, the redevelopment of the waterfront surrounding the Queen Mary, the expansion of the Aquarium, and its appeal to younger urban professionals seeking a creative office setting in the heart of a legitimate city.  Combine all of these factors with inspiring and visionary city leadership that welcomes new development, and you have the ingredients for an attractive place for new investment."
– Cliff Ratkovich, President
Nexus Development Corporation
Hampton Inn & Homewood Suites – A 241-room dual hotel concept at Douglas Park with amenities including a lounge area, 1,800 square feet of meeting space, a gym, an outdoor pool and a recreation area.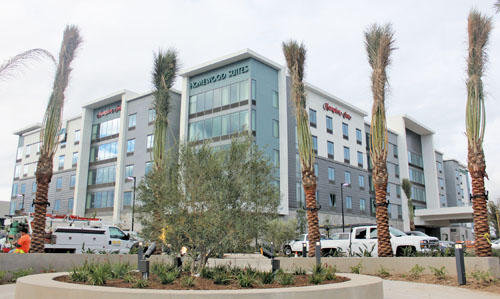 "As we are currently completing our second hotel project in the past four years at Long Beach Airport, Nexus Development is excited about the revitalization activity continuing in Long Beach. The Port of Long Beach and Long Beach Airport are the big economic drivers and key reasons we chose to invest in the market.  In addition, Long Beach's strategic location between Los Angeles and Orange counties with tremendous freeway accessibility makes a lot of sense.  The new city hall project bodes well for the future of the city and will help the downtown core immensely.  Specifically regarding Douglas Park, past and present city leaders, along with Boeing, had a grand vision for a large vibrant mixed-use community surrounding the airport and it is great to see it happening.  Their combined foresight and years of hard work should be applauded. Nexus is proud to join Saris-Regis, Burnham Ward and others as contributors to the success of Douglas Park."
– Cory Alder, President
City Ventures
Huxton – A 40-unit, four-story townhome development at Broadway and Elm Avenue, featuring an all-electric design for a greener community. The units are expected to be completed in mid-2018.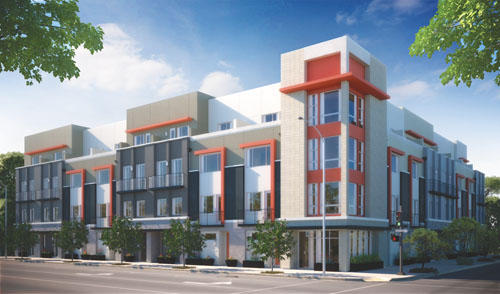 "City Ventures is an award-winning urban infill developer and builder with a track record of successful public-private partnerships. Huxton is situated on a former underutilized parking lot formerly owned by the City of Long Beach.  In partnership with the City of Long Beach, City Ventures designed Huxton and will build the first for-sale new home community downtown in over 10 years. We believe the investment in Long Beach is easy to understand. Long Beach has everything you need to stay local and thrive, as it is the epicenter of diversity. Whether your active lifestyle has you enjoying the bike paths throughout the city on a Saturday, or visiting the local farmers market, Long Beach has it all, and Huxton is at the center of it all. You'll find numerous venues for live music, performing arts, comedy shows, farm-to-table restaurants, art galleries, and much more, right in your backyard when living in Long Beach.  These characteristics align perfectly for what our homeowners are looking for when buying a new home and we can't think of a better place to invest than in Long Beach. City Ventures is also working on two new communities, again in partnership with the City of Long Beach, on properties at 4800 and 5100 Long Beach Blvd."
– Joe Oftelie, Vice President of Development
Urbana Development
The Terminal – Four 25,000-square-foot buildings featuring for-sale office condominiums at Douglas Park.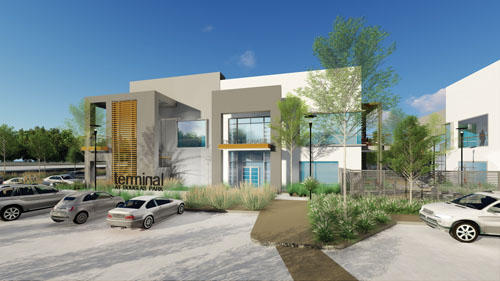 "Urbana Development is a local developer that believes in Long Beach. Long Beach is more than just a beach city. It is a complete city with a skilled workforce, strong educational system, world-class health care, exciting arts community, vibrant neighborhoods and great outdoor recreational opportunities. These factors contribute to the diversity of business sectors that call Long Beach home and drive our strong local economy. Long Beach's long-term strategic planning for development has also encouraged us. We are investing in areas where the city has created clear development standards and guidelines. We feel strongly that the city's approach to long-term planning attracts better businesses and creates stronger neighborhoods. Long Beach deserves high-quality projects, and these standards promote them. The new Douglas Park master development on the former Boeing property is a great example. This 160-acre site is now home to many innovative businesses. Our Terminal at Douglas Park project is creative office space designed to attract small and mid-sized business to Long Beach. It is comprised of four 2-story office buildings totaling approximately 100,000 square feet of office space with shared open space. Inspiring design, interesting opportunities and clear development standards will keep us investing in Long Beach."
– Richard Lewis, Principal and Project Manager
Urban Commons
Queen Mary Island – The development of 65 acres of land and water surrounding the Queen Mary. The project includes 700,000 square feet of cafes, bars, retail shops and a 200-room hotel, as well as a boardwalk, a 5,000-seat amphitheater and a 150,000-square-foot indoor adventure park.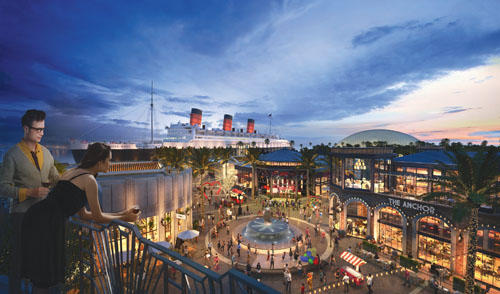 "The Long Beach we knew several years ago is drastically different than the one that is emerging today. A growing commercial, cultural and tourism hub, the future has never been brighter for the City of Long Beach. Significant expansions of infrastructure and investment have made this renaissance possible, which in turn is attracting new residents and tourists to the city's thriving downtown. We were presented with a once-in-a-lifetime opportunity to create a new destiny for the beloved Queen Mary, which serves as an iconic landmark in Southern California. The ship is truly the heart of the community and, through our development and revitalization plans, we hope to enhance the overall experience at the Queen Mary by bringing even more vitality and energy to the area. We are committed to the City of Long Beach and look forward to making Queen Mary a premier destination on the West Coast."
– Taylor Woods, Principal
Studio One Eleven
Company headquarters – A 34,000-square-foot creative office space, located at 245 E. 3rd St., shared with its partner company, Retail Design Collaborative.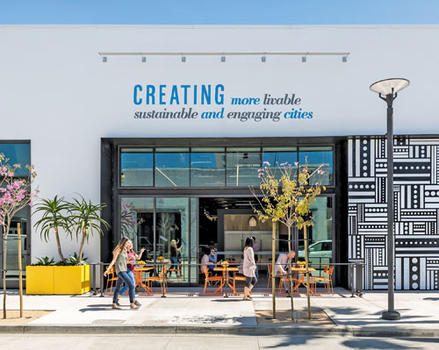 "When our downtown office lease expired in a corporate high-rise last year, we had numerous opportunities to move our headquarters with 135 employees outside of the city. However, we were excited about the evolving downtown with its growing creative class, local and authentic retail and residential base, coupled with an expanding bike and art culture. We have always felt downtown has a great urban infrastructure with the potential to become a vibrant waterfront metropolis. We choose to contribute to this evolution by investing downtown.  As architects, urban designers and landscape architects, we were able to practice our mission of repairing cities by moving to an overlooked area in the core and at the same time create an open office environment that supports collaboration, education, sustainability, innovation and community engagement. By investing $2.5 million of our own money in the abandoned Nordstrom Rack, we were able to leverage another $18 million of development within a block of us the very first year. We anticipate another $110 million of investment slated for this area over the next few years. We are proud to be a part of the revitalization of the downtown core and are very excited about the future of the city."
– Michael Bohn, Senior Principal and Design Director
Co-developers Anderson Pacific LLC and Ledcor Properties Inc., along with their partners Qualico and Lantower Residential
Shoreline Gateway – The sister project of The Current, the 35-story building will be the tallest building in Long Beach. The project includes 221 luxury residential units, 6,367 square feet of retail space and will be linked to The Current by a 10,000-square-foot plaza.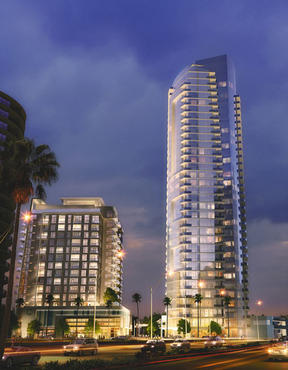 "We chose to develop in Downtown Long Beach because it provides one of the most unique waterfront urban settings in California – walkable amenities, a vibrant downtown, a mix of cultural and recreational amenities, integrated with several modes of public transportation, all within proximity to major employment centers in the region. Downtown Long Beach is strategically located between Downtown Los Angeles and Orange County, providing convenient access to quality jobs throughout the city and region, access to a highly skilled and educated workforce, while providing an urban waterfront lifestyle that is distinctly unique along the West Coast. Following upon the success of our development project, The Current – the first high-rise residential tower built in Long Beach since the Great Recession, and the first rental apartment tower developed since the 1960s – few opportunities for new high-rise waterfront rental apartments remain in the region. We see great potential in the downtown core that continues to attract residents who desire all the qualities this urban waterfront offers. Shoreline Gateway, at 35 stories with 315 luxury apartment homes and 7,000 square feet of retail, will be highly desirable to those who enjoy elevated lifestyles and high-end coastal amenities within an urban experience."
– Ryan Altoon, Executive Vice President of Anderson Pacific, and
Jason Silver, Director of Development for Ledcor
Burnham-Ward Properties
Long Beach Exchange – A 266,000-square-foot retail center on the southwest corner of Lakewood Boulevard and Carson Street at Douglas Park. Confirmed tenants include 365 by Whole Foods, PetSmart, T.J. Maxx, Orchard Supply Hardware, Nordstrom Rack, Ra Yoga, Orangetheory Fitness, GritCycle, In-N-Out Burger, MOD Pizza and Dunkin' Donuts.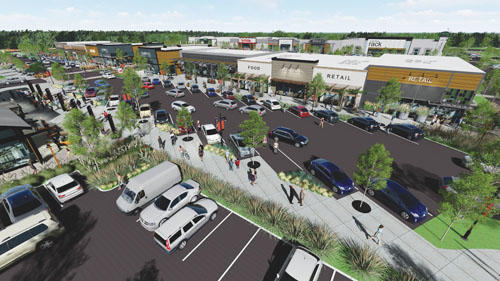 "We have been focused on investing in Long Beach for many years and have been attracted by its business-friendly culture and business growth. Its strong foundation, central location, port, airport, arts, demographics, history and more will all bode well for its future economic growth, innovation and long-term stability."
– Scott Burnham, CEO of Burnham USA
CenterCal Properties
2nd & PCH – A 245,000-square-foot retail development at the site of the defunct SeaPort Marina Hotel, which is currently being demolished. The project includes, 95,000 square feet of retail space, 70,000 square feet of restaurant space, a 25,000-square-foot fitness and health club and a 55,000-square-foot Whole Foods.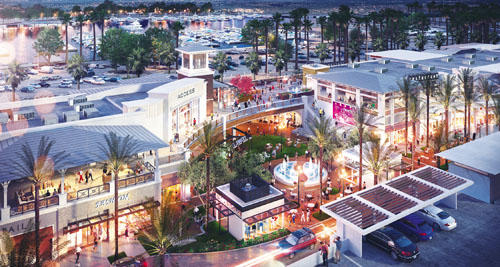 "The City of Long Beach is an amazing community, offering the best residents, location, climate, demographics and attitude that anyone could ask for!  Our property at 2nd and PCH will offer a mix of daily needs services such as Whole Foods, along with a great mix of restaurants and retail stores that will serve as a major upgrade to the community and will lead the way for positive change in the area.  We look forward to being a part of Long Beach for many decades to come, and to serving the community by providing the very best retail, food and entertainment experience possible."
– Steve Shaul, Senior Director of Development