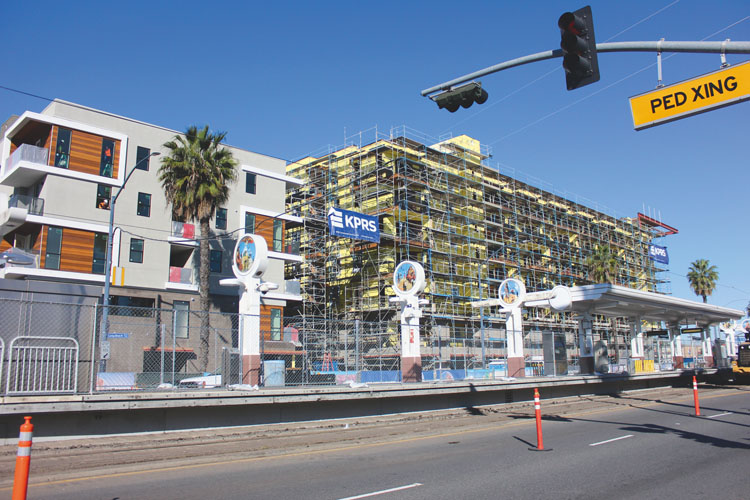 California Gov. Gavin Newsom has directed the state to sue the City of Huntington Beach for failing to comply with its affordable housing goals. The suit claims Huntington Beach became out of compliance with its Regional Housing Needs Assessment (RHNA), a state-mandated calculation for zoning residential areas to accommodate various income levels, when it rezoned two corridors of land in 2015. Because of this rezoning, the city is about 400 units short of its assessed housing need. How this shortfall will affect Huntington Beach moving forward, and how the lawsuit is resolved, could foretell changes for affordable housing production in other California cities.
According to Russ Heimerich, a representative from California's Business, Consumer Services and Housing Agency, there are 51 cities in California that are not in compliance with their housing elements, a type of municipal document that guides residential development and housing goals. The California Department of Housing and Community Development (HCD) reviews governments' housing elements to calculate the RHNA for each region of the state.
Of the 51 cities, there are only three – Huntington Beach, Selma and Clovis – that were once in compliance with their RHNA allocations but became out of compliance through rezoning. Selma and Clovis are currently working "in good faith" to bring their zoning areas back into compliance, Heimerich said. Huntington Beach was singled out by the state for refusing to rezone after being notified of its non-compliance by HCD.
In a press release, the governor's office declared this lawsuit a "first-of-its-kind legal action against a city for standing in the way of affordable housing production." Michael Gates, the city attorney for Huntington Beach, told the Business Journal the suit was "not well-founded" and that he expects it to be thrown out of court.
Heimerich said the state is taking the issue of housing allocation seriously. He went on to say that the state's goal is to bring every jurisdiction into compliance with its individual RHNA. "If Huntington Beach comes into compliance, we are happy to drop the lawsuit," he said.
The state's lawsuit against Huntington Beach was made possible by Assembly Bill (AB) 72, which was signed into law by Gov. Jerry Brown as part of the 2017 legislative housing package. This set of bills was designed to increase funding, development and availability of affordable housing in California. According to Long Beach Assistant City Attorney Michael Mais, before AB 72 the state did not sue cities that failed to meet their RHNA allocations.
By state law, the "housing element" of a general plan must designate space for the development of housing that accommodates all income groups. This includes the city's share of its regional housing assessment.
Before 2018, when AB 72 went into effect, HCD had no teeth to penalize non-compliant governments, according to Mais. "Usually what happened was a housing advocacy group of some sort would sue the city and make the argument that the housing element was out of compliance with its general plan," Mais explained. This is what happened to Huntington Beach in 2015. After reducing the number of affordable units that could be built on the corridors of Edinger Avenue and Beach Boulevard, the city was sued by the Kennedy Commission, an affordable housing advocate for low-income households in Orange County. With the passage of AB 72, HCD is now able to refer RHNA enforcement cases to the attorney general.
In a statement, Gates said the state's lawsuit interrupted months of discussions with the Kennedy Commission and the HCD. "Now instead of making progress in discussions and negotiations, good productive communications with HCD representatives will be cut off because of this new state lawsuit," he wrote. Gates maintains that Huntington Beach is complying with "all applicable state housing and zoning laws" and is working with HCD to meet the housing goals of its RHNA. "Any delay experienced by the city in its ability to amend its zoning and/or make additional progress has been caused by the city fighting lawsuits," he added.
California Assemblymember Cottie Petrie-Norris, a Democrat, whose district includes coastal Orange County and half of Huntington Beach, told the Business Journal that she would welcome the opportunity to work with Huntington Beach and the Newsom administration to find a solution that does not involve litigation. She called the lawsuit "a shot across the bow" to demonstrate the state is serious about the housing crisis, but doubts how effective it may be. "The reality is, what's at stake is Huntington Beach adding a number in their plan that says 400 housing units," she said. "Even if the lawsuit is successful, it isn't going to address the real underlying issues that are contributing to the [housing] crisis." Petrie-Norris said she'd prefer to focus the state's resources on solving this crisis.
On February 6, Petrie-Norris and Republican Assemblymember Tyler Diep, as well as State Senators Thomas Umberg, a Democrat, and Republican John Moorlach, sent a letter to Newsom and Huntington Beach Mayor Erik Peterson calling for a mediation to the lawsuit. As of this writing, Michael Gates said Huntington Beach was open to the mediation. Nathan Click, a spokesperson for Gov. Newsom, said the administration was open to the same.
Implications For Other Cities
In January, Newsom made it clear that creating affordable housing was a key goal of his administration. His budget proposal called for $7.7 billion in funding for housing and homelessness programs in the state, including $1.3 billion "to remove barriers and increase long-term housing production, particularly for low- and moderate-income housing."
Newsom has called on cities and counties to address the housing crisis. "[M]any cities are making herculean efforts to meet this crisis head on," he said in a January 25 statement. "But some cities are refusing to do their part . . . and willfully stand in violation of California law. These cities will be held to account."
It would seem that Huntington Beach is such a city. But Gates cast doubt on the legality of Newson's suit. "What the state is requesting is not legally tenable," he said.
While cities and counties in California are required to zone for housing that meets estimates for future population and income levels, they are not obligated to build those units, Heimerich clarified. Though most cities and counties in California meet their RHNA zoning targets when they are evaluated by the HCD every eight years, they still fall short of their building goals. As Heimerich put it, "While 90% of jurisdictions are in compliance with housing element law, 90% also fail to actually build enough housing."
The 2013-2021 RHNA for the City of Long Beach is 7,048 units. This figure includes 2,839 units allocated for low-income residents: 886 units for residents earning up to 30% of area median income (AMI); 887 units for residents earning 31-50% AMI; and 1,066 units for residents earning 51-80% AMI. According to the city, 806 units are in various stages of development: nine are nearing completion, 233 are under construction and 564 are either approved or proposed. The city estimates that, based on average development costs of the projects underway, the cost of building the additional 1,711 units allocated in the RHNA would be $793 million.
Long Beach is not one of the 51 cities out of compliance with the zoning requirements associated with its RHNA allocation. Unlike Huntington Beach, it has zoned its land in accordance with state law. "All the city is required to do, through their zoning ordinance, is provide a mechanism so that capacity can be built if the economy merits building," Mais said.
But Newsom's recent comments suggest that he may want to make changes to this policy. In a January 10 press conference, Newsom told reporters that regions that don't reach their building goals might not receive revenues from either the gas tax created by Senate Bill 1 or the state's discretionary transit funding. "Regarding withholding transportation revenue, all I can tell you at this point is that the governor is exploring all options to give jurisdictions incentives to meet their housing needs," Heimerich said. He added that specific proposals for doing so could be presented during the budget's May revision. "As of now, however, there is very little in the way of enforcement or other measures that can be taken if cities do not meet their production goals."
Newsom's proposed budget is vaguer on the issue. It reads: "The state will strongly encourage jurisdictions to contribute to their fair share of the state's housing supply by linking housing production to certain transportation funds and other applicable sources, if any." The proposal does not describe how it would accomplish this, only that the administration plans to discuss the issue with local governments and other stakeholders.