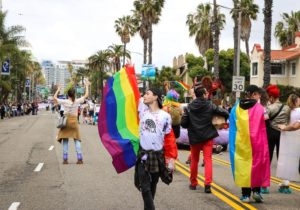 There will be no Long Beach Pride festival and parade this year, marking the second year in a row that the third-largest Pride celebration in the country has been canceled as a result of the coronavirus pandemic.
While the city recently eased restrictions on outdoor and indoor gatherings, it's still unclear when large events like the 80,000-strong Pride celebration will be able to resume.
But unlike last year, however, there will be some programming for those eager to celebrate.
Long Beach Pride, the organization behind the parade and festival, is currently in the process of putting together a virtual event that will feature videos from previous pride celebrations, testimonials from attendees and performances from local entertainers.
"We want to tell our community that we are here and that we want to show our pride," said Elsa Martinez, the organization's president.
A virtual event, Martinez acknowledged, can't quite compare to the experience of celebrating in the street with tens of thousands of people—but it's something.
"All of us want to be out, we want to be proud and we want to show our colors," she said. "It's something to look forward to, but it's definitely not the same as in-person."
That's why some members of the community have taken to organizing an informal car parade in lieu of the real thing on Sunday, May 16.
"I thought it was important to see each other and be seen and to remind ourselves that, even though we're taking a break from the event, it's still one worth having," said Steve Gillis-Moore, who is organizing the car parade.
The Pride-along came together as a result of conversations with friends, including members of several car clubs Gillis-Moore is a part of. It will commence on the corner of Cherry Avenue and Broadway, move west along Ocean Boulevard and circle back on Elm Avenue. Participants are encouraged to decorate their cars in as simple or extravagant a way they desire, the event page notes.
"Our goal is to be together and to be on the circuit," Gillis-Moore said.