A lower than anticipated increase in gross domestic product (GDP) in the first quarter has somewhat dampened overall expectations for growth in the United States economy this year. But in general, the outlook is a positive one, with economists projecting a 2% to 2.3% increase in GDP this year. At the national, state and local levels, unemployment rates are below 5% – a rate consistent with what has been historically considered full employment.
"The first quarter figure came in at 1.2% [GDP] growth," Steven Cochrane, managing director and economist for Moody's Analytics, told the Business Journal. "The same thing has happened every couple of years, where we get a very weak first quarter and then in the next three quarters we kind of pull ourselves out of that hole," he noted. "So for the whole year the forecast actually is 2.3%."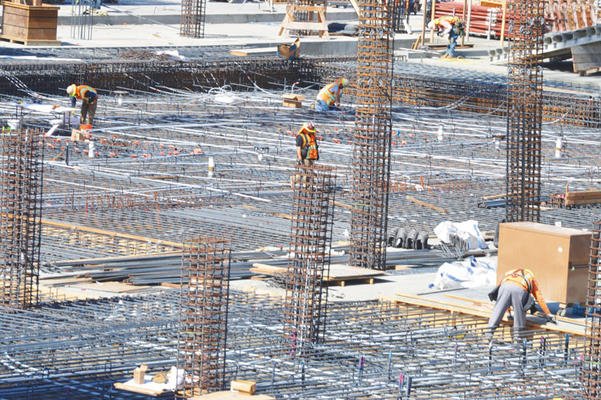 Construction Jobs Throughout Long Beach! – While there is no exact figure of how many jobs have been created due to the many projects under construction in Long Beach, a conservative estimate is that it's more than 1,000 on any given day, and "it could be over 2,000" said one city official. Pictured are workers at the new civic center along Ocean Boulevard where, during June, there was an average of 185 on-site workers daily. That number is expected to increase "when the steel comes in." There are two major projects underway at the Port of Long Beach, numerous residential projects in various stages of development in the core downtown area and two residential projects near downtown on Long Beach Boulevard. Douglas Park north of the airport has several office and industrial buildings underway, and a 241-room dual hotel project and a 26-acre retail project are under construction. Other residential projects underway are located in Northeast Long Beach, Northwest Long Beach and West Long Beach. (Photograph by the Business Journal's Larry Duncan)
Mark Vitner, senior economist for Wells Fargo, has adjusted his GDP growth estimate down from 2.3% to 2.2% for the year. Consumer spending was lower than expected in the first quarter due to a mild winter in the Northeast and Midwest, which meant consumers did not use their utilities as much, according to Vitner. "We think the second quarter growth will be around 2.5%," he said.
Robert Kleinhenz, economist and executive director of research for Los Angeles-based Beacon Economics, said that a pickup in residential construction and business investment spending should accelerate GDP growth through the remainder of 2017. He estimated that GDP should increase by 2%.
In May, the U.S. unemployment rate was 4.3%, according to Cochrane. "And almost by anyone's reckoning, at least if you were to ask them a year ago, anything much below 5% would be considered to be full employment," he said.
An alternative measurement of unemployment that takes into account those who are employed part time but would prefer to be employed full time, as well as those who have dropped out of the labor market, clocks in the nation's unemployment rate at 9%, according to Cochrane. "And by anyone's measure, 9% is something close to a full employment labor market as well," Cochrane said.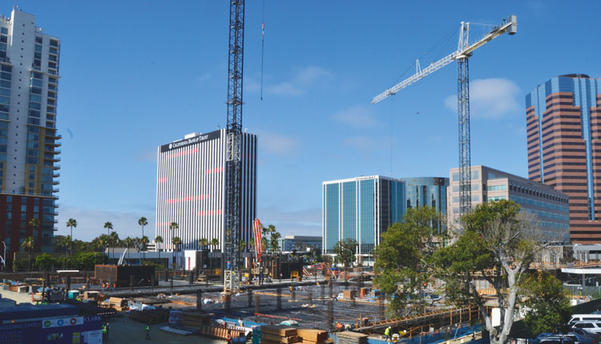 In late 2015, the Long Beach City Council and the Long Beach Board of Harbor Commissioners approved Plenary-Edgemore Civic Partners as the development team for the $520 million Long Beach Civic Center Project. Groundbreaking ceremonies for the new complex were held nearly a year ago, on July 8, 2016. The project includes a new city hall, port headquarters and main branch library, all to be completed by md-2019. Lincoln Park, adjacent to the new library, will open in late 2020. After the current city hall is razed, construction will begin on mixed uses that include residential, retail and hotel developments. The project is bound by Ocean Boulevard on the south, Magnolia Avenue to the west, Broadway to the north and Pacific Avenue on the east. (Photograph by the Business Journal's Larry Duncan)
According to the U.S. Bureau of Labor Statistics, California's unemployment rate was 4.7% in May. In Long Beach, the unemployment rate is 4.4%. According to a June 20 newsletter from Mayor Robert Garcia, this is the lowest unemployment rate recorded since the city began tracking it in 1990.
Due to these unemployment levels, the national and regional rate of job gains has slowed, according to economists interviewed by the Business Journal. But the types of jobs that are being created are better.
"The mix has really shifted where we are adding more full-time jobs. That's one of the reasons that consumer confidence has improved," Vitner said. Workers who have been holding down part-time jobs while they seek full-time positions have been able to move on to their chosen professions, he noted.
"The quit rate – the rate at which people are leaving their jobs voluntarily – is at a very high rate. That's a very good sign for the economy," Cochrane said.
Kleinhenz pointed out that although the country is at full employment, the labor participation rate is lower than its historical average. "The labor force participation rate in the U.S. and in California has fallen several percentage points. It used to be as high as 69%, and now it's at 62%," he said.
"It has been explained in terms of demographics that older members of the workforce, namely Boomers, have gradually left the labor force," Kleinhenz said. "And they were present in such large numbers that their departure has reduced the labor force participation rate," he explained. "But what is lurking behind the headline labor force participation rate of roughly 62% is the fact that the youngest members of the workforce have extremely low participation rates."
Kleinhenz speculated that this is not only because increasing numbers of younger people are pursuing higher degrees but also because they are spending more time obtaining them. "It's a really salient point about the way the labor force is behaving right now and especially how the youngest cohort in that labor force is behaving quite a bit differently than previous generations of young workers," he said.
Nationwide, job gains are occurring in construction (thanks to increased residential building), business and professional services, health care and education, according to Cochrane.
Although consumer spending is strong, the retail industry has been struggling, Cochrane observed. "Consumer spending has been rising at a modest pace over the last few years, but the whole restructuring of the retail industry [continues] as competition from online grows," he said. "If you look at any component of commercial real estate, the weakest is in retailing right now."
In the Los Angeles County region, construction continues to add jobs due to infrastructure projects and increased residential building, according to Vitner. "We are seeing that home building is gaining momentum. We're also adding jobs in wholesale trade and distribution," he added.
The technology sector is also improving regionally, with job gains of 3.5% year over year, Vitner said. The health care and leisure and hospitality industries also continue to do well, he noted.
In the Long Beach area, some of the largest job gains have been in food services, according to Kleinhenz. Other growing sectors include construction and transportation and warehousing, he noted.
"Consumer spending has been holding up nicely, and with added jobs as well as wage gains, we expect to see consumer spending continue to chug along in 2017 and into 2018," Kleinhenz projected.

Towers for a new bridge dwarf the Gerald Desmond Bridge, which it will replace by late 2018, according to Port of Long Beach Executive Director Mario Cordero. The bridge will add traffic lanes, and its height will enable larger ships to pass beneath it into the inner harbor. (Photograph by the Business Journal's Larry Duncan)
Job gains at home are translating to increased imports, while stronger economies abroad are helping to grow exports despite a strong U.S. dollar, Kleinhenz explained. In 2006, the San Pedro Bay ports brought in a combined 15.8 million twenty-foot equivalent units of cargo – an all-time high. Kleinhenz expects that number will be met or exceeded this year.
"We're probably looking at a record or near-record year for goods movements at the twin ports this year, so it should be no surprise that jobs in transportation and logistics have been on the rise for some time and should show strength again this year," Kleinhenz said.
Moving forward, there is some uncertainty surrounding how expected increases to the federal funds rate, which determines interest rates, might impact the economy, particularly when it comes to financial markets, according to Cochrane.
"You look at the equity markets, they are almost at record highs," Cochrane said. "It started after the election, when there was a perception that there was going to be a significant amount of stimulus in the economy through fiscal policy and such and deregulation. . . . I think there is still some expectation that there will be some stimulus coming next year to the economy."
While the Federal Reserve has indicated it might raise the federal funds rate at least once more this year and as many as three times next year, Cochrane said the equity market professionals are projecting about half that. "Someone has got to be wrong. And either the Fed is going to adjust or markets will adjust," he said.
Another uncertainty moving forward is how housing affordability will play into things, according to Kleinhenz. Housing prices continue to appreciate and are approaching pre-recession levels, and rental rates continue to rise. "Housing affordability, whether it's for renters or for owners, should be viewed as a constraint on our capacity to grow our economy," he said.